RIVERSIDE LANES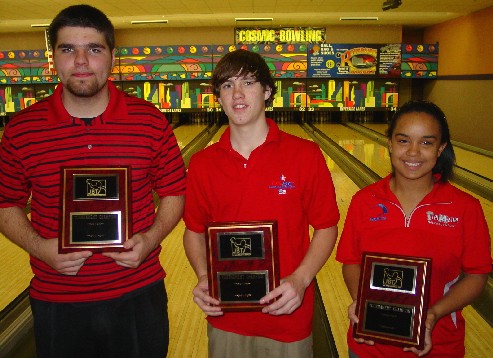 champs Kyle King, Josh Chefalo, and Women's Series champ April Urban
Kyle King and Josh Chefalo added to their JBT title collections with wins at Laughlin's Riverside Lanes in exciting JBT Mojave Conference action.
Paul Huether won three matches in the handicap division stepladder finals before his title match tilt with Chefalo. he began with a 231-184 win over Joey Mogavero. he followed with a 214-210 squeaker over Austin Albertson, and then got by another tough battle, this time with Marina Stever, 240-236, to advance to the finals.
Josh, the previous day's winner in Kingman, showed no signs of slowing down, and completed his dream weekend with a 219-183 win over Huether, for his 2nd JBT title of the weekend- a rarity in itself, but especially so in the handicap division.
Another JBT rarity is the higher-seeded bowlers actually winning matches in our nervewracker format, but that was mostly the case in round one of this format's finals, as #1 Jeff Williams, #2 Kyle King, #5 Cameron Smith, and #4 Kris George all advanced- but Kris' match was the toughest of that bunch, going four nervewracker one-shot rolloff rounds with Zach Hattori before finally escaping 10-9.
In the round of eight, #8 Ryan Howard took down Williams in a nervewracker 10-6; #13 Chase Nadeau nervewracked Smith 10-9, while George swept #7 Jordan Ferrer, and King swept Ijams 2-0.
The Chase-Ryan semifinal came down to a nervewracker, which Howard won 8-7 to advance to his first scratch title match. The other semifinal was a true clash of the titans, with King sweeping George 245-206 and 268-237, to move on to the finals.
In the final, King beat Howard 200-184 in round one, and an entertaining second game came down to the 10th frame. With both bowlers on 4-baggers, Ryan, going first, left a big-4 split which he didn't convert. Now needing only a mark, King left a pocket 7-10, sending the match to nervewracker. Kyle's 10-9 win on the first rolloff secured an exhausting 28th title of his JBT career.
In Women's Series action, April Urban became the 2nd female to win two Women's Series titles with a 234-192 win over Allie Ijams, the other girl with two wins.
Thanks as always to the whole crew at Riverside for another fine job welcoming our Tour. Over $2,000 in scholarships were awarded to junior of all ages and averages- want your piece of the fun? Come on down to the next JBT event- it's as simple as that!

Riverside Lanes- final results and optional scholarship winners
3/8/2009
Mojave Conference
Scratch Division
rank
name
prize
1
Kyle King
$340
2
Ryan Howard
$115
3
Kris George
$100
4
Chase Nadeau
$50
5
Jeff Williams
$40
6
Allie Ijams
$75
7
Cameron Smith
$45
8
Jordan Ferrer
9
April Urban
10
Matt McHann
11
Cory Keraly
$15
12
DJ Sloan
13
Rebeca Reguero
$30
14
Zach Hattori
15
Rachelle Davis
$15
16
Dallas Leong
$30
17
Nathan Shock
18
Kaitlin Mayall
$30
19
Chris Kutcher
$15
20
Melissa Huether
21
Eric Hatchett
22
Matt Herbert
23
Alyssa Madrid
24
Brandon Owen
25
Andrew Gottlieb
Handicap Division
rank
name
prize
1
Josh Chefalo
$200
2
Paul Huether
$145
3
Marina Stever
$75
4
Austin Albertson
$50
5
Joey Mogavero
$70
6
Aaron Watkins
$60
7
Travis Johnson
$110
8
Josh Shoup
9
Danielle Stewart
$30
10
Alexis Atkin
11
Darcie Staggs
12
Drew Hanna
13
Ian Hanuscin
$15
14
Chelsea Foreman
15
Randi Speiler
16
Marcus Tate
17
Austin Signoretti
18
Tyler Ottenschot
$15
19
Lindsey Ailport
20
Kenny Herbster
21
Taylor King
22
Dylan Lucas
23
Kevin DeMaio
24
Aubrey Calabrese
$15
25
Justice Lynch
26
Shani Snowden
27
Joseph Cencelewski
28
Jon Gutierrez
29
Sabrina Forrest
30
Brandon Surko
$25
31
Nick McCoy
32
Justin Givler
33
Krysta Nadeau
34
Bethany Baker
35
Drew Stern
36
James Gabour
37
Samantha Meyers
$50
38
Nicholas Pollak
Scratch High Games:
George 280
George 279
King 278
Urban 276
King 268
Handicap High Games:
Huether 272
Gutierrez 272
Albertson 271
Stever 267
Stever 267
Round Leaders (5 pts. Each)
Scratch
Handicap
1
Williams
Gutierrez
2
Williams
Gutierrez
3
Williams
Huether
4
Williams
Huether
5
Williams
Huether
6
Mogavero
7
Mogavero
8
Chefalo
High Female:
Urban 1101
Davis 1049
Ijams 1040
Reguero 962
Mayall 917
TOTAL AWARDED THIS EVENT: $1,790