TOWN & COUNTRY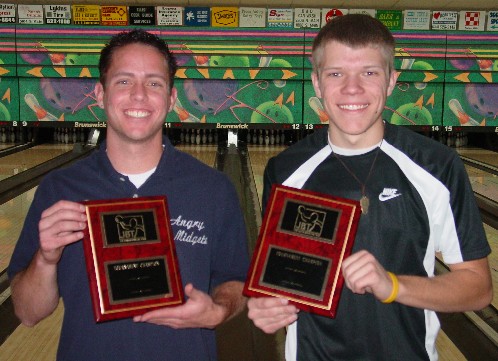 champs Brian Ballard & Tyler Allen
Bowlers from California and Texas cashed in on their trips to Roswell, capturing JBT titles in New Mexico-Texas Conference action at Town & Country Entertainment.
Jess Gagliardi opened the scratch division stepladder finals with a 204-197 win over Randy Cote. Ballard then took over the finals, defeating Jess 242-172, and following with a 257-217 thumoing over another Colorado bowler, Nathan Shock, setting up the title match.
Top seed William Entsminger began the event with a 286 game, the day's best, and never looked back, leading after every round and grabbing the top seed. It looked like his 8th finals appearance in 9 events this season was finally going to net him his first title, but needing double-9 to shut out Ballard on the high-scoring pattern, William rung a 10-pin then missed the spare, allowing Brian to cruise to a 235-212 win and his second career JBT title.
James Scott began his climb up the handicap division stepladder finals with a 218-181 win over Joseph Palma. Scott and Jonathan Lawson then engaged in a great battle that ended in a 206 tie, with Scott winning the rolloff 48-35 to advance. Allen then avenged his fellow Amarillo bowler's loss with a 225-223 squeaker over James to advance to his first title match.
Top seed Ahkeen Williams had also put on quite a show, with his best-ever JBT performance to lead from game 5 on. However, he faced a tough challenge from Allen, who started with a triple and held his own all match long. In the tenth frame, Ahkeen's 2-10 split sealed a 253-224 win for Tyler,who captured his first JBT title.
Big thanks to Brian Casaus and the whole crew at Town & Country for being... well... out of this world hosts (had to throw in a Roswell cliche). Over $1,200 in scholarships were awarded to bowlers of all ages and averages- want in on the fun? Come on down to the next JBT event, it's as simple as that!
Town & Country- final results and optional scholarship winners
1/3/2009
New Mexico - Texas Conference
Scratch Division
rank
name
city, state
prize
1
Brian Ballard
San Diego, CA
$230
2
William Entsminger
El Paso, TX
$235
3
Nathan Shock
Thornton, CO
$60
4
Jess Gagliardi
Alamosa, CO
$55
5
Randy Cote
Tucson, AZ
$30
6
Nick Lee
Tucson, AZ
7
Diego Lucero
Santa Fe, NM
8
Dan Romero
Santa Fe, NM
9
Matt Cormack
Woodland Hills,CA
10
Julian Ortega
Roswell, NM
11
Allie Ijams
Flagstaff, AZ
12
Amanda Falk
Tucson, AZ
13
Tevynn Laws
Albuquerque, NM
$5
14
Billy Read
Albuquerque, NM
15
Brandon Dye
Roswell, NM
Handicap Division
rank
name
city, state
prize
1
Tyler Allen
Amarillo, TX
$200
2
Ahkeen Williams
Las Cruces, NM
$115
3
James Scott
Roswell, NM
$90
4
Jonathan Lawson
Amarillo, TX
$50
5
Joseph Palma
Roswell, NM
$40
6
Chris Lewis
Roswell, NM
$30
7
Kara Casaus
Roswell, NM
$25
8
Caleb Goehring
Amarillo, TX
$20
9
Shawn Perry
Roswell, NM
10
Tim Baribeau
Rio Rancho, NM
$15
11
Kirk Russell
College Station, TX
12
Isaac Holliday
Albuquerque,NM
13
Mason Holman
Roswell, NM
14
Tonia Barela
Santa Fe, NM
$30
15
Krista Casaus
Roswell, NM
$15
16
Josh Garcia
Roswell, NM
17
Arielle Palma
Roswell, NM
18
Vickie Metcalk
Roswell, NM
19
Cheyenne Masterson
Roswell, NM
20
Robert Gonzalez
Roswell, NM
21
Lucas Martinez
Roswell, NM
22
Krishawna Casaus
Roswell, NM
$15
23
Daniel Aguilar
Roswell, NM
24
Mike Romero
Santa Fe, NM
25
Joseph Martinez
Roswell, NM
26
Tad Scott
Roswell, NM
27
Timothy Dominguez
Roswell, NM
28
Faith Main
Roswell, NM
29
Stacia Cilley
Roswell, NM
30
Stephanie Barela
Santa Fe, NM
$15
31
Taylor Quintana
El Paso, TX
32
Seth Jaramillo
Rio Rancho, NM
33
Taylor Masterson
Roswell, NM
34
Olivia Silva
Albuquerque,NM
35
Kristina Casaus
Roswell, NM
36
Michael Holliday
Albuquerque,NM
37
Brandy Main
Roswell, NM
38
Shelby Chenoweth
Roswell, NM
39
Devan Charboneau
Roswell, NM
40
Austin Masterson
Roswell, NM
41
Kyla Casaus
Roswell, NM
42
Alyssa Williams
Las Cruces, NM
43
Eric Sanford
Santa Fe, NM
44
Jacob Gill
Albuquerque,NM
45
Raeanna Romero
Roswell, NM
Scratch High Games:
Entsminger 286
Shock 266
Cote 258
Gagliardi 256
Cote 253
Handicap High Games:
Lawson 292
Williams, Ahk. 286
Scott, J 277
Lewis, C 275
Palma, Joe 268
High Female:
Krista Casaus 984
Ijams 983
Falk 981
S barela 783
Kara Casaus 770
TOTAL AWARDED THIS EVENT: $1,290