SOUTH PLAINS LANES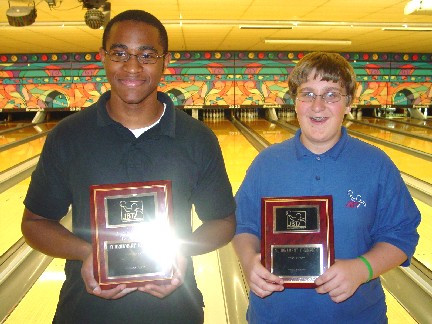 champs Stephen Planer & Caleb Goehring
Stephen Planer and Caleb Goehring captured their first JBT titles in exciting JBT TX-NM Conference action at Lubbock's South Plains Lanes.
Planer snuck into the fifth and final position for the stepladder finals, then completely dominated in his four matches. He opened with a 226-172 win over Dan Romero. The Oklahoman then defeated Nathan Shock 213-181, and followed with a 255-182 win over William Entsminger to reach the title game.
Brad Pierce took over the top seed after game 6 and hung on throughout matchplay, and Planer's semifinal win set up an interesting situation: we've had lots of friends play each other for titles, and a few teammates as well (the two bowl for the successful West Texas A&M team). However, this might be the first time we've had two roommates play for the title! In the match, Pierce struggled early, but Stephen also slowed down from his previous pace. Brad made a great move to keep the match close, but in the end could not catch all the way up, and Planer's 192-180 gave him his first career win, and likely gave Pierce extra housekeeping chores for a while.
First-time JBT bowler Patrick Middlebrook opened up the handicap division stepladder finals with a 240-220 win over Tim Baribeau. Angela Walls then began her quest for a third consecutive JBT title with a 193-174 win over Middlebrook. Jeremy Larance then stopped the red-hot Walls 228-222 to reach the title match.
Top seed Caleb Goehring had put on one of the best handicap division performances of all-time during the day, with the 10th highest 5-game score in JBT history, and 3rd highest 8-game total (+477) in JBT history- awesome! Caleb was able to finish off his dream day with a 237-179 win over Larance for his first JBT title.
Thanks as always to Jim and the crew at South Plains for their terrific job hosting us. $1,310 in scholarships were awarded to juniors of all ages and averages- want in on the fun? Come on down to the next JBT event, it's as simple as that!
South Plains Lanes- final results and optional scholarship winners
4/18/2009
New Mexico - Texas Conference
Scratch Division
rank
name
prize
1
Stephen Planer
$200
2
Brad Pierce
$115
3
William Entsminger
$175
4
Nathan Shock
$55
5
Dan Romero
$75
6
Zach Barton
7
Diego Lucero
8
Hannah Stedman
$5
9
Bradley Robinson
10
Katelynn Mulcahy
11
Tom Crites
12
Troy Gaudette
13
Tim Crites
14
Laef Pendegraft
15
Billy Read
$10
16
Thomas Gutierrez
17
Jess Gagliardi
18
Tanner Palmer
19
Wendy Shelton
20
Alex Clark
21
Andrew Cuevas
Handicap Division
rank
name
prize
1
Caleb Goehring
$200
2
Jeremy Larance
$115
3
Angela Walls
$60
4
Patrick Middlebrook
$50
5
Tim Baribeau
$85
6
Marcus Oliver
$30
7
Forrest Lockhart
$20
8
Alyssa McCleery
9
Halie Baribeau
$45
10
Kirk Russell
$15
11
Chelsea Johnson
12
Tyler Allen
13
Brooklyn Flatt
14
Devin Hodges
15
Michael Mayo
16
Tyler Houston
17
Dalton Hooker
18
Rachel Thompson
$15
19
David Young
20
Staci Gleason
21
Matteo Bergonzi
22
Seth Jaramillo
$30
23
Nathanael Casteel
24
Zachary Wojciechowski
25
Jordan Breckenridge
26
Taylor Behpour
27
Lacey Shelton
28
Kristie Rush
29
Tonia Barela
30
Braxton Williams
31
Mike Romero
32
Stephanie Barela
33
Isaiah Johnson
34
Katie Rush
$10
35
Taylor Williams
Scratch High Games:
Entsminger 279
D Romero 275
Mulcahy 259
Stedman 259
Lucero 247
Handicap High Games:
Goehring 296
C Johnson 296
Mayo 285
Larance 282
Goehring 275
High Female:
Stedman 1035
Mulcahy 990
Walls 973
Thompson 876
Shelton 845
Round Leaders:
Scratch
Handicap
Lucero
C Johnson
Entsminger
Mayo/ Goehring
Entsminger
Goehring
Entsminger
Goehring
Entsminger
Goehring
Pierce
Goehring
Pierce
Goehring
Pierce
Goehring
TOTAL AWARDED THIS EVENT: $1,310