MOJAVE DOUBLES CLASSIC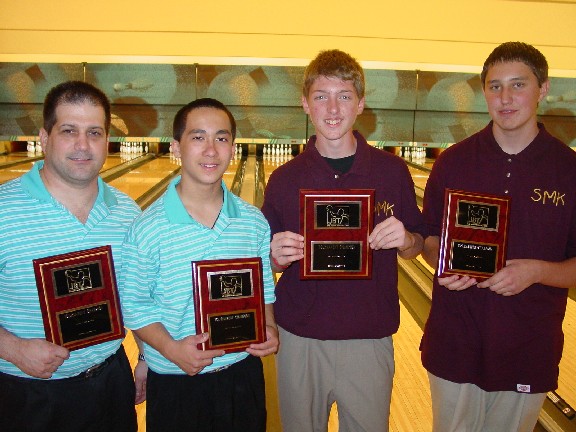 Scratch champs John DeBenedetta and Zach Hattori; Handicap champs James Hawkins and Justin Givler
A very high scoring doubles event saw a team of Nevada stars win the scratch title, and an interstate team of JBT stars win the handicap title, at the JBT Mojave Doubles Classic, hosted by South Point.
Bowlers tore up the South Point house pattern, highlighted in the juniors by Allie Ijams' 289 opener and Alyse mcGinnes' 290 efforts, and trumped by Vegas star adult bowler Steven Villanueva, who opened the event with 300-831, vaulting him and junior partner Brandon Allred near the top of the leaderboard.
Junior starts Kyle King and Matt Jones opened up the scratch division Baker-format stepladder finals with a 234-183 win over Californians Jeremy Glover and Will Jackson. Alyse McGinnes and adult partner Jason Heggemeier then got the strike in the tenth to beat King and Jones 237-213. The tables were turned in the semifinal, as McGinness got the first strike in the tenth but not the second, giving Zach Hattori and John DeBenedetta the 211-204 nailibiting win in the semifinal.
Top seeds Allred and Villanueva made it an all-Nevada all-star shootout for the title, with carrying the corner pins being the key to victory. Both teams ended up tied at 183 through 9 frames, leaving it up to the anchor bowlers. Zach, up first, got his strike, while Villanueva calmly countered with 10 in the pit of his own. Hattori then mixed up a light hit for strike #2, but Steven's next shot left a 7-pin, giving Zach and John the exhausting 213-203 win, and Zach's 5th career title.
The handicap stepladder was all about the brother team of Zak and Dylan Lucas. They opened the finals with a 189-167 win over April Urban and Paul Johnson. Zak and Dylan followed with a 244-208 win over Brian Ballard and Alicia Sullivan, and reached the title match with a 175-142 win over Samantha and Warren Meyers.
Justin Givler (AZ) and James Hawkins (CA) combined to form an interesting team, and fulfilled that potential by leading the event through 7 games. They took advantage of a tiring Lucas team to win the title game 218-183, giving the men in maroon their third JBT titles each.
Big thanks to South Point for another terrific hosting job, and all the JBT alumni and other adults who took the time to bowl with our juniors, making our Doubles events always some of our most fun each year. Over $2,500 was awarded to the 68 team field. Want in on the fun? Come on out to the next JBT event, it's as simple as that!
Mojave Doubles- final results and optional scholarship winners
10/19/2008
Mojave Conference
Scratch Division
rank
name
partner
prize
1
Zach Hattori
$300
John DeBenedetta
$300
2
Brandon Allred
$210
Steven Villanueva
$210
3
Alyse McGinnes
$100
Jason Heggemeier
$100
4
Kyle King
$65
Matt Jones
$50
$115
5
Jeremy Glover
$80
Will Jackson
$80
6
Nathan Panaligan
$60
Mike Taylor
$60
7
Rebeca Reguero
$15
Steve Sutton
$15
8
Allie Ijams
$120
Ed Smaglik
$120
9
Theo Douthit
Martika Cabezas
10
Chris Kagawa
Jeff Walsh
11
Kevin Valmonte
Danielle Schilling
12
Dan Nadeau
Chase Nadeau
$50
$50
13
Kris George
$120
DJ Sloan
14
Jeff Belding
Guy Belding
15
Steven Ashley
$45
Chris Saip
$45
16
Nick Lamek III
Nick Lamek Jr
17
Matt Cormack
Mike May
18
Ryan Howard
Bobby Howard
19
Brandon Dauphinais
Paul Cardinale
20
Cameron Smith
$45
Foster Phandanouvong
$10
$55
21
Matt McHann
Mike Dixon
22
Dallas Leong
Brian Trubiro
23
Jordan Ferrer
Logan Kennedy
24
Hannah Chipman
Alyssa Madrid
25
Andy Reynoso
Cayson Coyle
26
Bryan Caldwell Jr
Bryan Caldwell Sr
27
Cory Keraly
$15
Brandon Owen
28
Lindsay Hannasch
Luis Micheri
29
Kevin Stamey
Erik Matthewson
30
Shwan Hrisca
Steve Hrisca
31
Jeff Williams
Robert Williams
32
Melissa Huether
Merrill Hill
33
Joey Mortero
Kevin Eppele
Handicap Division
rank
name
city, state
prize
1
Justin Givler
$150
James Hawkins
$280
$430
2
Dylan Lucas
$100
Zak Lucas
$100
$200
3
Samantha Meyers
$100
Warren Meyers
$100
4
Brian Ballard
$70
Alicia Sullivan
$70
$140
5
April Urban
$70
Paul Johnson
$70
6
Ryan Yadao
$75
Bob Godden
$75
7
Damon Watkins
Aaron Watkins
$75
$75
8
Rachelle Davis
Matt Erb
9
Douglas Csayni
$30
Phil Del Monte
$30
10
Aubrey Calabrese
$100
Tricia Singer
$100
11
Nicole Wellington
Brandon Faulkenborg
12
Jon Gutierrez
Josh Chefalo
13
Bryce Hackney
Paul Huether
14
Kyle Karpovich
Daniel Cotton
$25
$25
15
Lindsey Ailport
Marina Stever
$15
$15
16
Steven Slivka
Al Slivka
17
Brianna Mullins
Turtle Lamotte
18
Donovan Koff
Justin Koff
19
Kalani Diliner
Eric Hatchett
20
Kenny Herbster
Alex Katz
21
Katelyn Scott
Kevin Weis
22
Josh Shoup
Kaitlin Mayall
23
Zac Hochman
John Mortero
24
Jenny Phandanouvong
Lana Lycan
$40
$40
25
Ian Hanuscin
$10
Austin Signoretti
$10
26
Tom Barbee
Kathleen Barbee
27
Dotty Nadeau-Haynes
Krysta Nadeau
28
Darcie Staggs
Buck Staggs
29
Chris Kutcher
Teri Haennelt
30
Bethany Baker
Sue Davis
31
Eric Demo
Steve Demo
32
Brian Grupe
Trevor Scheer
33
Veronica Schleicher
Jared Faulkenborg
34
Drew Stern
Chris Caouette
35
Jacob Scheer
Bill Scheer
Scratch High Games:
McGinnes 290
Ijams 289
Hattori 279
Hattori 278
Smith 278
Handicap High Games:
D Csayni 297
Koff 291
Slivka 288
Cotton 280
Sullivan 279
Round Leaders (5 pts. Each)
Scratch
Handicap
1
Ijams/Smaglik
Csayni/Del Monte
2
Allred/Villanueva
Ballard/Sulllivan
3
Allred/Villanueva
Ballard/Sulllivan
4
Allred/Villanueva
Ballard/Sulllivan
5
Glover/Jackson
Ballard/Sulllivan
6
McGinnes/Heggemeier
Hawkins/Givler
7
Allred/Villanueva
Hawkins/Givler
8
High Female:
McGinnes 911
Ijams 897
Sullivan 896
Urban 877
Davis 837
TOTAL AWARDED THIS EVENT: $2,520