SOUTH POINT BOWLING CENTER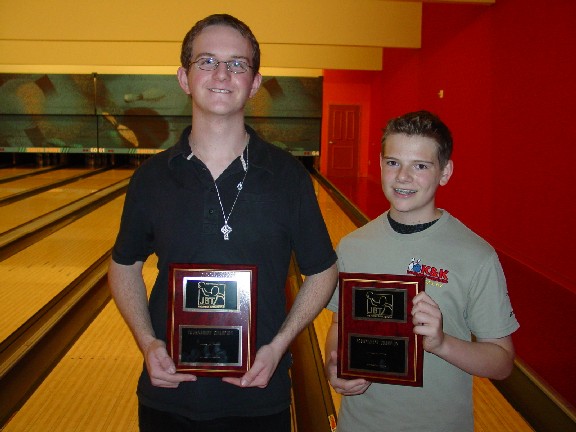 champs Cameron Smith & Paul Huether
Cameron Smith and Paul Huether used two different routes to JBT victory in exciting Mojave Conference action at South Point.
Kyle King, who seems to rarely miss a top-5 these days, opened up the scratch division stepladder finals with a 231-215 win over Foster Phandanouvong. The quickly-improving James Hawkins then won round two over King 209-182, but was stopped cold by Smith in the semifinals, who made JBT history by becoming the first bowler in our 13-year history to roll two 300 games in the stepladder finals in their career, this time 300-191 over Hawkins. Smith's feat is even more impressive considering his first perfecto (on a PBA pattern) was just last month in California! Smith has always flown just under the radar of some of our JBT superstars, but that is quickly changing with outstanding performances like these.
Top seed Matt Jones was striking plenty himself, grabbing the lead from Smith in game 8 with a big game (and a pocket 7-10 from Cameron in his tenth frame). A win would have put Matt over the $10,000 mark in career JBT earnings, but he could do little to stop Cameron, who after a slight adjustment pounded the last 7 strikes for a 256-214 win over Jones for the title. When Cameron found the carry angle he was unbeatable today, having also fired a 290 and a 279 earlier in the tournament! The high scoring all-day performance was good for his 7th career JBT title.
Bethany Baker and Aubrey Calabrese both bowled fantastic games in the opening round of the handicap stepladder finals, but it was Baker who came away with the 262-242 win. Huether then began a Houdini act, first escaping from Baker 190-187, then slipping by Josh Shoup 194-190 when Shoup opened in the final frame.
Given two second chances, the veteran Huether found his footing against top seed Teri Haennelt, who despite bowling terrifically all day, struggled a little bit in her first ever appearance as a JBT top seed. In the end, Paul won the game 223-186, for his 4th career JBT title.
Thanks to the whole crew at South Point for being wonderful hosts as always. Over $1,800 in scholarships were awarded to the 82-bowler field. Want in on the fun? Come on down to the next JBT event, it's as simple as that!
South Point (Sat.)- final results and optional scholarship winners
10/18/2008
Mojave Conference
Scratch Division
rank
name
city, state
prize
1
Cameron Smith
Santee, CA
$245
2
Matt Jones
Winnetka, CA
$185
3
James Hawkins Jr
Quail Valley, CA
$70
4
Kyle King
Phoenix, AZ
$325
5
Foster Phandanouvong
San Diego, CA
$30
6
Nick Lamek
Las Vegas, NV
$50
7
Brandon Owen
Las Vegas, NV
8
Dallas Leong
Las Vegas, NV
$15
9
Kris George
Las Vegas, NV
10
Chase Nadeau
Las Vegas, NV
$10
11
Brandon Allred
Las Vegas, NV
$15
12
Kyle Karpovich
Chandler, AZ
13
Alyse McGinnes
La Crescenta, CA
14
April Urban
Henderson, NV
15
Matt McHann
Las Vegas, NV
$30
16
Jordan Katz
Las Vegas, NV
17
Jordan Ferrer
Henderson, NV
18
Zach Hattori
Las Vegas, NV
19
Cory Keraly
Las Vegas, NV
20
Jeff Williams
Surprise, AZ
21
Lana Lycan
Santee, CA
22
Nate Leavitt
Las Vegas, NV
23
Kaitlin Mayall
Chula Vista, CA
24
Mikey May
Vista, CA
25
Jeff Belding
Las Vegas, NV
26
Hannah Chipman
Las Vegas, NV
27
DJ Sloan
Las Vegas, NV
28
Erik Matthewson
Las Vegas, NV
29
Chris Kagawa
Las Vegas, NV
30
Lindsey Hannasch
Los Angeles, CA
31
Matt Cormack
Woodland Hills, CA
32
Melissa Huether
Las Vegas, NV
33
Shawn Hrisca
Las Vegas, NV
34
Brian Ballard
San Diego, CA
35
Rachelle Davis
Tucson, AZ
$5
36
Ryan Howard
Las Vegas, NV
37
Martika Cabezas
Palm Springs, CA
38
Chris Kutcher
Las Vegas, NV
39
Rebeca Reguero
Phoenix, AZ
40
Alyssa Madrid
Las Vegas, NV
Handicap Division
rank
name
city, state
prize
1
Paul Huether
Las Vegas, NV
$245
2
Teri Haennelt
Las Vegas, NV
$100
3
Josh Shoup
Tolleson, AZ
$145
4
Bethany Baker
Tempe, AZ
$105
5
Aubrey Calabrese
Las Vegas, NV
$60
6
Shannon Ryan
Mesa, AZ
$35
7
Darcie Staggs
Bullhead City, AZ
8
Eric Hatchett
Las Vegas, NV
9
James Gabour
Las Vegas, NV
10
Zac Hochman
Las Vegas, NV
11
Brian Grupe
Las Vegas, NV
$45
12
Krysta Nadeau
Las Vegas, NV
13
Kenny Herbster
Las Vegas, NV
$15
14
Marina Stever
Mesa, AZ
$30
15
Justin Givler
Phoenix, AZ
16
Tim Barnowsky
Las Vegas, NV
17
Daniel Cotton
Glendale, AZ
$15
18
Donovan Koff
Las Vegas, NV
19
Lindsey Ailport
Phoenix, AZ
20
Austin Signoretti
Las Vegas, NV
21
Tyler Ottenschot
Las Vegas, NV
22
Ian Hanuscin
Las Vegas, NV
23
Alicia Sullivan
Kingman, AZ
$15
24
Brandon Dauphinais
Las Vegas, NV
$30
25
Aaron Watkins
Las Vegas, NV
26
Jenny Phandanouvong
San Diego, CA
27
Jordan Cook
Murrieta, CA
28
Taylor King
Phoenix, AZ
$15
29
Taylor Ray
Las Vegas, NV
$15
30
John Baranowski
Las Vegas, NV
31
Eric Demo
San Diego, CA
32
Oak Leavitt
Las Vegas, NV
33
Nick Wade
Phoenix, AZ
34
Dylan Lucas
Las Vegas, NV
35
Douglas Csayni
Las Vegas, NV
36
Anthony Calculli
Las Vegas, NV
37
Drew Stern
Northridge, CA
38
Nick Burton
Las Vegas, NV
39
Samantha Meyers
Mission Hills, CA
40
Brandon Longo
Phoenix, AZ
41
Andrew Kellogg
Las Vegas, NV
42
Kayla Harris
Las Vegas, NV
Scratch High Games:
Smith 300
Smith 290
Smith 279
Lamek 267
Katz 267
Handicap High Games:
Shoup 277
P Huether 276
Stever 276
Calabrese 274
Baker 273
Round Leaders (5 pts. Each)
Scratch
Handicap
1
Jones
Ottenschot
2
Allred
Stever
3
Lamek
Stever
4
King
Baker
5
King
Haennelt
6
Smith
Shoup
7
Smith
Haennelt
8
Jones
Haennelt
High Female:
Urban 1026
McGinnes 1015
Baker 990
Lycan 987
Mayall 979
TOTAL AWARDED THIS EVENT: $1,850