STARLIGHT LANES at Santa Ana Star Casino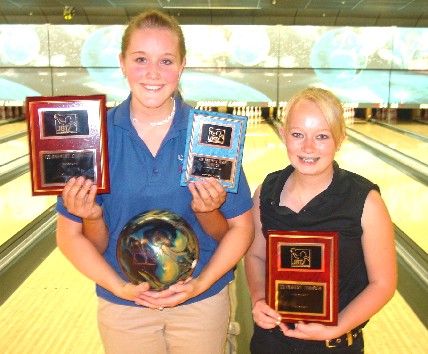 champs Allie Ijams & Olivia Stedman
Ladies' Year on the Junior Bowlers Tour just keeps rolling on, as Allie Ijams and Olivia Stedman won JBT titles in exciting NM-TX Conference action at Starlight Lanes.
Our popular 'survivor' format on another challenging condition produced do-or-die, low-bowler-out situations on every pair after the qualifying round, until only one survivor remained. The scratch division was eventually whittled down to four. In the resulting semifinal matches, Tom Crites defeated Diego Lucero, the previous day's champion, 195-159, while in a rematch of yesterday's semifinal match, Allie Ijams avenged herself by defeating Hannah Stedman 194-169- but they weren't done with each other yet... more later.
In the title match, Allie- who won her first scratch title in New Mexico and February and has just kept improving since- remained in complete control against first-time finalist Crites, and won the match 201-164 for her third title of the season.
The handicap field was carved down to six, and in the round of six, Stacia Cilley beat qualifying leader Jacob Gill 220-194, Samantha McFarland beat Andrew Esparza 206-193, and Olivia Stedman, Hannah's younger sister, beat Tonia Barela 219-192.
This created a 3-way semifinal game, and in that round, Stedman's 240 and Stacia's 211 advanced, while Samantha bowed out with a still-good 192 effort. Thus, it was two ladies in the handicap title match, and in that game, Cilley, a finalist the previous day, rolled a 188, but it was Stedman avenging Hannah's semifinal loss with a 228 win and her first career JBT title.
This event was also the 19th and final JBT Women's Series event, and the top two qualifiers bowled a separate girls title match- and that meant Hannah and Allie had to clash one more time, in what would be the rubber match of their personal series this weekend. In the match, Allie just kept filling frames, eventually grinding out a 201-183 win over Hannah to become the only girl this year with 3 Women's Series titles. It's hard to think of enough superlatives to lavish on all our girls this year, who have really impressed at every level. Hannah's breakthrough weekend gave her two 2nd and a 3rd in one weekend, while Allie, the Women's Series points leader, finished 1st, 1st, and 3rd on the weekend, earning $600 in scholarships and passing the $7500 in career JBT scholarships along the way. Um.... WOW!
Thanks as always to Margaret, Jerry, Josue, and the crew at Starlight for a great job hosting our Tour. Over $1,500 in scholarships were awarded to bowlers of all ages and averages- want in on the fun? Come on out to the next JBT event, it's that simple!
Starlight Lanes- final results and optional scholarship winners
4/25/2009
NM-TX Conference
Scratch Division
rank
name
prize
1
Allie Ijams
$405
2
Tom Cirtes
$145
3
Hannah Stedman
$60
4
Diego Lucero
$65
5
Christina Waldron
$40
6
Wendy Shelton
$30
7
William Entsminger
$30
8
Tim Crites
9
Zach Barnard
$30
10
Jess Gagliardi
$15
11
Ryan Scheer
12
Nick Lee
13
Charlie Elliott
14
Dan Romero
15
Billy Read
16
Thomas Gutierrez
17
Sara Vargas
18
Aaron Raymond
19
Tevynn Laws
$15
20
Nathan Shock
21
William Yoder
Handicap Division
rank
name
prize
1
Olivia Stedman
$200
2
Stacia Cilley
$100
3
Samantha McFarland
$60
4
Jacob Gill
$80
5
Tonia Barela
$70
6
Andrew Esparza
$75
7
Brittany Leiby
$20
8
Andrea Jaramillo
$5
9
Kristie Rush
$11
10
Eric Sanford
11
Taylor Qunitana
12
Reanna Quesada
13
Bailey McFarland
14
Stephanie Barela
15
Katie Rush
$30
16
Ashley Leiby
$15
17
Brandon Gill
18
Tyler Allen
$15
19
Olivia Silva
20
Angela Walls
21
Tim Baribeau
22
Jeff Russell
$35
23
Cheyenne Polen
24
Jonah Seawright
25
Josh Helmick
26
Halie Baribeau
27
Josh Barress
28
Mike Romero
$15
29
Lacey Shelton
30
Sophie Diaz
31
Seth Jaramillo
32
Jeremy Larance
Scratch High Games:
Barnard 256
Entsminger 242
Ijams 242
Gagliardi 232
Stedman 228
Handicap High Games:
Stedman 266
Esparza 254
B McFarland 253
S McFarland 251
B Gill 244
Round Leaders (5 pts. Each)
Scratch
Handicap
1
Gagliardi
S McFarland
2
Ijams
B Leiby
3
Tom Crites
B Leiby
4
Barnard
J Gill
5
Tom Crites
J Gill
6
7
8
High Female:
Ijams 960
Stedman 946
Waldron 925
W Shelton 884
B McFarland 869
TOTAL AWARDED THIS EVENT: $1,566
story and results soon!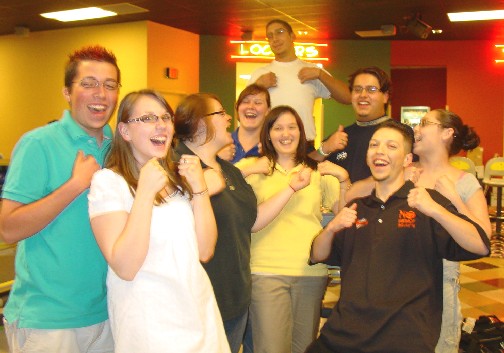 I have no further comment...