TENPINS & MORE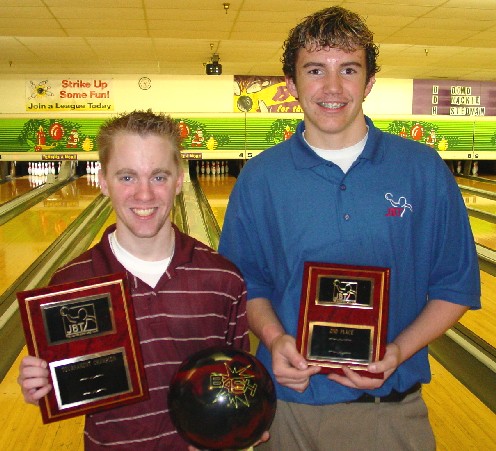 champ Geoffrey Young & runner-up Ryan Scheer
Geoffrey Young completed a dominant weekend with a win in scratch-only action at Tenpins & More.
Young qualified first after five games of matchplay qualifying for the 16-person finals bracket, then swept #16 Jerod Florez in round one. #2 Matt Helmick and #3 Ryan Scheer also advanced, but #4 Matt Jones was upset 2-0 by #13 Jess Gagliardi.
In the round of eight, Young escaped a tough match against #8 Nick Lee 2-1; #10 William Entsminger made his 7th top-5 in 8 events this season with a 2-0 sweep over Gagliardi; Scheer swept #6 Brian Ballard 2-0 (including a tiebreak win in game one); and Helmick swept #5 Tim Crites 2--0.
In one-game semifinal matches, Young beat Entsminger 236-194, and Scheer beat friend, co-worker, and high school teammate Helmick 216-194, to reachhis first scratch division title match.
Ryan bowled very well in the title match but could not catch a double, while Young had enough left for a 216-194 win, and his 6th career JBT title, 3 of them coming here at Tenpins.
Thanks to Steve Mackie, Mike Miller, Dana Miller-Mackie, and the whole crew at Tenpins for being a great host of our Tour. Want in on all this fun? Come on down to the next JBT event, it's that simple!
Tenpins & More- final results and optional scholarship winners
12/21/2008
NM-TX Conference
Scratch Division
rank
name
prize
1
Geoffrey Young
$385
2
Ryan Scheer
$125
3
Matt Helmick
$75
4
William Entsminger
$85
5
Tim Crites
$65
6
Brian Ballard
$40
7
Nick Lee
$30
8
Jess Gagliardi
$20
9
Matt Jones
$170
10
Allie Ijams
11
Billy Read
$15
12
Amanda Falk
13
Randy Cote
$75
14
Trevor Crombie
$15
15
Diego Lucero
16
Jerod Florez
17
Dan Romero
18
Paul Carper
$15
19
Janeyl Carper
20
Labriel Leach
21
Christina Waldron
$5
22
Matt Cormack
$5
23
Ethan Biswell
24
Zach Barnard
25
Tevynn Laws
26
Tom Crites
27
Nathan Shock
$15
28
Hannah Stedman
29
Charlie Elliott
$15
30
Wendy Shelton
31
Sara Vargas
32
Ahkeen Williams
33
William Yoder
34
Armando Ortega
35
Josh Barress
TOTAL AWARDED THIS EVENT: $1,165
High Games
Young 278
Cormack 263
Ballard 262
Gagliardi 252
Jones 247
Lucero 247
High Females
Falk 971
Ijams 963
Waldron 885
J Carper 861
W Shelton 845