WESTERN BOWL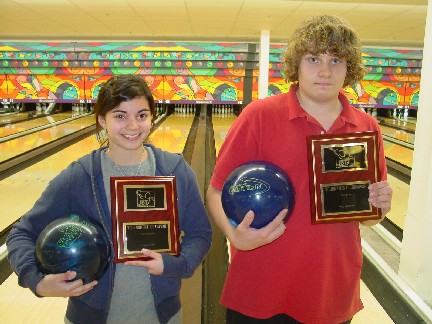 champs Gabrielle Potts & Tim Baribeau
Gabrielle Potts joined the women's parade, while Tim Baribeau finally won his first JBT title, in exciting JBTaction at Amarillo's Western Bowl.
Diego Lucero opened up the scratch division stepladder finals with a 226-192 win over Billy Read. Potts, the early tournament leader, then took over, beating Lucero 224-211, and following with a clutch 234-222 win over Zach Barton to reach the title match.
Top seed Stephen Planer had already had a dream weekend. After winning his first title the day before in Lubbock, he fired a 300 in game five, earning an extra $300 on the spot, cashing in our $300 for 300 bonus, and used that big game to earn the top seed. However, he had a tough challenger in Potts, who continued to throw the ball great in a 224-208 win over Planer for her first JBT title. She becomes the ninth female to win an open scratch JBT title this year, when we've had no more than two in any previous season- way to go, girls!
Speaking of dream weekends, Caleb Goehring, the previous day's winner in Lubbock, continued a charmed existence by winning a two-frame rolloff over his title match victim Jeremy Larance just to get into the finals. Once in, he squeezed by Jonah Snell 200-194 to open the stepladder. Ina well-bowled round two, Caleb got by Mike Romero 243-220. Goehring followed that with a 235-205 win over Seth Jaramillo to reach his second straight title match.
Top seed Tim Baribeau was confident he could stop the amazing run by Goehring, and the positive attitude helped him do just that, defeating Caleb 227-199 to claim his first career JBT title. Both he and Gabrielle earned an extra $100 for throwing Ebonite balls during their victories, so make sure you're throwing our title sponsor's equipment!
Over $1,800 in scholarships were awarded at the event, which as always was hosted expertly by the crew at Western. Want in on the fun? Come on down to the next JBT event, it's that simple!
Western Bowl- final results and optional scholarship winners
4/19/2009
New Mexico - Texas Conference
Scratch Division
rank
name
prize
1
Gabrielle Potts
$315
2
Stephen Planer
$415
3
Zach Barton
$70
4
Diego Lucero
$65
5
Billy Read
$60
6
Christian Jensen
$130
7
Troy Gaudette
$10
8
Hannah Stedman
9
Brad Pierce
10
Nathan Shock
11
Bradley Robinson
12
Tanner Palmer
13
Tom Crites
$15
14
Zach Barnard
15
Katelynn Mulcahy
16
Laef Pendergraft
17
Alex Clark
$15
18
Jess Gagliardi
19
Dan Romero
20
Tim Crites
21
Thomas Gutierrez
22
Andrew Cuevas
23
Wendy Shelton
Handicap Division
rank
name
prize
1
Tim Baribeau
$310
2
Caleb Goehring
$115
3
Seth Jaramillo
$140
4
Mike Romero
$50
5
Jonah Snell
$40
6
Jeremy Larance
$30
7
Kristie Rush
$35
8
Lauren Mansel
$16
9
Angela Walls
$15
10
Lacey Shelton
$10
11
Tyler Allen
12
Chancellor Hawkins
13
Brittany Mansel
14
Tyler Houston
15
Halie Baribeau
16
Zachary Wojciechowski
17
Chris McFarlin
18
Taylor Williams
19
Rachel Thompson
20
Stephanie Barela
21
Forrest Lockhart
22
Tonia Barela
23
Kasidee Olivarez
24
Katie Rush
25
Devin Marshall
26
Braxton Williams
27
Zackery McFarlin
28
Kirk Russell
Scratch High Games:
Planer 300
Lucero 278
Barton 269
Mulcahy 268
Barton 267
Handicap High Games:
Snell 268
Snell 259
Jaramillo 254
Houston 254
Kristie Rush 253
High Female:
Potts 1154
Stedman 993
Mulcahy 990
Walls 954
L Shelton 887
Round Leaders:
Scratch
Handicap
Potts
Snell
Potts
L Shelton
Lucero
Baribeau
Potts
Jaramillo
Lucero
Jaramillo
Planer
Jaramillo
Planer
Baribeau
Potts
Baribeau
TOTAL AWARDED THIS EVENT: $1,886