AZ INVITATIONAL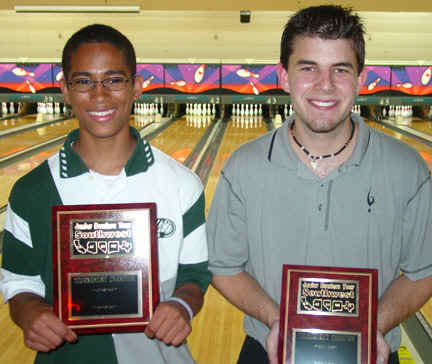 champs Justin White (handicap) and Evan Olson (scratch) (see the' photos 6' page of the website for additional Invitational photos)
Evan Olson rolled past the Southwest's best junior scratch bowlers, while Justin White turned $10 into a $1000 scholarship, in breathtaking action at the JBT SW's Arizona Invitational Championship at AMF Christown.
After ten games of qualifying and five grueling matches, the scratch division triple-elimination finals was whittled down to nine bowlers, including #2 seed Kevin Saunders, who enjoyed a sixth-round bye. In round 6 matches, #12 seed Bill Grant suffered his first loss at the hands of the sixth-seeded Olson, while in elimination games, #13 Nathan Panaligan took care of #9 Jason Arnold, top-seed BJ Baker stayed alive by ousting last-chance squad winner Philip Schwartz, and #4 David Sevier dispatched #7 seed and JBT So Cal Bowler of the Year Josh Blanchard.
In round seven, Grant recovered to eliminate Panaligan, Saunders handed Olson his second loss, and Baker eliminated Sevier. Now with four bowlers left alive, and with a huge and vocal crowd sticking around, Saunders stayed alive by beating Grant 246-224, giving Bill loss number two. Meanwhile, Olson caught fire and eliminated Baker 277-203, earning a bye in the next round which moved him on to the title match. The match to determine Evan's opponent saw Grant confidently defeat Saunders 232-192 in the rematch, to set up, of all things, a Washington vs. New Mexico title match for Arizona's biggest junior event.
Olson, from Burien WA, qualified for this event via a win in Kingman, and began the title match against Grant with the first seven strikes. Bill stayed within range, however, with a double and four-bagger of his own, before an eighth frame spare, followed by Olson's eighth strike sealed his fate. Two spares for Evan in the last two frames produced a final tally of 268-254 in the thrilling finale. The win was the second of Olson's JBT SW career, and came with a whopping $1,135 in scholarships. Grant earned a not too shabby $795 as the runner-up.
A fiercely competitive handicap division endured a brutal qualifying round where only 10 of the 62 entrants would join the top-5 exempt bowlers in the triple elimination finals. Justin White missed that cut, so he had to try and make the finals via the last chance squad, a 2-game sweeper where he and 41 other handicap division bowlers tried to beat long odds. Justin's 503 for two was just enough to turn the trick, so he advanced as the #16 seed for the finals. All he did then was proceed to tear through the finals field, going undefeated through the first five rounds.
In round six, White remained untouchable with a win over top-seed Kylee Bonneville, his second win over Kylee in the finals. In other matches, #3 seed Brian Weyrauch eliminated #6 seed and all-conference point leader Shane Peck; #2 seed Philip Stephens ended #11 seed Jeff Millmier's day, and #10 Taylor Brennan stopped #8 Bryanna Dawson's fine run.
With five bowlers left in round seven, it was Stephens' turn to enjoy a bye, and he looked on as White rolled on, giving Weyrauch his second loss in a tight 233-229 battle. In the other match, Bonneville stayed alive by eliminating Brennan 249-188. With four bowlers left in round eight, Philip Stephens finally handed Justin his first loss, beating White 228-187, while Bonneville eliminated Weyrauch in the other match with a big 264-158 win.
Down to three bowlers, Kylee and Philip had to play each other for the right to have to beat Justin twice for the title. That match turned out to be a thriller, with Bonneville getting a big strike in the tenth for a 225-213 win, eliminating Stephens. However, in the title match against White he couldn't quite maintain the momentum, as Justin's solid bowling left no room for error. White dominated the title match, and his 224-191 win gave him his second consecutive JBT SW title, and the third of his career. He became only the second bowler to win an Invitational from the last chance squad, but having to best 41 others just to win that squad, let alone the other 15 finalists, makes this one of the most impressive JBT SW wins ever. White picks up a cool $1000 for his win, while Bonneville pocketed $900 for second.
Congrats to Eric Warren and Saunders for rolling 300 games in the event, bringing the final total to 16 300 games rolled in JBT SW competition this season. An unprecedented $11,225 in scholarships was awarded in the Arizona Conference's season-ending event. Thanks to Pat Cook and the fantastic staff at Christown for another great hosting job, and being one of JBT SW's biggest supporters since our inception.
AZ Invitational- final results and optional scholarship winners
6/18/2005
Arizona Conference
Scratch Division
rank
name
city, state
prize
1
Evan Olson
Burien, WA
$1,135
2
Bill Grant
Rio Rancho, NM
$795
3
Kevin Saunders
Goodyear, AZ
$725
4
BJ Baker
Tempe, AZ
$475
5
David Sevier
Gilbert, AZ
$375
6
Nathan Panaligan
N. Las Vegas, NV
$150
7
Josh Blanchard
Upland, CA
$375
8
Jason Arnold
Phoenix, AZ
$175
9
Philip Schwartz
Oro Valley, AZ
$100
10
Steven Black
Phoenix, AZ
$400
11
Savahna Porter
Yuma, AZ
$50
12
Brandon Allred
Las Vegas, NV
$140
13
Chris Weyrauch
Chandler, AZ
$50
14
Christian Jensen
Anthem, AZ
$175
15
Theo Douthit
San Diego, CA
$130
16
Jeff Ellis
Phoenix, AZ
$50
17
Bryanna Caldwell
Tucson, AZ
18
Jerimiah Wiltfang
Lake Havasu City, AZ
$125
19
Cayson Coyle
Las Vegas, NV
$125
20
Lanndyn Carnate
Glendale, AZ
$250
21
Miguel Lopez
Peoria, AZ

22
DeShaun Jefferson
Phoenix, AZ

23
Chris Ingram
Phoenix, AZ
$15
24
Joseph Anderson
Avondale, AZ

25
Andre Hernandez
Phoenix, AZ
26
Tiffany Chi
Prescott, AZ
27
Jerod Florez
Bosque Farms, NM
28
Dan Bodinet
Phoenix, AZ
29
Emily Ornelas
Phoenix, AZ
30
Amanda Falk
Tucson, AZ
31
Steven Sheffey
Glendale, AZ
32
Greg Garbera
Glendale, AZ
33
Matt Herbert
Prescott, AZ
34
DJ Sloan
Las Vegas, NV
35
Elias Ewert
Chandler, AZ
36
Johnny Ray
Las Vegas, NV
Handicap Division
rank
name
city, state
prize
1
Justin White
Phoenix, AZ
$1,000
2
Kylee Bonneville
Mesa, AZ
$900
3
Philip Stephens
Phoenix, AZ
$600
4
Brian Weyrauch
Tempe, AZ
$390
5
Taylor Brennan
Prescott, AZ
$210
6
Shane Peck
Riverside, CA
$210
7
Bryanna Dawson
Phoenix, AZ
$100
8
Jeff Millmier
Phoenix, AZ
$115
9
Kevin Schoenfeld
Phoenix, AZ
$150
10
Eric Warren
Phoenix, AZ
$255
11
Cameron Smith
Santee, CA
$80
12
Zach Huglin
Gilbert, AZ
$65
13
David Stone
Casa Grande, AZ
$50
14
Eric Rubin
Phoenix, AZ
$50
15
Mark Mandell
Queen Creez, AZ
$110
16
Beth Houston
Tucson, AZ
$50
17
Kyle Smith
Casa Grande, AZ
$60
18
Amy Dorsey
Prescott, AZ
19
Alex Powell
Phoenix, AZ
$30
20
Rebeca Reguero
Phoenix, AZ
21
Chris Wurm
Chandler, AZ

22
Kevin Magyar
Phoenix, AZ
23
CJ Crowley
Mesa, AZ
$75
24
Corey Sandberg
Prescott, AZ
$15
25
Emmanuel Durazo
Phoenix, AZ
$30
26
Michael Kremer
Peoria, AZ
27
Anthony Cruz
San Diego, CA
28
Holly Emery
Queen Creez, AZ

29
Rane Lacona
Phoenix, AZ
$15
30
Kyle Frederick
Chandler, AZ
31
Kris George
Glendale, AZ
32
Jewels Giordano
Phoenix, AZ
33
Kayln Washburn
Tucson, AZ

34
David Price
Safford, AZ

35
Francisco Peralta
Tucson, AZ
36
Matt Payne
Phoenix, AZ

37
Megan Withey
Glendale, AZ
38
Nicholas Lee
Tucson, AZ
39
Michael Curry
Phoenix, AZ
40
Larry Gilgur
Cave Creek, AZ
41
Bryan Caldwell
Phoenix, AZ
$15
42
Greg Geering
Phoenix, AZ
43
Bobby Lopez Jr.
Peoria, AZ
44
Courtney Dutton
Chandler, AZ
45
Rachelle Davis
Tucson, AZ
46
Jake Tatum
Prescott, AZ
47
Tyler Brown
Prescott, AZ
48
Alex Van Kirk
Prescott Valley, AZ
49
Nicole Stanczak
Phoenix, AZ
50
Lindsay Salhoff
Phoenix, AZ
51
Kevin Narciso
Phoenix, AZ
52
Kyle King
Phoenix, AZ
$30
53
Dan Eagy
Phoenix, AZ
54
Rachel Lynn
Peoria, AZ
55
Sean Balbos
Prescott, AZ
$15
56
Chris Spinner
Phoenix, AZ
$15
57
Andy Garriott
Phoenix, AZ
58
Dale Williams
Flagstaff, AZ
59
Richard Stone
Casa Grande, AZ
60
Michael Kenny
Prescott, AZ
61
Jess McCrackin
Phoenix, AZ
62
Rebecca Bodinet
Phoenix, AZ
63
Dallas Sandberg
Prescott, AZ
64
Justin Weber
Phoenix, AZ
65
Jeff Weyrauch
Tempe, AZ
66
Max Van Kirk
Prescott Valley, AZ
67
Tim Bonneville
Mesa, AZ
68
Kayla Frederick
Chandler, AZ
Other scholarship winners: Kurt Lehner $125; Jeremy Medina $375; CJ Brown $125;
Brandon Watts $125
Cuts: scratch plus 113; handicap plus 133
Storm Ball Winner: Emmanuel Durazo
TOTAL AWARDED THIS EVENT: $11,225
TOTAL AWARDED THIS SEASON: $183,818
TOTAL AWARDED BY JBT SW: $599,304