BOWL EL PASO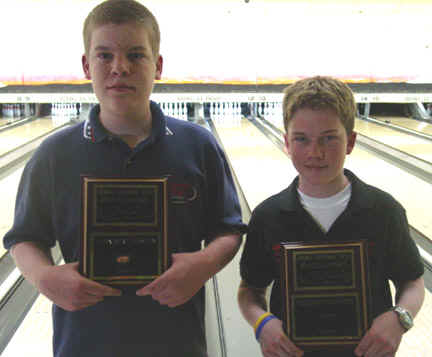 champs Christian Jensen and Cody Mansfield
A high scoring day of action at Bowl El Paso saw an Arizonan and a New Mexican walk away with JBT SW titles in our last Texas stop of the season.
The scratch division finals opened with local favorite Stephen Gaucin crushing Andy Byer by a 237-131 margin. In round two, Justin De Dera squeaked by Gaucin 214-202. In a semifinal clash between DeDera and BJ Baker, Justin's 7-count in the tenth frame proved costly, as BJ got the 19 pins in the tenth he needed for a 203-202 win to advance to the title match.
Top qualifier Christian Jensen has found the winning formula lately with two wins already this spring. He easily led qualifying with 6 of 8 games of 225 or better, and began with the first six strikes in the title match to put Baker away early. The 256-193 final score was good for the fifth title of his JBT SW career.
The handicap division enjoyed a very high-scoring day with 20 of the 65 bowlers scoring +100 or better. Eight games wasn't enough to determine the finalists, as Carlos Mendez and Joseph Clickener tied for the final spot. Mendez won the rolloff with a clutch double to grab the #8 seed, and then got himself into another thriller in match two. After Charlie Elliott finished with a 200, Jesse Henson got the first strike in the tenth for 227, but could only watch as Mendez converted a 4-pin for a 228 game and a one-pin victory.
In round two, Christina Waldron, one of our most improved female bowlers this year, blasted a big 231 to defeat Mark Benson's 202, and finally ousting Mendez, who finished with a fine 214. In the semifinals, Waldron really got it going, rolling a big 243 to defeat Alex Bell's 170 and Josh Arceo's 169 efforts, advancing her to the title match.
Top qualifier Cody Mansfield had done most of his damage in the semifinals, and continued on a roll with a strong start in the title match. The problem for Cody was that Waldron started equally strong, setting up a dramatic finish. With both bowlers clean and on strings going into the tenth, Waldron filled 20 to finish with a 251 game (after handicap). Needing spare-6 to win the tournament, Mansfield's first shot left a solid-9, which he converted. His fill ball came up very high, however, but just broke up a bigger split for the 6-count he needed for the 252-251 victory, and his 2nd career JBT SW title.
Thanks to Wiley Quintana, Bowl El Paso, and many friends of the JBT SW throughout El Paso for a great job in spreading the word and hosting the event!
Bowl El Paso- final results and optional scholarship winners
4/10/2005
New Mexico-Texas Conference
Scratch Division
rank
name
city, state
score
prize
1
Christian Jensen
Anthem, AZ
p 309
$305
2
BJ Baker
Tempe, AZ
p 205
$130
3
Justin DeDera
Las Cruces, NM
p 194
$175
4
Stephen Gaucin
El Paso, TX
p 134
$50
5
Andy Byer
Albuquerque, NM
p 128
$30
6
Philip Schwartz
Oro Valley, AZ
p 99

7
Brandy Silva
Albuquerque, NM
p 92
$20
8
Jeremy Medina
Santa Fe, NM
p 34

9
Justin Medina
Santa Fe, NM
p 23
$30
10
Jerod Florez
Bosque Farms, NM
m 101

11
Bill Grant
Rio Rancho, NM
m 1

12
Jacob Kirtley
El Paso, TX
m 24
13
BJ Eichensehr
El Paso, TX
m 25
14
Sam Cuevas
Lubbock, TX
m 46
15
Jay Lent
Las Cruces, NM
m 46
16
Alfonso Fuentes
El Paso, TX
m 57
17
Ashley Dale
Las Cruces, NM
m 91
18
Chris Johnson
El Paso, TX
m 105
19
Sarah Carity
Phoenix, AZ
m 141
Handicap Division
rank
name
city, state
score
prize
1
Cody Mansfield
Albuquerque, NM
p 258
$230
2
Christina Waldron
Albuquerque, NM
p 198
$130
3
Alex Bell
El Paso, TX
p 252
$110
4
Josh Arceo
Albuquerque, NM
p 242
$95
5
Mark Benson
El Paso, TX
p 208
$70
6
Carlos Mendez
El Paso, TX
p 156
$50
7
Charlie Elliott
Santa Fe, NM
p 179
$115
8
Jesse Henson
Hobbs, NM
p 164
$45
9
Joseph Clickener
El Paso, TX
p 156
$25
10
Thomas Gutierrez
Albuquerque, NM
p 154
$65
11
Jeremy Baca
Albuquerque, NM
p 138
$15
12
Nathan Hughes
San Jose, NM
p 134
$30
13
Alexys Escandon
El Paso, TX
p 130
$30
14
Amanda Johnson
Rio Rancho, NM
p 122
$25
15
Susan Kurzeka
Albuquerque, NM
p 120

16
Nathan Anderson
El Paso, TX
p 111

17
McKenzie Nicolson
El Paso, TX
p 106

18
Stone Price
El Paso, TX
p 104

19
Aurora Popple
El Paso, TX
p 102

20
Sabrina Barton
El Paso, TX
p 102

21
Jessica Gibson
Hobbs, NM
p 91

22
Austin Pangelinan
El Paso, TX
p 87
$15
23
Leo Guzman
El Paso, TX
p 87
$45
24
Danielle Rogers
Las Cruces, NM
p 79
$15
25
Bailey Mcfarland
El Paso, TX
p 76

26
Caitlin Ortiz
Las Cruces, NM
p 69
27
Corey Prater
El Paso, TX
p 66

28
Michael Hinojosa
Las Cruces, NM
p 51
29
Wendy Shelton
Albuquerque, NM
p 44

30
Ryan Fast
Las Cruces, NM
p 41
31
Jesus Fuentes
El Paso, TX
p 34
32
Steven Ortiz
Las Cruces, NM
p 33
33
Janine Rogers
Las Cruces, NM
p 28

34
Michael Ortiz
Las Cruces, NM
p 19
35
Juan Romero
Albuquerque, NM
p 17
$45
36
Bethlehem Pal-Laya
El Paso, TX
p 17
$15
37
Lee Nicolson
El Paso, TX
p 11

38
Monty Samaniego
Las Cruces, NM
p 11

39
Tommie Hall
McDonald, NM
p 11

40
Jason Ortiz
Las Cruces, NM
p 10
41
Jonathan Frederick
El Paso, TX
p 21
42
Kimberley Alonzo
El Paso, TX
p 7
43
Julian Ortega
Roswell, NM
p 6
$15
44
Anthony Tripi
El Paso, TX
m 2

45
John Ross Saenz
El Paso, TX
m 2
46
Alyssa Williams
El Paso, TX
m 3

47
Jennifer Fast
Las Cruces, NM
m 18
48
Benjamin Burrs
El Paso, TX
m 21

49
Jamie Tillman
Hobbs, NM
m 23
50
Austin Mansfield
Albuquerque, NM
m 26

51
Travis Gudelj
Albuquerque, NM
m 32

52
Brandon Culp
El Paso, TX
m 36
53
Heaven Pajala
Albuquerque, NM
m 38
54
Bobbi Reich
Albuquerque, NM
m 39
55
Annalicia Martinez
Roswell, NM
m 42
56
Mark Mares
Los Lunas, NM
m 51
57
Janeyl Carper
Rio Rancho, NM
m 52
58
Rachel Thompson
Albuquerque, NM
m 65
59
Taylor Cruz
Santa Fe, NM
m 67
60
Zakary Strickland
Albuquerque, NM
m 77
61
Paul Carper
Rio Rancho, NM
m 89
62
Jimmy Jones
El Paso, TX
m 100
63
Cerra Strickland
Albuquerque, NM
m 115
64
Ahkeen Williams
El Paso, TX
m 184
65
Jeff Tillman
Roswell, NM
m 205
High Female: Silva 1039
Cuts: scratch -3, handicap +24
Storm Ball Winner: Janeyl Carper
High Games: scratch: Baker 278, DeDera 268, Jensen 258; handicap: Gutierrez 291, Johnson 283, Mansfield 269
TOTAL AWARDED THIS EVENT: $1,955