BRUNSWICK ZONE MESA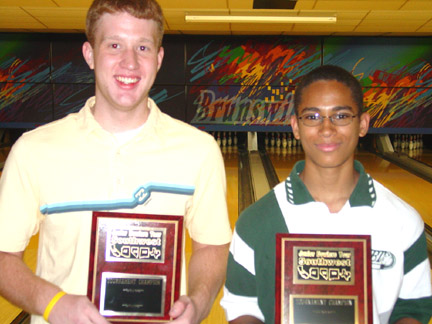 champs BJ Baker & Justin White
BJ Baker answered the call of a tightening Bowler of the Year race with his landmark tenth career JBT SW title, while Justin White capped off a personal hot streak with his second win, in exciting action at BRC Zone Mesa.
Baker had to climb the ladder to win his 7th title of the season, and began in fine style, with a 258-190 win over Elias Ewert, who was making his first scratch finals of the season. In round two, Baker took out Kevin Saunders in a match rife with B.O.Y. implications 230-190. He followed that with a dramatic 213-211 win over Philip Schwartz in the semis, when Schwartz failed to convert a disastrous 4-9 split in the tenth.
Top seed Cayson Coyle had thrilled the sellout crowd earlier in the day by opening the tournament with a 300 game, the 16th rolled in JBT SW competition this season. Unfortunately, he lost his look in the title match, while Baker's opening four-bagger added extra pressure to the situation. Baker kept on stringing while Coyle kept on struggling, and the end result was a blistering 268-157 win for Baker, giving him his 5th title in Arizona this season, and a better grip on the points lead heading into the Invitational.
The handicap division saw one of its highest scoring events ever, with a +59 cut, and an amazing 15 bowlers finishing at +200 or better. In the finals field of 8, four of the bowlers were in the top 5 in points, making for an intense set of matches. The ladder opened with Beth Houston rolling a fine 241, only to be outdone by Brian Weyrauch doubling in the tenth for a 243 game that also beat Gary Vose's 199. In round two, Philip Stephens rolled his highest game ever, adding up to a 288 that easily beat Weyrauch (183) and Kris George (215). In the semifinals, Kylee Bonneville's heartbreaking missed spare in the tenth gave Justin White a shocking win, as his 230 game beat Kylee's 228, and Stephens' 211.
White took advantage of the semifinal gift by pouring it on against top qualifier Kevin Schoenfeld. Kevin was enjoying a dominant performance from start to finish, but was unable to stop White's roll, and Justin cruised to a 234-197 win, good for his second JBT SW title. Kevin was very much consoled by the fact that his runner-up finish boosted him into the top 5 in points, earning the extremely valuable Invitational bye.
A sellout field of 96 bowlers shared in $2,075 in scholarships. Thanks to Tim Brenden and his staff for another great visit to BRC Mesa!
BRC Zone Mesa- final results and optional scholarship winners
6/12/2005
Arizona Conference
Scratch Division
rank
name
city, state
score
prize
1
BJ Baker
Tempe, AZ
p 216
$225
2
Cayson Coyle
Las Vegas, NV
p 289
$180
3
Philip Schwartz
Oro Valley, AZ
p 280
$85
4
Kevin Saunders
Goodyear, AZ
p 262
$135
5
Elias Ewert
Chandler, AZ
p 223
$40
6
Brandon Donnelly
Lake Havasu City, AZ
p 208
$15
7
Christian Jensen
Anthem, AZ
p 196

8
Mike Smith
Chandler, AZ
p 190

9
Mike Donnelly
Chandler, AZ
p 179

10
Greg Shoaf
Mesa, AZ
p 177
$30
11
Jason Arnold
Phoenix, AZ
p 170
$15
12
Chris Weyrauch
Chandler, AZ
p 157
$15
13
David Sevier
Gilbert, AZ
p 125
$30
14
Greg Garbera
Glendale, AZ
p 99

15
Lanndyn Carnate
Glendale, AZ
p 77

16
Miguel Lopez
Peoria, AZ
p 63
$15
17
Chris Ingram
Phoenix, AZ
p 39

18
Theo Douthit
San Diego, CA
p 29

19
Andre Hernandez
Phoenix, AZ
p 22
20
Bear Wiltfang
Lake Havasu City, AZ
p 15
$15
21
Heather Brown
Las Vegas, NV
p 11
$30
22
Steven Black
Phoenix, AZ
p 4
23
Forrest Holand
Vista, CA
p 3
24
Sarah Carity
Phoenix, AZ
p 2
25
Will McPherson
Chandler, AZ
p 2
26
Erin Patterson
Tempe, AZ
m 5
27
DeShaun Jefferson
Phoenix, AZ
m 22
28
Emily Ornelas
Phoenix, AZ
m 23
29
Dan Bodinet
Phoenix, AZ
m 27
30
DJ Sloan
Las Vegas, NV
m 33
31
Rebekah Gottlieb
Tempe, AZ
m 49
32
Joseph Anderson
Avondale, AZ
m 72
33
Tiffany Chi
Prescott, AZ
m 74
34
Amanda Falk
Tucson, AZ
m 94
35
Rachel Carr
Chandler, AZ
m 96
$15
36
CJ Lee
Gilbert, AZ
m 181
Handicap Division
rank
name
city, state
score
prize
1
Justin White
Phoenix, AZ
p 293
$270
2
Kevin Schoenfeld
Phoenix, AZ
p 314
$200
3
Kylee Bonneville
Mesa, AZ
p 268
$80
4
Philip Stephens
Phoenix, AZ
p 264
$70
5
Kris George
Glendale, AZ
p 256
$150
6
Brian Weyrauch
Tempe, AZ
p 251
$50
7
Gary Vose Jr.
Casa Grande, AZ
p 255
$40
8
Beth Houston
Tucson, AZ
p 252
$105
9
Brittany Riggers
Phoenix, AZ
p 237
$30
10
Bobby Lopez Jr.
Peoria, AZ
p 227
$15
11
Racehelle Davis
Tucson, AZ
p 224
$15
12
Michael Kremer
Peoria, AZ
p 218
$15
13
Shane Peck
Riverside, CA
p 217
$40
14
Kyle King
Phoenix, AZ
p 215
$60
15
Cody Vanderweyst
Phoenix, AZ
p 205
$15
16
Zach Huglin
Gilbert, AZ
p 189

17
Taylor Brennan
Prescott, AZ
p 172

18
Rebeca Reguero
Phoenix, AZ
p 142
$30
19
Max Van Kirk
Prescott Valley, AZ
p 139

20
Joshua Downs
Phoenix, AZ
p 139
$15
21
Casey Candiotti
Scottsdale, AZ
p 133

22
Michael Curry
Phoenix, AZ
p 133

23
Bryanna Dawson
Phoenix, AZ
p 128

24
Kyle Smith
Casa Grande, AZ
p 123

25
Tiffany King
Surpriseizzle, AZ
p 118

26
Courtney Dutton
Chandler, AZ
p 118

27
Chris Wurm
Chandler, AZ
p 89
$30
28
Eric Rubin
Chandler, AZ
p 84

29
Rane Lacona
Phoenix, AZ
p 80
$16
30
Alex Powell
Phoenix, AZ
p 45
$30
31
Alex Van Kirk
Prescott Valley, AZ
p 53

32
Mark Mandell
Queen Creek, AZ
p 52

33
CJ Crowley
Mesa, AZ
p 52
34
Robert Atherton
Phoenix, AZ
p 50
35
Jeff Millmier
Phoenix, AZ
p 44
36
Melissa Del Rio
Tucson, AZ
p 34
37
Michael Albertson
Phoenix, AZ
p 33
38
Chelsea Zemelka
Phoenix, AZ
p 33
39
Lindsay Salhoff
Glendale, AZ
p 26
40
Kyle Ruzylo
Oceanside, CA
p 26
41
David Macelle
Brandon, FL
p 25
42
Jenny Ortag
Phoenix, AZ
p 25
43
Bo LaLonde
Gilbert, AZ
p 24
44
Sean Balbos
Prescott, AZ
p 13
45
Matt Payne
Phoenix, AZ
p 1
46
Christina Waldron
Albuquerque, NM
even
47
Dylan Taylor
Scottsdale, AZ
m 4
48
Kyle Frederick
Chandler, AZ
m 8
49
Megan Withey
Glendale, AZ
m 15
50
Kayla Frederick
Chandler, AZ
m 24
51
Rebecca Bodinet
Phoenix, AZ
m 26
52
Brandon Rangel
Phoenix, AZ
m 27
53
Brad Bandes
Phoenix, AZ
m 35
54
Luis Soto
Tucson, AZ
m 46
55
Rachel Lynn
Peoria, AZ
m 47
56
Larry Gilgur
Cave Creek, AZ
m 61
57
Chris Huglin
Gilbert, AZ
m 81
58
Eric Warren
Phoenix, AZ
m 88
59
Dan Eagy
Phoenix, AZ
m 110
60
Jordan Vanderweyst
Phoenix, AZ
m 141
High Female: H Brown 1011, E Patterson 995
Cuts: scratch plus 27; handicap plus 59
Storm Ball Winner: Philip Stephens
TOTAL AWARDED THIS EVENT: $2,076