CACTUS BOWL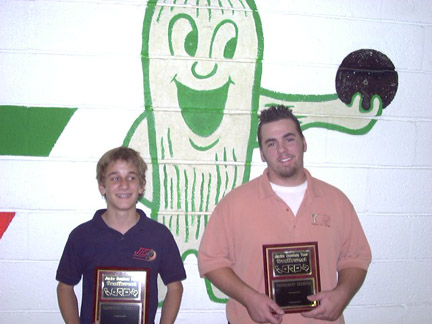 champs Zach Herbert, the cactus Pickle, and Theo Douthit.
Theo Douthit claimed a long-awaited first JBT SW title, while Zach Herbert climbed a very tough ladder to earn his second victory, in JBT SW action at Cactus Bowl.
The scratch division finals opened with Eric Dishong rolling a 216 to win his first stepladder match, defeating Mike Hayes (201) and Joseph Anderson (191). In round two, Lanndyn Carnate, who opened the day with a perfect 300 game (the fifth already in JBT this season, and his own fifth 300 game- at 13 years old!), then rolled a 213 to win over David Sevier (206) and Dishong (200).
In the semifinals, Douthit took over while the other bowlers struggled, as his 207 advanced over Carnate's 178 and Kurt Lehner's 168. This advanced him to his third career championship match, against top-qualifier Steven Black.
Black had rolled a 290 in game 8 to capture the top seed, and was looking for his 28th career title. Neither bowler was able to take control of the title match, however. Black's 2-4-5 in the ninth gave Theo the lead in count, and he finished up with a 202 game. Douthit, with a spare working, needed 9-spare-9 for the win. However his first shot went light, leaving the 3-5, which he spared, leaving him to have to strike to win. Douthit's last shot was pure, and the strike gave him the 202-201 victory and his first JBT SW title.
In the handicap division, Zach Herbert qualified 8th and last for the finals, then put on clutch performances the whole way through. He began by throwing the last 5 strikes in match one for a 251 game that was just enough to edge Kris George (244) and Labriel Leach (172).
In match two, Mark Mandell fired a huge 271, but Herbert was up to the task again, blasting a 274 to advance over Mark and a fine effort by Greg Geering (236). Mandell did close the gap on season points leader Tyler Brown with the good showing, however. In the semis, the tables were turned as Zach had to watch and see if Jeff Weyrauch could double to eliminate him. Jeff got the first hit but not the second, and Zach's 229 advanced over Weyrauch (225) and Eric Rubin (204).
The title match against top qualifier Kevin Narciso was anticlimactic, unfortunately for Narciso. On a day of unexpectedly high scoring, Kevin's +374 8-game romp (5th best in JBT SW history) led the way. However, he had no answers for Herbert, who remained red-hot and gave Narciso no chance to catch up. Zach's 241-180 win gave him his first title this season, and second in his JBT SW career.
Thanks to Dale Schnell and everyone at Cactus for being gracious hosts yet again. The $1,976 awarded at this event pushed us over $20,000 on the very young season!
Cactus Bowl- final results and optional scholarship winners
10/9/2004
Scratch Division
rank
name
city
score
prize
1
Theo Douthit
San Diego, CA
p 241
$263
2
Steven Black
Phoenix, AZ
p 295
$125
3
Lanndyn Carnate
Glendale, AZ
p 233
$105
4
Kurt Lehner
Tucson, AZ
p 236
$135
5
David Sevier
Gilbert, AZ
p 214
$75
6
Eric Dishong
Tucson, AZ
p 143
7
Joseph Anderson
Avondale, AZ
p 209
$60
8
Mike Hayes
Tucson, AZ
p 180
$40
9
Kevin Saunders
Goodyear, AZ
p 129
$30
10
Mike Smith
Chandler, AZ
p 129
11
Jason Arnold
Phoenix, AZ
p 121
12
Matt Herbert
Prescott, AZ
p 83
13
Christopher McHenry
Tucson, AZ
p 77
14
Chris Davenport
Tucson, AZ
p 58
15
Emily Ornelas
Phoenix, AZ
p 43
$25
16
Elias Ewert
Chandler, AZ
p 40
17
Sean Grant
Eloy, AZ
p 30
$33
18
Tiffany Chi
Prescott, AZ
p 29
$55
19
Justin Penwell
Tucson, AZ
p 15
$15
20
Justin Reinfried
Glendale, AZ
p 13
21
Ryan Dugan
Mesa, AZ
p 3
$15
22
Scott Harnden
Phoenix, AZ
m 11
23
Philip Schwartz
Oro Valley, AZ
m 24
24
Chris Ingram
Phoenix, AZ
m 29
25
Miguel Lopez
Peoria, AZ
m 30
26
Michale Noblesse
Tucson, AZ
m 53
27
Ernest Cook
Phoenix, AZ
m 54
28
Savahna Porter
Yuma, AZ
m 55
29
Jeff Ellis
Phoenix, AZ
m 57
30
Scott Millard
Tucson, AZ
m 57
$30
31
Amanda Falk
Tucson, AZ
m 62
32
Robert Majeske
Tucson, AZ
m 63
33
Christian Jensen
Chandler, AZ
m 64
34
David Bruegger
Tucson, AZ
m 64
35
Joseph Guthrie
Scottsdale, AZ
m 70
36
Berman Sae-Aee
San Diego, CA
m 76
37
Hasan Kural
Glendale, AZ
m 84
38
Frank Robredo
Tucson, AZ
m 87
39
Chris Weyrauch
Tempe, AZ
m 87
40
Rachel Carr
Chandler, AZ
m 88
41
JR Butts
Tucson, AZ
m 144
42
Sarah Carity
Flagstaff, AZ
m 190
43
Randy Cote
Tucson, AZ
no card
Handicap Division
rank
name
city
score
prize
1
Zach Herbert
Prescott, AZ
p 188
$200
2
Kevin Narciso
Phoenix, AZ
p 374
$120
3
Eric Rubin
Chandler, AZ
p 330
$95
4
Jeff Weyrauch
Tempe, AZ
p 326
$100
5
Greg Geering
Phoenix, AZ
p 256
$110
6
Mark Mandell
Queen Creek, AZ
p 229
$175
7
Kris George
Glendale, AZ
p 209
$40
8
Labriel Leach
Tucson, AZ
p 198
$20
9
Brian Weyrauch
Tempe, AZ
p 182
$15
10
Loren Lemcke
Tucson, AZ
p 175
11
Bobby Lopez Jr.
Tucson, AZ
p 173
12
Brandon Rangel
Phoenix, AZ
p 172
$30
13
Delano Coveris
Tucson, AZ
p 171
14
Preston Ryan
Tucson, AZ
p 169
$15
15
Jeff Millmier
Phoenix, AZ
p 158
16
Nicole Stanczak
Phoenix, AZ
p 137
17
Bobby FIsher
Glendale, AZ
p 120
18
CJ Crowley
Tempe, AZ
p 116
19
Cameron Lewis
Tucson, AZ
p 109
20
Rane Lacona
Chandler, AZ
p 91
21
Josh Wester
Tucson, AZ
p 48
22
Courtney Dutton
Phoenix, AZ
p 47
23
Michael Curry
Phoenix, AZ
p 44
24
Megan Withey
Phoenix, AZ
p 31
25
Melissa Del Rio
Tucson, AZ
p 8
26
Nicholas Lee
Tucson, AZ
m 8
27
Eric Warren
Phoenix, AZ
p 36
$15
28
Kevin Millard
Tucson, AZ
p 35
29
Greg Garbera
Phoenix, AZ
p 34
$15
30
Kendra Smith
Tucson, AZ
p 32
31
Kylee Bonneville
Mesa, AZ
p 32
32
Sean Balbos
Prescott, AZ
p 29
33
Beth Houston
Tucson, AZ
p 27
34
Michale Majeske
Tucson, AZ
p 25
35
Ivan Fogt
Tucson, AZ
p 19
36
Rachelle Davis
Tucson, AZ
p 15
37
Kyle King
Phoenix, AZ
p 15
$15
38
Tyler Johnson
Sierra Vista, AZ
p 7
39
Tyler Brown
Prescott Valley, AZ
p 5
40
Jewels Giordano
Phoenix, AZ
even
41
Taylor Brennan
Prescott, AZ
m 21
42
Francisco Peralta
Tucson, AZ
m 29
43
Philip Stephens
Phoenix, AZ
m 30
44
Mike Armstrong
Tucson, AZ
m 34
45
Joe Shelton
Tucson, AZ
m 41
46
Kjersti Wasiak
Tucson, AZ
m 47
47
Jenny Ortag
Phoenix, AZ
m 76
48
Holly Emery
Queen Creek, AZ
m 77
49
Robert Atherton
Glendale, AZ
m 94
50
Alex Powell
Phoenix, AZ
m 100
51
Justin Newkirk
Tucson, AZ
m 102
52
Ken Russell
Queen Creek, AZ
m 114
53
David Price
Safford, AZ
m 130
300 Game: Lanndyn Carnate
Cuts: scratch: minus 14, handicap: plus 39
High Games: scratch: Carnate 300, Grant 279, Douthit 279.

handicap: Rangel 285, Narciso 279, George 274.
Jr. Gold Qualifiers: none
Hi Female: Ornelas 1049, Chi 1000
Storm Ball Winner: Eric Rubin
Stepladder Results:
Scratch:
Dishong (216) def. Hayes (201) and Anderson (191)
Carnate (213) def. Sevier (206) and Dishong (200)
Douthit (207) def. Carnate (178) and Lehner (168)
Douthit def. Black, 202-201.
Handicap:
Herbert (251) def. George (244) and Leach (172)
Herbert (275) def. Mandell (271) and Geering (236)
Herbert (229) def. Weyrauch (225) and Rubin (204)
Herbert def. Narciso, 241-180.
TOTAL AWARDED THIS EVENT: $1,976