COUNTRY CLUB BOWL
presented by Prepaid Legal.com: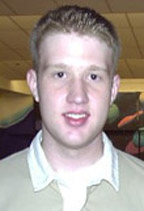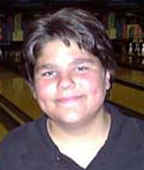 champs BJ Baker & Kyle King
Another huge turnout resulted in another huge day of JBT SW action at Country Club Bowl, where BJ Baker and Kyle King picked up well-earned victories.
In the scratch division, Devyn Scotford, who won at Country Club last season, rolled a 235 to win the opening match against Kurt Lehner (199) and Philip Schwartz (192). With teh 8th place finish, Schwartz passed the $10,000 mark in career JBT SW earnings, only the third player to do so- congratulations!!
In round two, Steven Black rolled an excellent 247, but BJ Baker was two strikes better, firing a 279 to defeat black and Scotford (170). In the semifinals, first-time finalist Steven Sheffey struggled to a 152 finish, while Baker and Joseph Anderson engaged in a tense feud. Anderson, finishing last, could double to win, but misfired on the second ball, and Baker advanced 221-212 to reach the title match.
Top qualifier Jimmy Mellstrom had only made a few JBT appearances in the last few years, and so turned a lot of heads by being the leading qualifier comfortably. Neither bowler started the title match well, but Baker was able to right the ship late, while a few bad breaks sealed Mellstrom's fate. Baker won the match 194-166, good for the fourth title of his JBT SW career.
In the handicap division, Kylee Bonneville opened the finals with a 248 game that defeated Brian Weyrauch (205) and Kevin Narciso (180). Narciso and Weyrauch moved to 1-2 in the points race with the fine finishes.
In round two, Alex Van Kirk took on both Bonneville brothers, and a converted pare in the 11th frame gave him a 219 game that just edged Kylee (218) and and Tim (206). In the semifinal match, Kyle King (222) took care of Van Kirk (210) and Corey Sandberg (202), to advance to his first title match this season.
Top qualifier Dan Eagy has been comfortable at Country Club lately, firing his first 300 game there last year. However, King got red-hot at the right time, and gave Eagy little chance in the match. The 265-201 final score was good for King's 2nd career JBT SW title.
123 bowlers shared in over $2,600 in scholarships awarded at the event. Big thanks to Jay Means and everyone at Country Club for always being one of our best hosts, and to Marsha Pederson at prepaidlegal.com for sponsoring the event. Don't miss out on the great JBT action- visit us at www.jbtsw.com and come on down to our next events!
Country Club Bowl- final results and optional scholarship winners
11/6/2004
Arizona Conference
Scratch Division
rank
name
city, state
score
prize
1
BJ Baker
Tempe, AZ
p 134
$250
2
Jimmy Mellstrom
Phoenix, AZ
p 257
$135
3
Joseph Anderson
Avondale, AZ
p 221
$195
4
Steven Sheffey
Scottsdale, AZ
p 157
$75
5
Steven Black
Phoenix, AZ
p 143
$165
6
Devyn Scotford
Mesa, AZ
p 126
$50
7
Kurt Lehner
Tucson, AZ
p 81
$40
8
Philip Schwartz
Oro Valley, AZ
p 85
$45
9
Emily Ornelas
Phoenix, AZ
p 79
$15
10
Jason Arnold
Phoenix, AZ
p 77
$30
11
Sean Grant
Eloy, AZ
p 76
$15
12
David Sevier
Gilbert, AZ
p 66
$15
13
Justin Reinfried
Phoenix, AZ
p 55
14
Hasan Kural
Glendale, AZ
p 50
$20
15
Jonathan Pletcher
Chandler, AZ
p 45
16
Labriel Leach
Tucson, AZ
p 18
17
CJ Crooks
Oro Valley, AZ
m 7
18
CJ Lee
Gilbert, AZ
m 19
$20
19
Rachel Carr
Chandler, AZ
m 30
$45
20
Elias Ewert
Chandler, AZ
m 30
$15
21
Kevin Saunders
Goodyear, AZ
m 42
$65
22
Andre Hernandez
Phoenix, AZ
m 66
$30
23
Tony Silva
Mesa, AZ
m 80
$15
24
Jeff Ellis
Phoenix, AZ
m 93
$50
25
Rebekah Gottlieb
Mesa, AZ
m 31
26
Ty Brown
Phoenix, AZ
m 36
27
Tom Anderson
Phoenix, AZ
m 38
28
DeShaun Jefferson
Phoenix, AZ
m 40
29
Will McPherson
Chandler, AZ
m 41
30
Mike Hayes
Tucson, AZ
m 42
31
Lanndyn Carnate
Glendale, AZ
m 51
32
Christian Jensen
Chandler, AZ
m 52
33
Randy Cote
Tucson, AZ
m 55
34
Matt Herbert
Prescott, AZ
m 62
35
Chris Ingram
Phoenix, AZ
m 73
36
Scott Harnden
Phoenix, AZ
m 74
37
sarah Carity
Flagstaff, AZ
m 80
38
JJ Newell
Mesa, AZ
m 80
39
Savahna Porter
Yuma, AZ
m 81
40
Ryan Dugan
Mesa, AZ
m 85
41
Michael Cripe
San Diego, CA
m 90
42
Joseph Guthrie
Scottsdale, AZ
m 106
43
Ryan Immel
West Bend, WI
m 108
44
Mike Smith
Chandler, AZ
m 110
45
Miguel Lopez
Peoria, AZ
m 111
46
Robert Majeske
Tucson, AZ
m 116
47
Tiffany Chi
Prescott, AZ
m 133
48
Jerimiah Wiltfang
Lake Havasu City, AZ
m 143
49
Ryan Lamb
Mesa, AZ
m 144
50
Amanda Falk
Tucson, AZ
m 150
51
Chris Weyrauch
Tempe, AZ
m 221
Handicap Division
rank
name
city, state
score
prize
1
Kyle King
Phoenix, AZ
p 186
$265
2
Dan Eagy
Phoenix, AZ
p 257
$165
3
Corey Sandberg
Prescott, AZ
p 238
$145
4
Alex Van Kirk
Prescott Valley, AZ
p 170
$90
5
Tim Bonneville
Mesa, AZ
p 171
$120
6
Kylee Bonneville
Mesa, AZ
p 151
$125
7
Brian Weyrauch
Tempe, AZ
p 166
$145
8
Kevin Narciso
Phoenix, AZ
p 164
$30
9
Emmanuel Durazo
Phoenix, AZ
p 146
$30
10
Mike L'Heureux
Mesa, AZ
p 144
$15
11
Jake Tatum
Prescott, AZ
p 131
$60
12
Greg Garbera
Glendale, AZ
p 129
$15
13
David Stone
Casa Grande, AZ
p 124
$15
14
Cody Vanderweyst
Phoenix, AZ
p 118
$15
15
Alex Ellis
Phoenix, AZ
p 116
16
Richard Stone
Casa Grande, AZ
p 108
17
Alex Powell
Phoenix, AZ
p 103
$20
18
Mark Mares
Los Lunas, NM
p 97
19
Rebeca Reguero
Glendale, AZ
p 93
20
Bryce Techmer
Tempe, AZ
p 89
21
Tasha Jaszay
Gilbert, AZ
p 82
22
Jess McCrackin
Phoenix, AZ
p 64
23
Bobby Lopez
Tucson, AZ
p 64
24
Bobby Fisher
Glendale, AZ
p 62
25
Eric Rubin
Phoenix, AZ
p 55
26
Cara Miller
Phoenix, AZ
p 55
27
Brittany Riggers
Phoenix, AZ
p 48
28
Ricky Davis
Mesa, AZ
p 46
$15
29
Beth Houston
Tucson, AZ
p 43
$30
30
Traci Warren
Phoenix, AZ
p 41
31
Holly Emery
Quen Creek, AZ
p 39
32
Eric Warren
Phoenix, AZ
p 35
33
Mark Mandell
Queen Creez, AZ
p 11
$30
34
Jenny Ortag
Phoenix, AZ
m 18
$45
35
Rachelle Davis
Tucson, AZ
m 24
36
Steven Mitchell
Phoenix, AZ
m 28
$45
37
Henry Silva
Mesa, AZ
p 7
38
Drew Leinberger
Phoenix, AZ
p 2
39
Taylor Brennan
Prescott, AZ
even
40
Chris Huglin
Gilbert, AZ
even
41
Jarrett Harper
Gilbert, AZ
even
42
Michael Curry
Phoenix, AZ
m 2
43
Brooks Gould
Phoenix, AZ
m 2
44
Nicholas Lee
Tucson, AZ
m 10
45
Mike Altherr
Phoenix, AZ
m 11
46
Andi Jaszay
Gilbert, AZ
m 18
47
Austen Christensen
Avondale, AZ
m 21
48
Courtney Dutton
Phoenix, AZ
m 21
49
Ryne Rossetti
Chandler, AZ
m 22
50
Jewels Giordano
Phoenix, AZ
m 24
51
Jeff Millmier
Phoenix, AZ
m 25
52
Megan Withey
Phoenix, AZ
m 26
53
Greg Geering
Phoenix, AZ
m 51
54
Michael Majeske
Tucson, AZ
m 54
55
Kris George
Glendale, AZ
m 54
56
Kyle Smith
Casa Grande, AZ
m 57
57
Bryanna Dawson
Tempe, AZ
m 58
58
Jordan Vanderweyst
Phoenix, AZ
m 60
59
Jeff Weyrauch
Tempe, AZ
m 62
60
Chris Wurm
Chandler, AZ
m 66
61
Tiffany King
Surprise, AZ
m 67
62
Zach Herbert
Prescott, AZ
m 71
63
Kevin Schoenfeld
Phoenix, AZ
m 72
64
Lindsay Salhoff
Phoenix, AZ
m 74
65
Zack Huglin
Gilbert, AZ
m 82
66
Rane Lacona
Phoenix, AZ
m 82
67
Melissa Del Rio
Tucson, AZ
m 91
68
CJ Crowley
Mesa, AZ
m 95
69
Justin White
Detroit, MI
m 106
70
Nicole Stanczak
Phoenix, AZ
m 111
71
Philip Stephens
Phoenix, AZ
m 113
72
Sean Balbos
Prescott, AZ
m 164
High Games: scratch: Anderson 269, Arnold 261, Kural 260.

Handicap: Weyrauch 284, Houston 277, Powell 271
High Female: Carr 1060, Ornelas 992
Cuts: scratch minus 30; handicap plus 8
Storm Ball Winner: Jewels Giordano
Finals results:
Scratch:
Scotford (235) def. Lehner (199) and Schwartz (192)
Baker (279) def. Black (247) and Scotford (170)
Baker (221) def. Anderson (212) and Sheffey (152)
Baker def. Mellstrom 194-166
Handicap:
Bonneville (248) def. Weyracuh (205) and Narciso (180)
Van Kirk (219) def. K Bonneville (218) and T Bonneville (206)
King (222) def. Van Kirk (210) and Sandberg (202)
King def. Eagy, 265-201.
TOTAL AWARDED THIS EVENT: $2,660