AMF DEER VALLEY LANES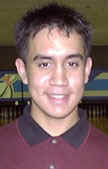 champs Ty Brown and Kevin Narciso
Ty Brown avenged a title-match loss from last season, while Kevin Narciso avenged a title-match loss from last week, in redemptive JBT SW action at AMF Deer Valley.
The scratch division used our exciting 'PBA Format', which has the 16 finalists bowl best 2-of-3 elimination matches all the way after the 5-game qualifier. This format usually produces great matches all over the house, and it was no exception this time. In the quarterfinal round, Sean Grant used a 299 game to upset #1 seed David Sevier, #13 Ty Brown upended #6 BJ Baker in an all-lefty battle, 12-seed Ryan Lamb took care of the always-tough Bill Grant, and #10 Chris Ingram took out #2 seed Theo Douthit.in three games.
In the semifinals, Brown caught fire against Grant, sweeping him with 236 and 269 games. In the other semi, Lamb and Ingram, who both seem to shine in this format, battled through three tough games, with Ingram surviving the third 236-173 to move on to the title match.
Brown and Ingram played each other in the title match of a PBA format event last season in Tucson, with Chris coming out on top. This time, however, Ty gave Ingram no chance, as he began with a double, converted a split in the third, and then went off the sheet for a 274-182 win, good for his 4th JBT title.
In the handicap division, Labriel Leach opened the traditional stepladder finals with a 204 game that was just enough to sneak by Andrew Harris (202) and Eric Warren (187). Narciso then took over in round two, rolling a 248 to defeat Leach (196) and Sean Balbos (200).
In the semifinals, Narciso faced two younger bowlers with much higher handicaps, a situation that can often end up being intimidating for the higher-average bowler. However, even though both Jess McCrackin (228) and Zachary Najdawi (221) rolled excellent games, Narciso was on a mission, rolling a scratch 276 that added to his handicap came out to an even 300, to advance to his second straight title match.
Top qualifier Zack Huglin had easily paced the field through qualifying, much like Kevin had done the previous week in Tucson. Although Zack represented himself very well with a fine 233 game, Narciso remained in control the entire match, and his 260 score was more than enough to claim the 2nd title of his JBT SW career.
Thanks to Peggy Cianciola and everyone at Deer Valley for another great job hosting us!
AMF Deer Valley- final results and optional scholarship winners
10/16/2004
Scratch Division
rank
name
city
5-game score
prize
1
Ty Brown
Phoenix, AZ
p 22
$200
2
Chris Ingram
Phoenix, AZ
p 42
$115
3
Ryan Lamb
Mesa, AZ
p 29
$75
4
Sean Grant
Eloy, AZ
p 56
$105
5
David Sevier
Gilbert, AZ
p 113
$150
6
Theo Douthit
San Diego, CA
p 108
$115
7
BJ Baker
Tempe, AZ
p 70
$40
8
Bill Grant
Rio Rancho, NM
p 18
$40
9
Kevin Saunders
Goodyear, AZ
p 97
$110
10
Hasan Kural
Glendale, AZ
p 96
$75
11
Christian Jensen
Chandler, AZ
p 72
$20
12
Justin Reinfried
Phoenix, AZ
p 67
$15
13
Brandy Silva
Albuquerque, NM
p 59
$90
14
Andy Byer
Albuquerque, NM
p 37
15
Dan Bodinet
Phoenix, AZ
p 6
16
Emily Ornelas
Phoenix, AZ
m 9
$10
17
Philip Schwartz
Oro Valley, AZ
m 11
$15
18
Tony Silva
Mesa, AZ
m 21
19
Matt Herbert
Prescott, AZ
m 28
20
Steven Sheffey
Phoenix, AZ
m 30
21
Lanndyn Carnate
Glendale, AZ
m 30
$25
22
Mike Smith
Chandler, AZ
m 46
23
Miguel Lopez
Peoria, AZ
m 48
24
Kurt Lehner
Tucson, AZ
m 55
25
Sarah Carity
Flagstaff, AZ
m 62
26
Scott Harnden
Phoenix, AZ
m 74
27
Jerod Florez
Bosque Farms, NM
m 109
28
Andre Hernandez
Phoenix, AZ
m 117
29
Joseph Anderson
Avondale, AZ
m 124
30
David Bruegger
Tucson, AZ
m 125
31
Jeff Ellis
Phoenix, AZ
m 127
32
Rachel Carr
Chandler, AZ
m 135
33
Scott Millard
Tucson, AZ
m 137
34
Justin Penwell
Tucson, AZ
m 149
35
Randy Cote
Tucson, AZ
m 151
36
Tiffany Chi
Prescott, AZ
m 166
37
Berman Sae-Aee
San Diego, CA
m 173
38
Amanda Falk
Tucson, AZ
m 208
Handicap Division
rank
name
city
score
prize
1
Kevin Narciso
Phoenix, AZ
p 152
$215
2
Zack Huglin
Gilbert, AZ
p 314
$130
3
Zachary Najdawi
Phoenix, AZ
p 175
$75
4
Jess McCrackin
Phoenix, AZ
p 158
5
Sean Balbos
Prescott, AZ
p 156
$115
6
Labriel Leach
Tucson, AZ
p 121
$40
7
Andrew Harris
Phoenix, AZ
p 152
$30
8
Eric Warren
Phoenix, AZ
p 117
$30
9
Chris Wurm
Chandler, AZ
p 112
$30
10
Zach Herbert
Prescott, AZ
p 112
11
Nicole Stanczak
Phoenix, AZ
p 107
$45
12
Dan Eagy
Phoenix, AZ
p 106
$20
13
Cara Miller
Phoenix, AZ
p 96
14
Brittany Riggers
Phoenix, AZ
p 86
15
Bobby Fisher
Glendale, AZ
p 86
16
Casey Candiotti
Phoenix, AZ
p 80
17
Chris Trejo
Surprise, AZ
p 78
18
Jeremy Baca
Albuquerque, NM
p 67
19
Holly Emery
Queen Creek, AZ
p 67
20
Chris Huglin
Gilbert, AZ
p 60
21
Justin White
Detroit, MI
p 56
22
Rebecca Bodinet
Phoenix, AZ
p 54
$15
23
Chelsea Harris
Phoenix, AZ
p 53
24
Henry Silva
Mesa, AZ
p 40
25
Sabrina Rodriguez
Phoenix, AZ
p 37
26
Taylor Brennan
Prescott, AZ
p 33
27
Larry Gilgur
Cave Creek, AZ
p 31
28
Lindsay Salhoff
Phoenix, AZ
p 30
29
Greg Garbera
Glendale, AZ
p 19
$45
30
Rakan Najdawi
Phoenix, AZ
p 13
31
Alex Ellis
Phoenix, AZ
p 9
32
Travis Scott
Peoria, AZ
p 6
$15
33
Michael Curry
Phoenix, AZ
m 24
$30
34
Jenny Ortag
Phoenix, AZ
m 31
$15
35
Kylee Bonneville
Mesa, AZ
no card
$15
36
Philip Stephens
Phoenix, AZ
p 6
37
Nicholas Lee
Tucson, AZ
p 2
38
Rane Lacona
Phoenix, AZ
p 1
39
Kevin Millard
Tucson, AZ
even
40
Matt Payne
Phoenix, AZ
m 1
41
Kevin Schoenfeld
Phoenix, AZ
m 2
$15
42
Richard Crews
Prescott, AZ
m 5
43
Kjersti Wasiak
Tucson, AZ
m 6
44
Rachel Redding
Phoenix, AZ
m 9
45
Brandon Rangel
Phoenix, AZ
m 9
46
Eric Rubin
Phoenix, AZ
m 9
47
Emmanuel Durazo
Phoenix, AZ
m 13
$30
48
Jake Tatum
Prescott, AZ
m 15
$30
49
Kyle Pearce
Espanola, NM
m 24
$15
50
Brandon McColley
Phoenix, AZ
m 29
51
Mike Altherr
Mesa, AZ
m 29
52
Beth Houston
Tucson, AZ
m 29
53
Traci Warren
Phoenix, AZ
m 32
54
Ken Russell
Queen Creek, AZ
m 33
55
Kris George
Glendale, AZ
m 33
56
Carriena Mullen
Glendale, AZ
m 37
57
Greg Geering
Phoenix, AZ
m 43
$15
58
Jewels Giordano
Phoenix, AZ
m 52
59
Corey Sandberg
Prescott, AZ
m 57
60
Mark Mares
Los Lunas, NM
m 62
61
Jeff Millmier
Phoenix, AZ
m 66
62
Samantha Olmsted
Phoenix, AZ
m 76
63
Mark Mandell
Queen Creek, AZ
m 97
64
Alex Powell
Phoenix, AZ
m 97
65
Rachelle Davis
Tucson, AZ
m 109
66
Tiffany King
Surprise, AZ
m 147
67
Courtney Dutton
Phoenix, AZ
m 148
68
Megan Withey
Phoenix, AZ
m 158
69
Tim Bonneville
Mesa, AZ
m 159
70
CJ Crowley
Mesa, AZ
inc. card
71
Max Edwards
Scottsdale, AZ
dnf
Cuts: scratch: minus 9, handicap: plus 7
High Games: scratch: Silva 279, Jensen 278, Carnate 268.

handicap: Z. Huglin 307, Eagy 268, Balbos 260.
Jr. Gold Qualifiers: David Sevier
Hi Female: Brandy Silva 1059, Emily Ornelas 991
Storm Ball Winner: Bob Starkey
Finals Results:
Scratch:
semi 1: Brown def. Grant 236-197, 269-185
semi 2: Ingram def Lamb, 223-211, 212-224, 236-173
final: Brown def. Ingram, 274-182.
Handicap:
Leach (204) def. Harris (202) and Warren (187)
Narciso (248) def. Balbos (200) and Leach (196)
Narciso (300) def. McCrackin (228) and Najdawi (221)
Narciso def. Huglin, 260-233.
TOTAL AWARDED THIS EVENT: $2,215