FANTASY LANES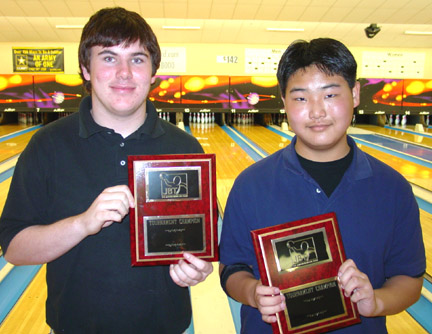 champs Matt Cormack & Brian Castelloe
Two bowlers captured their first JBT titles in exciting Southern California Conference action at Fantasy Lanes, on the first day of the first 'doubleheader' in So Cal history.
A high scoring field saw 13 year-old James Hawkins open the day with a perfect 300 game, continuing his hot run of late. Josh Blanchard nearly matched it, starting with 299, and Matt Cormack also had the front nine in game one, but Hawkins wasn't done yet, starting with the front NINETEEN strikes before finally missing, en route to the handicap division's top seed.
The handicap division stepladder finals opened with Ricky Clabaugh falling to good friend Tyler Boscarino 219-205. Boscarino then fell to Brian Castelloe 240-235, and Brian backed that up with a 225-202 victory over Mike May to reach the title match.
Hawkins was +178 after qualifying, but began to slow down in the semis, "only" picking up 60 more pins the rest of the way. That was a sign of things to come though, as both he and Castelloe struggled in the title match. Despite James' furious comeback in the late frames, Brian did enough for a 183-169 win, godo for the first title of his JBT career.
Matthew Jones rolled a 182 in the first round of the scratch finals, but had to unpack his bags when Chris Weyrauch opened in the tenth for 179, allowing Jones to advance. The unconventional two-hander then got past Josh Blanchard 204-190, before falling to Ken McElvaney 228-191 to set up the final match.
Top qualifier Cormack blew away the field, as his +480 8-game total was the 4th best total in JBT history. Of course, in the stepladder format you have to 'win the tournament twice', and in the finals Matt did just that, doubling in the tenth frame for a 228-217 win over the tough McElvaney, also good for his first career JBT title. The win plus a good bracket haul plus the $100 bonus for throwing Ebonite's new Total NV ball brought his one-day earnings over $500!
Big thanks to Doug Schmidt and everyone at Fantasy for a terrific job hosting our event for the first time. Over $2,000 in scholarships were awarded. Want in on the fun? Come on out to the next JBT event, it's as simple as that!
Fantasy Lanes (Sat.)- final results and optional scholarship winners
2/3/2007
So Cal Conference
Scratch Division
rank
name
city, state
score
prize
1
Matt Cormack
Woodland Hills, CA
p 454
$515
2
Ken McElvaney
Chatsworth, CA
p 284
$100
3
Matthew Jones
Canoga Park, CA
p 233
$85
4
Josh Blanchard
Fresno, CA
p 257
$160
5
Chris Weyrauch
Chandler, AZ
p 232
$40
6
Shane Peck
Riverside, CA
p 225
$63
7
Christian Jensen
Anthem, AZ
p 181
$6
8
JR Monteith
Orange, CA
p 150

9
Anthony Stevenson
San Diego, CA
p 145

10
Jon Huse
Los Angeles, CA
p 135

11
Cameron Smith
Santee, CA
p 113
$81
12
Devin Bidwell
Simi Valley, CA
p 104
$5
13
Josh Wilson
Fallbrook, CA
p 65
$15
14
Brian Ballard
San Diego, CA
p 58
$15
15
Forrest Holland
Escondido, CA
p 26
$60
16
Eric Rubin
Phoenix, AZ
m 43

17
Justin Foster
Los Angeles, CA
p 43

18
Will Jackson
Gardena, CA
p 36

19
Allie Ijams
Mission Viejo, CA
p 33

20
Preston Fukumizu
Los Angeles, CA
p 32

21
BJ Baker
Tempe, AZ
p 24
$10
22
Kris George
Glendale, AZ
p 7

23
Nick Powanda
San Diego, CA
m 7

24
Lana Lycan
San Diego, CA
m 13

25
Foster Phandanouvong
San Diego, CA
m 24

26
Jeff Mathews
Las Vegas, NV
m 41

27
Shane Lien
San Diego, CA
m 52

28
AJ Garcia
Los Angeles, CA
m 62
29
Richard Brown
RSM, CA
m 69
30
Felicia Mara
Rancho Cucamonga, CA
m 88
Handicap Division
rank
name
city, state
score
prize
1
Brian Castelloe
Carlsbad, CA
p 191
$245
2
James Hawkins
Anaheim, CA
p 232
$135
3
Mike May
San Diego, CA
p 217
$150
4
Tyler Boscarino
Alpine, CA
p 184
$60
5
Ricky Clabaugh
San Diego, CA
p 171
$40
6
Chris Valenzuela
Los Angeles, CA
p 167
$60
7
Shalynne Schmid
Indio, CA
p 162
$20
8
Bethany Baker
Tempe, AZ
p 143
$44
9
Kevin Kocis
Los Angeles, CA
p 138
$45
10
Robert Page
Los Angeles, CA
p 134
$15
11
Alyssa Tucker
Cathedral City, CA
p 125

12
Justin Basom
San Diego, CA
p 112

13
Kaitlin Mayall
Chula Vista, CA
p 103

14
Anthony Cruz
San Diego, CA
p 74

15
Brittany Page
Los Angeles, CA
p 68

16
Aaron Torres
Los Angeles, CA
p 65

17
Brittany Kolatzny
San Diego, CA
p 56

18
Kyle Long
La Quinta, Ca
p 48
$8
19
Brenden Lou
San Diego, CA
p 45

20
Andrew Castaneda
Indio, CA
p 35

21
Joshua Shoup
Tolleson, AZ
m 11
$30
22
Christina Fraijo
Corona, CA
m 16

23
Karlie Loop

p 51

24
Christian Granados
Indio, CA
p 44

25
Christopher Tucker
Cathedral City, CA
p 37

26
David Fritz
San Diego, CA
p 34

27
Michael Granados
Indio, CA
p 33

28
Jeff Ingram
San Diego, CA
p 29

29
Shayne Huntley
Mission Hills, CA
p 22
$22
30
David Clabaugh
San Diego, CA
p 17
31
Troy Lien
San Diego, CA
p 5
32
Brandon Mullikin
Torrance, CA
m 4

33
Billy Stafford
Mission Hills, CA
m 8
$10
34
Samantha Meyers
Mission Hills, CA
m 8

35
Rudy Powell
San Bernardino, CA
m 8
36
Wesley Low
Palmdale, CA
m 8
37
Kyle De Cew
Riverside, CA
m 14
38
Jaymes Conn
El Cajon, CA
m 26
39
Garrett Yack
Indio, CA
m 32
40
Martika Cabezas
Cathedral City, CA
m 45
41
Allen Schmidt
Indio, CA
m 66
42
Kaylee Riddle
Indio, CA
m 85
43
Drew Stern
Northridge, CA
m 96
44
Cameron Peck
Riverside, CA
m 109
45
Steven Spencer
Indio, CA
m 125

Ball Winner: Kyle DeCew
TOTAL AWARDED THIS EVENT: $2,054