KYRENE LANES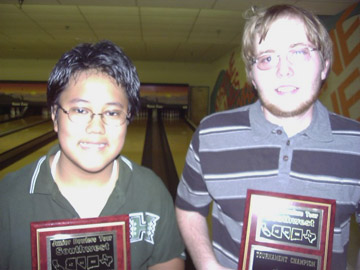 champs Lanndyn Carnate & Richard Stone
In our biggest regular-season singles tournament in our 9-year history, Lanndyn Carnate and Richard Stone topped the 127 player field for JBT SW titles at Kyrene Lanes.
Christian Jensen opened the scratch division finals with a 236 game that was enough to defeat Bill Grant (215) and Miguel Lopez (203). The 7th place finish was a great finish for Lopez' first scratch event. In round two, Theo Douthit, the lone southpaw (and lone Californian) rolled a 191 to beat Jensen (158) and Philip Schwartz (164). In round three Saunders got the strike he needed in the tenth for a 237 to edge Douthit (225) and Kurt Lehner (168).
13 year-old top qualifier Lanndyn Carnate rolled all 8 qualifying games over 200, and rolled a strong game in the title match, but was matched shot-for-shot by Saunders. Carnate only filled 18 in the tenth, allowing Saunders to strike-spare for the win, or spare-strike to tie. Kevin spared in the tenth, but overadjusted on his fill ball for an eight-count, giving Lanndyn a thrilling 224-222 win, good for his 2nd career JBT SW title.
In the handicap division, Greg Garbera made his finals debut a success with a 196 game that was good enough to advance over Travis Scott (189) and Sean Balbos (168). In round two, Joseph Guthrie's 217 was enough to send Garbera (217) and Tim Bonneville (172) to the showers. Then, in a very well-bowled semifinal game, Mark Mandell struck enough to come out with a 260 game that edged Guthrie (236) and Jeff Weyrauch (234).
Top qualifier Richard Stone had led for much of the day, and remained a stone cold lock in the title match, putting early pressure on Mandell that Mark was unable to recover from. In the end, Stone claimed a 242-184 win, good for his first JBT SW title.
Big thanks to everyone at Kyrene for hosting another terrific day of JBT SW action!
Kyrene Lanes- final results and optional scholarship winners
9/25/2004
Scratch Division
rank
name
city
score
prize
1
Lanndyn Carnate
Glendale, AZ
p 229
$345
2
Kevin Saunders
Goodyear, AZ
p 201
$285
3
Kurt Lehner
Tucson, AZ
p 219
$130
4
Theo Douthit
San Diego, CA
p 147
$165
5
Philip Schwartz
Oro Valley, AZ
p 140
$105
6
Christian Jensen
Chandler, AZ
p 87
$50
7
Miguel Lopez
Peoria, AZ
p 128
$55
8
Bill Grant
Rio Rancho, NM
p 116
$30
9
Elias Ewert
Chandler, AZ
p 84
10
Justin Reinfried
Phoenix, AZ
p 80
$15
11
Joseph Anderson
Avondale, AZ
p 73
12
Emily Ornelas
Phoenix, AZ
p 59
$15
13
BJ Baker
Tempe, AZ
p 54
$15
14
Paul Haymaker
Phoenix, AZ
p 46
$15
15
David Sevier
Gilbert, AZ
p 30
$15
16
Ty Brown
Phoenix, AZ
p 26

17
Steven Black
Phoenix, AZ
p 21
18
Matt Herbert
Prescott, AZ
p 13
19
Robet Majeske
Tucson, AZ
p 9
20
Savahna Porter
Yuma, AZ
m 27
$30
21
Jason Arnold
Phoenix, AZ
m 27
22
Mike Smith
Chandler, AZ
m 28
23
Mike Hayes
Tucson, AZ
m 40

24
Scott Harnden
Phoenix, AZ
m 67
25
Hasan Kural
Glendale, AZ
m 30
26
Andre Hernandez
Phoenix, AZ
m 30

27
Devyn Scotford
Mesa, AZ
m 36
28
Dan Bodinet
Phoenix, AZ
m 42
29
Spencer Firman
Casa Grande, AZ
m 44
30
Tiffany Chi
Prescott, AZ
m 44
$15
31
Jon Pletcher
Chandler, AZ
m 48
32
Ryan Immel
West Bend, WI
m 55
33
Tom Anderson
Phoenix, AZ
m 59
34
Chris Weyrauch
Tempe, AZ
m 60

35
Rachel Carr
Chandler, AZ
m 63

36
DeShaun Jefferson
Phoenix, AZ
m 79

37
Will McPherson
Chandler, AZ
m 91
38
Sean Grant
Eloy, AZ
m 92
39
CJ Lee
Gilbert, AZ
m 98
$20
40
Kevin Cummings
Glendale, AZ
m 104
41
Chris Ingram
Phoenix, AZ
m 115
42
Jeff Ellis
Phoenix, AZ
m 123
43
Michael Cripe
San Diego, CA
m 129
44
Sarah Carity
Flagstaff, AZ
m 148

45
Amanda Falk
Tucson, AZ
m 148
46
Michael Noblesse
Tucson, AZ
m 153
47
JJ Newell
Mesa, AZ
m 162
48
Cameron Lewis
Tucson, AZ
m 198
Handicap Division
rank
name
city
score
prize
1
Richard Stone
Casa Grande, AZ
p 334
$300
2
Mark Mandell
Queen Creek, AZ
p 209
$225
3
Joseph Guthrie
Scottsdale, AZ
p 172
$160
4
Jeff Weyrauch
Tempe, AZ
p 183
$85
5
Greg Garbera
Glendale, AZ
p 148
$60
6
Tim Bonneville
Mesa, AZ
p 167
$50
7
Travis Scott
Peoria, AZ
p 166
$58
8
Sean Balbos
Prescott, AZ
p 141
$30
9
Rane Lacona
Phoenix, AZ
p 136
$35
10
Eric Rubin
Phoenix, AZ
p 127
$15
11
Kris George
Glendale, AZ
p 123
$45
12
Brooks Gould
Gilbert, AZ
p 123
$15
13
Jake Tatum
Prescott, AZ
p 110
$45
14
Kylee Bonneville
Mesa, AZ
p 106

15
Nicholas Lee
Tucson, AZ
p 105

16
Nick Opich
Phoenix, AZ
p 103

17
Cody Vanderwesyt
Phoenix, AZ
p 81
18
Andi Jaszay
Gilbert, AZ
p 75

19
Candice Smith
Phoenix, AZ
p 73

20
Micah Leija
Casa Grande, AZ
p 68
21
Rakan Najdawi
Phoenix, AZ
p 65
22
Lindsay Salhoff
Phoenix, AZ
p 60
23
Alex Powell
Phoenix, AZ
p 54
24
Tasha Jaszay
Gilbert, AZ
p 53

25
Taylor Brennan
Prescott, AZ
p 53
26
Chris Rybarczyk
Phoenix, AZ
p 47

27
Emmanuel Durazo
Phoenix, AZ
p 46
28
Austen Christiansen
Phoenix, AZ
p 43
$18
29
Jenny Ortag
Phoenix, AZ
p 37
30
Brian Weyrauch
Tempe, AZ
p 37
$30
31
Jeff Millmier
Phoenix, AZ
p 28
$70
32
Bobby Fisher
Glendale, AZ
p 25
33
Labriel Leach
Tucson, AZ
p 20
34
Corey Sandberg
Prescott, AZ
p 15
35
Eric Warren
Phoenix, AZ
p 7
36
CJ Crowley
Tempe, AZ
p 6
$30
37
Kyle King
Phoenix, AZ
m 5
38
Steven Mitchell
Phoenix, AZ
m 15
$15
39
Jess McCrackin
Phoenix, AZ
m 35
40
Dan Eagy
Phoenix, AZ
m 88

41
Jordan Vanderweyst
Phoenix, AZ
p 23
42
Lance Glatzamaier
Phoenix, AZ
p 16
43
Holly Emery
Queen Creek, AZ
p 12

44
David Stone
Casa Grande, AZ
p 5
45
Zach Huglin
Gilbert, AZ
m 2

46
Kendra Smith
Tucson, AZ
m 4
$15
47
Drew Leinberger
Phoenix, AZ
m 4

48
Rachelle Davis
Tucson, AZ
m 6

49
Melissa Del Rio
Tucson, AZ
m 9
50
Tiffany King
Surprise, AZ
m 9
51
Samantha Olmsted
Phoenix, AZ
m 10
52
Max Van Kirk
Prescott Valley, AZ
m 10

53
Chris Wurm
Chandler, AZ
m 11
54
Alex Van Kirk
Prescott Valley, AZ
m 13
$10
55
Rebecca Bodinet
Phoenix, AZ
m 16
$15
56
Lacey Hall
Mesa, AZ
m 17
57
Alesha Pannier
Lake Havasu City, AZ
m 18
58
Tyler Brown
Prescott, AZ
m 20
59
Sabrina Rodriguez
Phoenix, AZ
m 25
60
Kevin Narciso
Phoenix, AZ
m 32
61
Justin White
Phoenix, AZ
m 33
62
Brittany Riggers
Phoenix, AZ
m 34
63
Kevin Schoenfeld
Phoenix, AZ
m 35
64
Zachary Najdawi
Phoenix, AZ
m 38
65
Cara Miller
Phoenix, AZ
m 44
66
David Lee
Maricopa, AZ
m 44
67
Zach Herbert
Prescott, AZ
m 56
68
Tanner Hall
Mesa, AZ
m 67
69
Ken Russell
Queen Creek, AZ
m 70
70
Bobby Lopez Jr.
Tucson, AZ
m 72
71
Beth Houston
Tucson, AZ
m 81
72
Philip Stephens
Phoenix, AZ
m 84
73
Courtney Dutton
Phoenix, AZ
m 87
74
John Rey Rodriguez
Phoenix, AZ
m 90
75
Tony Ratto
Tucson, AZ
m 106
76
Kjersti Wasiak
Tucson, AZ
m 111
77
Michael Curry
Phoenix, AZ
m 118
78
Megan Withey
Phoenix, AZ
m 118
79
Sandy Truman
Phoenix, AZ
m 203
Cuts: scratch: minus 26, handicap: plus 23
High Games: scratch: Schwartz 276, Lehner 258, Carnate 257.

handicap: B. Weyrauch 291, Christiansen 267, Scott 267.
Jr. Gold Qualifiers: none
Hi Female: Savahna Porter 1037, Emily Ornelas 1031
Storm Ball Winner: Sarah Carity
Stepladder Results:
Scratch:
Jensen (236) def. Grant (215) and Lopez (203)
Douthit (191) def. Schwartz (164) and Jensen (158)
Saunders (237) def. Douthit (225) and Lehner (168)
Carnate def. Saunders 224-222.
Handicap:
Garbera (196) def. Scott (189) and balbos (168)
Guthrie (259) def. Garbera (217) and Bonneville (172)
Mandell (260) def. Guthrie (236) and Weyrauch (234)
Stone def. Mandell 242-184.
TOTAL AWARDED THIS EVENT: $2,676