2012 LAS VEGAS MAIN EVENT GIRLS SCRATCH SINGLES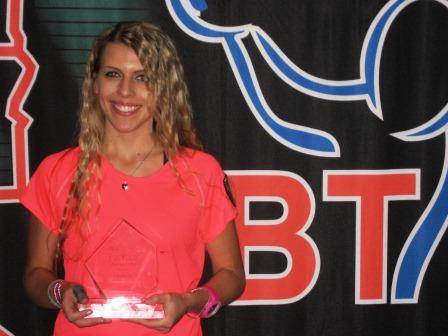 champ Brittany Hillman
Brittany Hillman of Pleasanton CA defeated Kelsey Muther of Wichita KS 212-203, to win the girls scratch singles division of the 2012 JBT Las Vegas Main Event, hosted by Texas Star Lanes.
#7 Kaitlin Mayall opened up the bracket-style stepladder finals with a 222-194 win over #6 Breanne Mattson. In simultaneous action, #5 Lindsey Ailport edged fellow Arizona JBT regular #8 Kayla Goad 188-180. In round two, Mayall rolled on with a 213-209 squeaker over #3 Holly Harris, while #4 and 2010 champ Elise Bolton beat Ailport 182-172. The top seeds then came in for the semifinals and defended their seeds, with #2 Hillman routing Bolton 258-204, and top seed Muther stopping Mayall 223-186 to set up the 1 vs. 2 title game.
The title match was well bowled and tightly contested the whole way. After Hillman finished, Kelsey, a two-time previous Main Event finalist, needed 28 pins in the tenth to break through into the winner's circle. After a great first shot, the second was not to be, giving Brittany the dramatic win, first JBT title, and $1,500 top scholarship prize.
Big thanks to GM Jerry Francomano and the staff at Texas Station for a terrific job hosting us, title sponsor Ebonite International for their support of Main Event and JBT, and most importantly all the bowlers and parents for coming to the event. We look forward to seeing you next December for the 2013 Main Event!
2012 JBT Las Vegas Main Event Girls Scratch Singles- final standings
| | | | |
| --- | --- | --- | --- |
| Rank | Last | First | prize |
| 1 | Hillman | Brittany | $1,500 |
| 2 | Muther | Kelsey | $600 |
| 3 | Bolton | Elise | $400 |
| 4 | Mayall | Kaitlin | $200 |
| 5 | Harris | Holly | |
| 6 | Ailport | Lindsey | |
| 7 | Mattson | Breanne | |
| 8 | Goad | Kayla | |
| 9 | Lieber | Correen | |
| 10 | Hiraoka | Nichole | |
| 11 | Zavala | Stephanie | |
| 12 | Terry | Danyn | |
| 13 | Smart | Samantha | |
| 14 | Almestrand | Line | |
| 15 | Glazer | Leah | |
| 16 | Brown | Courtney | |
| | | |
| --- | --- | --- |
| 17 | Kawamoto | Brandi |
| 18 | Martin | Jaymie-Rae |
| 19 | Nakano | Kristyn |
| 20 | Stever | Marina |
| 21 | Houston | Chelsea |
| 22 | Schultz | Courtney |
| 23 | Carr | Savannah |
| 24 | Miyaji | Sharyn |
| 25 | Takahata | Janelle |
| 26 | Carroll | Brooke |
| 27 | Yockman | Shaianne |
| 28 | Diaz | Sophoe |
| 29 | Choy-Kim | Shelbee |