For immediate release - feel free to send this to all media outlets- if you can send us a copy of whoever you send this to we'd greatly appreciate it.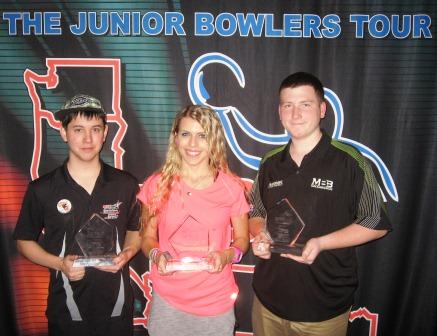 photo caption: 2012 JBT Main Event Singles champions Jakob Butturff, Brittany Hillman, and Kyle Andrews
Hillman, Andrews, Butturff capture 2012 JBT Las Vegas Main Event titles; $25,000+ awarded
Jakob Butturff of Las Vegas NV, Brittany Hillman of Pleasanton CA, and Kyle Andrews of Oceanside CA captured singles titles to highlight action at the Junior Bowlers Tour's 2012 Las Vegas Main Event, hosted by Texas Star Lanes and sponsored by Ebonite International. Over $25,000 in scholarships were earned by bowlers age 21 and under from all across the country.
Butturff, the dominant bowler in the JBT's year-long Tour with nine titles already this season, faced another decorated JBT regular in California's Wesley Low. At just 15 years old, Wesley is one of a whole crop of youngsters with no fear of the older bowlers, proving again it's talent not age that determines results. He had a chance to beat Jakob with 28 in the tenth, but when his first shot didn't strike, Butturff claimed the 212-194 win, 16th career JBT title, and $5,000 first place scholarship windfall.
Hillman, part of a talented Northern California contingent, qualified second against a tough girls scratch field, then faced top seed and Main Event veteran Kelsey Muther for the title. The Kansas native and WSU and Team USA star has two previous Main Event top five finishes, and just like Low, also needed 28 pins in the tenth to win. Muther got the first hit, but when the second shot didn't strike, Hillman claimed the Main Event title and its $1,500 scholarship payday.
Andrews had an easier time in the title match against fellow Tour regular and fellow Californian Greg Adler. Greg won the 2012 Desert Open for a JBT major win, but did not have the answer in the title game, and Kyle cruised to the 218-179 win, his first JBT major win, and a $1,500 top prize.
Low teamed with Michigan bowler Kyle Anderson to win the scratch doubles title with a 1410 total. Sophie Diaz of New Mexico and Texas' Mason Edmondson captured the handicap doubles title with 1424. Hillman teamed with fellow Nor Cal bowler Forrest Kritzer, Jon Nakagawa, Nichole Hiraoka, and Michael Gonzales to win the scratch team title, while Eric Torrence, Jerome Jordan Jr, Cory Koyanagi, Brandon Peters, and Misha Stevenson earned the handicap team crown.
It's impossible to thank Texas Star GM Jerry Francomano enough for his support of JBT, Main Event, and making everything run so smoothly behind the scenes. Equally big thanks go to Dave Wodka and Ebonite International, who were on-site all week and donated equipment for eight raffles. But the biggest thanks go to all our bowlers and parents who took the time to come to our event. We hope you'll spread the word for the 2013 Main Event next December!
2012 JBT Las Vegas Main Event Open Scratch Singles- final standings
| | | | |
| --- | --- | --- | --- |
| Rank | Last | First | prize |
| 1 | Butturff | Jakob | $5,000 |
| 2 | Low | Wesley | $2,000 |
| 3 | Brooks | Parker | $1,000 |
| 4 | Smith | Cameron | $500 |
| 5 | Coffey | Michael | $400 |
| 6 | Faulkner | Gary | $300 |
| 7 | Jones | Kevin | $200 |
| 8 | Nadeau | Chase | $150 |
| 9 | Anderson | Kyle | $100 |
| 10 | Tang | Darren | $100 |
| 11 | Davidson | Christopher$100 | |
| 12 | Hewitt | Travis | $100 |
2012 JBT Las Vegas Main Event Handicap Singles- final standings
| | | | |
| --- | --- | --- | --- |
| Rank | Last | First | prize |
| 1 | Andrews | Kyle | $1,500 |
| 2 | Adler | Greg | $900 |
| 3 | Dvorak | Rance | $600 |
| 4 | Kalaf | Blake | $500 |
| 5 | Singletary | Mia | $400 |
| 6 | Lusher | Donovin | $300 |
| 7 | Andersen | Katrina | $200 |
| 8 | Dempsey | Tessa | $150 |
| 9 | Zweig | Leah | $100 |
| 10 | Pollak | Nick | $100 |
2012 JBT Las Vegas Main Event Girls Scratch Singles- final standings
| | | | |
| --- | --- | --- | --- |
| Rank | Last | First | prize |
| 1 | Hillman | Brittany | $1,500 |
| 2 | Muther | Kelsey | $600 |
| 3 | Bolton | Elise | $400 |
| 4 | Mayall | Kaitlin | $200 |
| 5 | Harris | Holly | |
| 6 | Ailport | Lindsey | |
| 7 | Mattson | Breanne | |
| 8 | Goad | Kayla | |