2012 LAS VEGAS MAIN EVENT OPEN SCRATCH SINGLES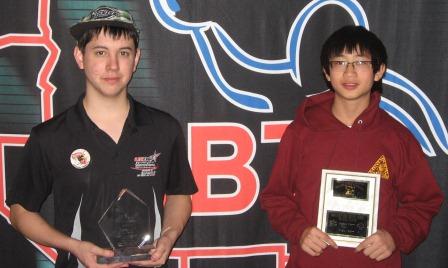 champ Jakob Butturff & runner-up Wesley Low
In a battle of two of the JBT's most talented and decorated bowlers, Jakob Butturff of Las Vegas defeated Wesley Low of Palmdale CA 244-217, to win the open scratch singles division of the 2012 JBT Las Vegas Main Event, hosted by Texas Star Lanes.
35-time JBT champ Cameron Smith opened up the bracket-style stepladder finals with a 176 game that escaped a low-scoring three-way match against Kyle Anderson (175) and Travis Hewitt (170). In a simultaneous match, 2011 Main Event finalist Gary Faulkner rolled 216 to eliminate Darren Tang (184) and Christopher Davidson (190).
In round two, Smith rolled on, besting #5 Kevin Jones 206-131, while Faulkner also won his second straight, this time 242-171 over #6 Chase Nadeau. In round three, Butturff began his charge with a huge 279-200 win over Faulkner, while Smith kept his Main Event dreams with a 193-165 win over #3 Michael Coffey. The top seeds came in for the semifinals, and top seed Low reached the title game with a 248-216 win over Smith. #2 seed Parker Brooks was upset by Butturff 246-190, setting up the all-lefty title match.
Low, a prodigy at just 15 years old, is a 9-time champ on our year-long JBT tour, while Jakob has completely owned the Tour this season, already with 9 titles since August (and the prestigious TPC over the summer) to boost the 18 year-old's career total to 15. Given that a difference of $3,000 was on the line, both bowlers performed extremely well. In the end, Low needed 28 pins in the tenth frame to win it all. His first shot came up high and did not strike, and Butturff claimed the win, tenth title of the season, 16th of his career, and biggest payday ever with the $5,000 top prize.
Big thanks to GM Jerry Francomano and the staff at Texas Station for a terrific job hosting us, title sponsor Ebonite International for their support of Main Event and JBT, and most importantly all the bowlers and parents for coming to the event. We look forward to seeing you next December for the 2013 Main Event!
2012 JBT Las Vegas Main Event Open Scratch Singles- final standings
| | | | |
| --- | --- | --- | --- |
| Rank | Last | First | prize |
| 1 | Butturff | Jakob | $5,000 |
| 2 | Low | Wesley | $2,000 |
| 3 | Brooks | Parker | $1,000 |
| 4 | Smith | Cameron | $500 |
| 5 | Coffey | Michael | $400 |
| 6 | Faulkner | Gary | $300 |
| 7 | Jones | Kevin | $200 |
| 8 | Nadeau | Chase | $150 |
| 9 | Anderson | Kyle | $100 |
| 10 | Tang | Darren | $100 |
| 11 | Davidson | Christopher$100 | |
| 12 | Hewitt | Travis | $100 |
| 13 | Cruz | Tyler | |
| 14 | Spacey | Tanner | |
| 15 | Benoit | Kenny | |
| 16 | Leong | Dallas | |
| 17 | Godoy | Armando | |
| 18 | Katz | Jordan | |
| 19 | Jacob | Tim | |
| 20 | Dempsey | Riley | |
| 21 | Karpovich | Kyle | |
| 22 | Chan | Oscar | |
| 23 | Fujita | Ronnie | |
| 24 | Stanley | Darren | |
| 25 | Hatchett | Eric | |
| 26 | Gonzales | Michael | |
| 27 | Boe | Tyler | |
| 28 | Fujita | Mike | |
| 29 | Schenck | Cortez | |
| 30 | Hernandez | Brian | |
| 31 | Duster | Kyle | |
| 32 | Del Cerro | Mark | |
| 33 | Oviatt | Russ | |
| 34 | Shanks | Ian | |
| 35 | Jordan | John | |
| 36 | Lemus | Keyon | |
| 37 | Myers | Mark | |
| 38 | Cantrell | Sam | |
| 39 | Bravo | Vincent | |
| 40 | Acuff | Derek | |
| 41 | Cobine | Danny | |
| 42 | Tang | Michael | |
| 43 | Lucente | Teddy | |
| 44 | Owen | Brandon | |
| | | |
| --- | --- | --- |
| 45 | Smart | Travis |
| 46 | Lindeman | Curtis |
| 47 | Chin | Reily |
| 48 | Monnette | Brian |
| 49 | Pekins | Brandon |
| 50 | Jackley | Connor |
| 51 | Watanabe | Alex |
| 52 | Mullen | Josh |
| 53 | Nakagawa | Jonathan |
| 54 | Edmondson | Mason |
| 55 | Sweigart | Harley |
| 56 | Rose | Anthony |
| 57 | Chui | Kirk |
| 58 | Duplan | Nicholas |
| 59 | Kritzer | Forrest |
| 60 | Fukumoto | Gabriel |
| 61 | Ross | Reed |
| 62 | Jordan Jr. | Jerome |
| 63 | Munyon | Aaron |
| 64 | Stearns | Isaac |
| 65 | Williams | Ahkeen |
| 66 | Luke | Holden |
| 67 | Sims | Justin |
| 68 | Varholdt | Danny |
| 69 | Ono | Jordan |
| 70 | Koyanagi | Cory |
| 71 | Bousman | Dylan |
| 72 | Brown | Chris |
| 73 | Holley | Luke |
| 74 | Chapman | AJ |
| 75 | Witt | Jeremy |
| 76 | Yoshida | Landen |
| 77 | Newton | Cameron |
| 78 | Svoren | Andrew |
| 79 | Bible | Nicholas |
| 80 | Fujimoto | Evan |
| 81 | Zweig | Matthew |
| 82 | Newkirk | Justin |
| 83 | Crevier | Kyler |
| 84 | Pekins | Ryan |
| 85 | Mendoza | Ricardo |
| 86 | VanStickle | Bryan |
| 87 | Schleidt | Austin |
| 88 | Mercado | Adrian |
| 89 | Redmon | Matthew |
| 90 | Nelson | Mason |
| 91 | Cleary | Brett |
| 92 | Lewandowski | Joe |
| 93 | Norris | James |
| 94 | Nagamine | Casey |
| 95 | Byers Jr | Kenny |
| 96 | Yamamoto | Andrew |
| 97 | Gordon | Casey |
| 98 | Tsuchida | Eric |
| 99 | Herzig | Tanner |
| 100 | Berkley | Ethan |
| 101 | Sartrain | Robert |
| 102 | Holcolm Jr | Dalton |