2013 Main Event Girls Scratch Singles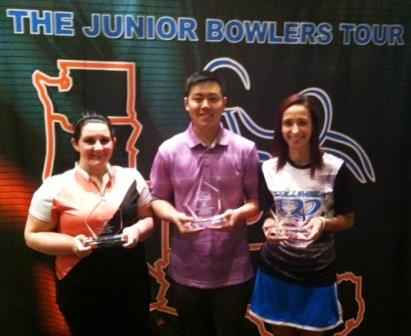 champion Elise Bolton (right) with handicap champ Alexa Lanning & scratch champ Oscar Chan
Elise Bolton of Merritt Island FL defeated Stephanie Zavala of Downey CA 194-188, to win the Girls Scratch Singles division of the 2013 JBT Las Vegas Main Event, presented by Ebonite International and hosted by Texas Star Lanes.
#6 Sara Vargas began the stepladder finals with a 211-178 win over #8 Randi Speiler. In a simultaneous match, #5 Zavala topped #8 Danielle August 189-177. Round tow saw both lower seeds pulling off upsets, as Vargas beat #4 Danyn Terry 217-168, and Zavala ousted #3 Gaylinn Gaines in a 192-191 thriller. Top seed Elise Bolton stopped Vargas in the semifinal 188-177, but Zavala kept climbing with a 202-147 win over #2 Shelby Demspey in the other semi, to set up the finale.
Bolton was looking to become the second two-time Main Event single champ, having won the Girls Scratch event in 2010. She had her hands full with the hard charging Zavala, though, and could only watch as Stephanie needed just a tenth frame mark to win. Zavala left the 3-6-9 on the brutal lane condition, and when she couldn't convert, the stunned Bolton claimed a 194-188 win, the title, and the $1,500 top prize.
Thanks to Dave Wodka and Ebonite International for being a major part of Main Event as well as our year-round Tour, as well as Jerry Francomano and the Texas Star crew for their usual terrific hosting job. Over $22,000 was awarded over four days of intense competition- make sure to be a part of the 2014 Main Event as well as other terrific JBT tournaments throughout the year!
Rank
Last
First
Prize
1
Bolton
Elise
$1500
2
Zavala
Stephanie
$750
3
Dempsey
Shelby
$400
4
Vargas
Sara
$200
5
Terry
Danyn
6
Gaines
Gaylinn
7
August
Danielle
8
Speiler
Randi
9
Lieber
Correen
10
Laiwa
Chianne
11
Glazer
Leah
12
Vargas
Bree
13
Martinez
Brooke
14
Schultz
Courtney
15
Shishima
Kylie
16
Goad
Kayla
17
Carr
Savannah
18
Atkin
Alexis
19
Martin
Jaymie-Rae
20
Diaz
Sophie
21
Nakano
Kristyn
22
Duplan
Amanda
23
Deir
Brooke
24
DeVera
DeAnza
RE-ENTRIES
re-ent
Bolton
Elise
re-ent
Laiwa
Chianne
re-ent
Lieber
Correen
re-ent
Vargas
Sara
re-ent
Shishima
Kylie
re-ent
Carr
Savannah
re-ent
Glazer
Leah
re-ent
Martinez
Brooke
re-ent
Goad
Kayla
re-ent
Schultz
Courtney
re-ent
Terry
Danyn
re-ent
Atkin
Alexis
re-ent
Speiler
Randi
re-ent
Nakano
Kristyn
re-ent
Martin
Jaymie-Rae
re-ent
Diaz
Sophie
re-ent
Duplan
Amanda
re-ent
Vargas
Bree