2013 Main Event Handicap Singles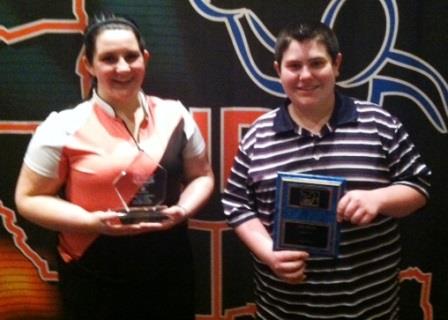 Champion Alexa Lanning and runner-up Matthew Green
In a battle of JBT regulars seeking their first singles title, Alexa Lanning of Vancouver, WA defeated Matthew Green of Thousand Oaks, CA 233-224, to win the Handicap Singles division of the 2013 JBT Las Vegas Main Event, presented by Ebonite International and hosted by Texas Star Lanes.
Scores were high on the handicap lane pattern, and Lanning outscored the field in the finals, starting with a 269 that eliminated Julian Zavala (218) and Jake Tucker (207). On the other leg of the bracket, KJ Martinez fired 259 to beat Sheri Hill and TJ Rock, each with 229 efforts. In round two, Lanning beat Jake Mullen 242-22, while Haylee Kriss edged Martinez in a thriller 266-254. In the semifinals Lanning rolled on with a 238-201 win over Kyle Acma, while top seed Green came on to beat Kriss 252-240, to set up the title match.
Both finalists bowled very well in the pressure packed finale, and Lanning's turkey in the tenth forced Green to get the first hit in his tenth for the win. Matt's shot came in light and didn't carry, and Alexa burst into tears of joy with the win, good for the $1,500 first place prize and her first JBT title.
Thanks to Dave Wodka and Ebonite International for being a major part of Main Event as well as our year-round Tour, as well as Jerry Francomano and the Texas Star crew for their usual terrific hosting job. Over $22,000 was awarded over four days of intense competition- make sure to be a part of the 2014 Main Event as well as other terrific JBT tournaments throughout the year!
rank
last
first
prize
1
Lanning
Alexa
$1,500
2
Green
Matthew
$750
3
Acma
Kyle
$500
4
Kriss
Haylee
$400
5
Mullen
Jake
$350
6
KJ
Martinez
$300
7
Zavala
Julian
$250
8
Hill
Sheri
$200
9
Rock
TJ
$250
10
Tucker
Jake
$100
11
Torrence
Eric
$80
12
Schultz
Shauna
13
Haugh
Briley
14
Hendrickson
Talon
15
McGough
James
16
Pekins
Ryan
17
Ma
Michael
18
Di Panni
Anthony
19
Ponzo
Kyle
20
Chan
Andrew
21
Evans
Marguerite
22
Adler
Greg
23
Starr-Moncayo
Jarred
24
Zweig
Leah
25
Arriola
Mandy
26
Dennis
Troy
27
Long
Zach
28
Goar
Christopher
29
Atkin
Amanda
30
Patten
Justin
31
Wu
Jessica
32
Sellers
Samantha
33
Boyko
Bex
34
Duffy
Brandon
35
Corwin
Katelyn
36
Lee
Kristen
35
Delegarito
Gerilynn
36
Murray
Jacob
37
Corwin
Jozef
38
Ishimoto
Russel
39
Silvey II
David
40
Singletary
Mia
41
Bischoff
Haley
42
McGuire
Natasha
43
Tanaka
Naomi
44
Purdy
Alayna
45
McDonnell
April
46
Franklin
Abby
47
Takahata
Laurren
48
Sylvia
Alexa
49
Pracale-Bermudez
Keilani
50
Paul III
Richard
51
Burries
Kendall
52
Acuff
Steven
53
Yamasaki
Kaycie
54
Condon
Nick
55
Matsumura
Tyler
56
Chin
Roslyn
57
Mette
Kevin
58
Hemming
Bri
59
Motas
Jacob
60
Guba
Andrew
61
Higgins
Kevin
62
Kalvelage
Secilia
63
Reed
Kyle
64
Williams
Alyssa
65
Campbell
Audrey
66
McCleerey
Keegan
67
Portugez
Gian
68
Look
Michael
69
Matsumura
Brandon
70
Peck
Cameron
71
Petersen
Carl
72
Nakagawa
Keenan
73
McCoy
Jayson
74
Smith
Michael
75
Dunster
Zehv
76
Daniels
Nathan
77
Clark-Trubiro
Noah
78
Hedges
Tyler
79
Norwood
Brooke
80
Chui
Carol
RE-ENTRIES
re-ent
Di Panni
Anthony
re-ent
Green
Matthew
re-ent
Hill
Sheri
re-ent
Kriss
Haylee
re-ent
Haugh
Briley
re-ent
Schultz
Shauna
re-ent
Martinez
KJ
re-ent
Adler
Greg
re-ent
Ma
Michael
re-ent
Sellers
Samantha
re-ent
Starr-Moncayo
Jarred
re-ent
Pekins
Ryan
re-ent
Delegarito
Gerilynn
re-ent
Ishimoto
Russel
re-ent
Atkin
Amanda
re-ent
Zavala
Julian
re-ent
Dennis
Troy
re-ent
Boyko
Bex
re-ent
Purdy
Alayna
re-ent
Franklin
Abby
re-ent
Takahata
Laurren
re-ent
Pracale-Bermudez
Keilani
re-ent
Zweig
Leah
re-ent
Patten
Justin
re-ent
Yamasaki
Kaycie
re-ent
Singletary
Mia
re-ent
Reed
Kyle
re-ent
Campbell
Audrey
re-ent
Condon
Nick
re-ent
Acuff
Steven
re-ent
Paul III
Richard
re-ent
Petersen
Carl