2013 Main Event Handicap Team Event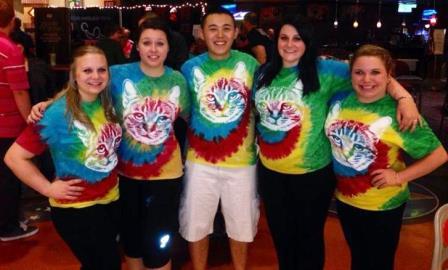 A tye-dyed team of talented tabbies made kitty-litter of the competition, capturing the Handicap Team title of the 2013 JBT Las Vegas Main Event, presented by Ebonite International and hosted by Texas Star Lanes.
Las Vegas' Dallas Leong shot 677 scratch to pace the team, but needed to since he got -21 pins handicap. His teammates provided both the pinfall and the bonus pins, led by eventual singles champ Alexa Lanning's 777 handicap total. Shelby Dempsey (752), Marguerite Evans (722), an Jessica Kellogg (585) rounded out a 3492 team total, and an 86-pin win over the runner-up team.
2013 MAIN EVENT HANDICAP TEAM EVENT
RANK
tot hcp
SCR Total
TOTAL
Team Total
Prize
1
Pussycat Munchies
Kellogg
Jessica
108
477
585
Dempsey
Shelby
87
665
752
Evans
Marguerite
108
614
722
Lanning
Alexa
132
645
777
Leong
Dallas
-21
677
656
414
3078
414
3492
$500
2
G-Bowl
Pekins
Ryan
30
619
649
Corwin
Katelyn
81
586
667
Torrence
Eric
84
651
735
Pekins
Brandon
-54
651
597
Jordan Jr
Jerome
33
725
758
174
3232
3406
$300
3
Team 3
Purdy
Alayna
168
467
635
Chan
Andrew
204
453
657
Delegarito
Gerilynn
213
442
655
Murray
Jacob
147
592
739
Singletary
Mia
105
584
689
837
2538
3375
$200
4
Team 4
Reyes
Sabrina
255
318
573
Reyes
LeeAnn
135
559
694
Sikora
Zachary
138
520
658
Ongtawco
Joseph
135
607
742
Reyes
RJ
93
535
628
756
2539
3295
additional teams to be posted shortly (18 total)