feel free to forward, copy, and paste this article in any media outlet. Please forward us a hard copy or a web link if you do for our scrapbook!
for immediate release
FLORIDA, WASHINGTON, CALIFORNIA BOWLERS LEAD JBT MAIN EVENT TITLE WINNERS;
$20,000+ IN SCHOLARSHIPS AWARDED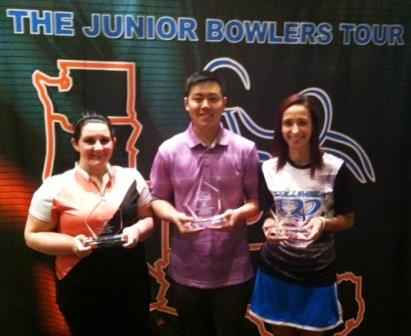 Singles champs (l-r) Alexa Lanning (handicap), Oscar Chan (scratch), and Elise Bolton (girls scratch)
Four days of intense action produced 17 champions from eight states, and the Junior Bowlers Tour awarded over $20,000 in scholarships, at the 10th Annual JBT Las Vegas Main Event, presented by Ebonite International and hosted by Texas Star Lanes.
All three singles title matches came down to the final frame, beginning in the Open Scratch division, where 10-seed Oscar Chan, Diamond Bar CA, made an improbable climb up the bracket-style stepladder then ran the front five against top seed Riley Dempsey, Phoenix AZ. Dempsey responded with a 4-bagger of his own on the extremely difficult pattern, but a whiffed 6-10 in the tenth undid the comeback. The resulting 208-186 final score earned Chan his 5th career JBT title, and biggest payday with a $3,000 top prize, while Dempsey scored $1,500 for second.
In the Girls Scratch division, Stephanie Zavala, Downey CA, climbed up form the #5 position to take on top seed and 2010 champ Elise Bolton, Merritt Island FL. Zavala held the lead going into the tenth, but left a tricky 3-6-9 on her first shot which she couldn't convert, handing Bolton a 194-188 win and the $1,500 top prize. She joins Brent Bowlers, Mulvane KS, as the only two-time Main Event singles winners.
In the handicap division, Alexa Lanning, Vancouver WA, struck out in her tenth frame to force Matthew Green, Oak Park CA to strike to win. Green couldn't get the hit, and a teary-eyed Lanning captured the $1,500 top prize, while Green settled for $750 with of green for the runner-up spot.
A much softer pattern was used for Doubles and Team events. Briley Haugh, Fairbault MN, tossed 754, and partner Jacques Kaune, Anchorage AK contributed 694 for a 1449 total that edged out two other teams by less than ten pins for the Scratch Doubles title. Green got his revenge from his singles loss by teaming up with Anthony DiPanni, Simi Valley CA, to win Handicap Doubles with a 1437 total. In the Scratch Team event, Californians Mike Fujita, Ronnie Fujita, and Riely Chin teamed up with Florida's Michael Coffey and Hawaii's Landan Yoshida to win with a big 3546 total. The Handicap Team title was earned by Las Vegans Dallas Leong and Jessica Kellogg, together with Lanning, Marguerite Evans of Beaumont CA, and Shelby Dempsey of Phoenix AZ, with a 3492 aggregate.
Big thanks to Dave Wodka, who led an Ebonite "Demo Day" all event long, and Ebonite balls were raffled off every squad. In all, over $20,000 in scholarships were awarded to the field. Huge thanks to Jerry Francomano and the crew at Texas Star for another top-notch hosting job. Complete final results can be found at our website, www.bowljbt.com, and you can also find out more about us on Facebook at "Junior Bowlers Tour Southwest", and on YouTube at JBT900.
| | | | | |
| --- | --- | --- | --- | --- |
| | Open Scratch | | | |
| Rank | Last | First | State | Prize |
| 1 | Chan | Oscar | CA | $3000 |
| 2 | Dempsey | Riley | AZ | $1500 |
| 3 | Pekins | Brandon | CA | $800 |
| 4 | Godoy | Armando | CA | $600 |
| 5 | Hattori | Zach | NV | $400 |
| 6 | Tang | Michael | CA | $350 |
| 7 | Jacob | Tim | AZ | $300 |
| 8 | Spacey | Tanner | WA | $250 |
| 9 | Coffey | Michael | FL | $200 |
| 10 | Valleau | Shane | AZ | $150 |
| 11 | Chin | Riely | CA | $100 |
| | | | | |
| --- | --- | --- | --- | --- |
| | Girls Scratch | | | |
| Rank | Last | First | State | Prize |
| 1 | Bolton | Elise | FL | $1500 |
| 2 | Zavala | Stephanie | CA | $750 |
| 3 | Dempsey | Shelby | AZ | $400 |
| 4 | Vargas | Sara | NM | $200 |
| | | | | |
| --- | --- | --- | --- | --- |
| | Handicap | | | |
| rank | last | first | state | prize |
| 1 | Lanning | Alexa | WA | $1,500 |
| 2 | Green | Matthew | CA | $750 |
| 3 | Acma | Kyle | CA | $500 |
| 4 | Hill | Sheri | WA | $400 |
| 5 | Mullen | Jake | WA | $350 |
| 6 | Kriss | Haylee | WA | $300 |
| 7 | Zavala | Julian | CA | $250 |
| 8 | Martinez | KJ | AZ | $200 |
| 9 | Rock | TJ | NV | $250 |
| 10 | Tucker | Jake | OR | $100 |
| 11 | Torrence | Eric | CA | $80 |