2013 Main Event Open Scratch Singles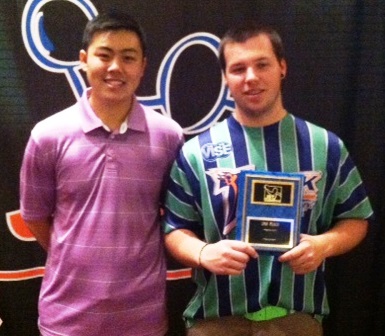 champion Oscar Chan & runner-up Riley Dempsey
Oscar Chan of Diamond Bar, CA defeated Riley Dempsey of Phoenix, AZ, 229-211, to win the Open Scratch Singles division of the 2013 JBT Las Vegas Main Event, presented by Ebonite International and hosted by Texas Star Lanes.
Chan just snuck in as the number 10 seed for the finals, and began with a 196 game that just got by #5 Tim Jacob (192) and #7 Michael Coffey (162). In a simultaneous three-way match, #8 Armando Godoy threw the high game of the entire tournament with a 279 that easily got by #6 Tanner Spacey (170) and #9 Shane Valleau (203).
In round two, Oscar won another close one, 195-188 over Zack Hattori, while Godoy won another not-so-close one, 223-169 over Michael Tang. Top seed Dempsey then slowed down Godoy 201-181, while Chan continued his run with a 184-163 grindout over #2 Brandon Pekins, setting up a title match between two JBT veterans.
15-time champ Dempsey was looking to add another major title to his excellent resume, while Chan, who has had more than his share of frustrating stepladder losses in his career, was looking to complete the unlikely ladder-climb. Oscar started with a five-bagger, but Dempsey charged back with a late 4-bagger of his own to make it close. However, a missed spare from Riley in his tenth sealed his fate, and Chan's 229-211 win earned his his first JBT major, and the $3,000 top prize.
Thanks to Dave Wodka and Ebonite International for being a major part of Main Event as well as our year-round Tour, as well as Jerry Francomano and the Texas Star crew for their usual terrific hosting job. Over $22,000 was awarded over four days of intense competition- make sure to be a part of the 2014 Main Event as well as other terrific JBT tournaments throughout the year!
Rank
Last
First
Prize
1
Chan
Oscar
$3000
2
Dempsey
Riley
$1500
3
Pekins
Brandon
$800
4
Godoy
Armando
$600
5
Hattori
Zach
$400
6
Tang
Michael
$350
7
Jacob
Tim
$300
8
Spacey
Tanner
$250
9
Coffey
Michael
$200
10
Valleau
Shane
$150
11
Chin
Riely
$100
12
Lindeman
Curtis
13
Low
Wesley
14
Jordan Jr.
Jerome
15
Tang
Darren
16
Anderson
Kyle
17
Brown
Chris
18
Boe
Tyler
19
Acuff
Derek
20
Monnette
Brian
21
Mullen
Josh
22
Leong
Dallas
23
Nakagawa
Jonathan
24
Fujimoto
Evan
25
Schenck
Cortez
26
Fujita
Ronnie
27
Andrews
Kennison
28
Cobine
Danny
29
Duplan
Nick
30
Kanda
Justin
31
Svoren
Andrew
32
Sweigart
Harley
33
Stanley
Darren
34
Duster
Kyle
35
Williams
Ahkeen
36
Koss
Kyle
37
Hatchett
Eric
38
Kellogg
Andrew
39
Crevier
Kyler
40
Lamson
Cam
41
Myers
Brandon
42
Chui
Kirk
43
Devlin
Nick
44
VanDicken
Justin
45
Van Sickle
Bryan
46
Fukumoto
Gabriel
47
Kaune
Jacques
48
Zweig
Matthew
49
Haugh
Brennan
50
Munyon
Aaron
51
Pollack
Nick
52
Balta
Drew
53
Ono
Jordan
54
Alvarez
Josh
55
Seligman
Adam
56
Martinez
Zach
57
Hemming
Zach
58
Andrews
Kyle
59
Nakagawa
Keenan
60
Seagraves
Christopher
61
Hornacek
Bobby
62
Thomas
Brendan
63
Fujita
Mike
64
Gill
Jacob
65
McNeal
Tommie
66
Yoshida
Landan
67
Holley
Luke
68
Gonzalez
Michael
69
Oshiro
Kevin
70
Gill
Brandon
71
Redmon
Matthew
72
Kinzler Jr
Randy
73
Mullen
Jake
74
Schanen
Anthony
75
Newkirk
Justin
76
Wemken
Matt
77
Schleidt
Austin
78
Watanabe
Alex
79
Nadeau
Chase
80
Montoya
Randy
81
Walsh
Josh
RE-ENTRIES
re-ent
Coffey
Michael
re-ent
Dempsey
Riley
re-ent
Spacey
Tanner
re-ent
Hattori
Zack
re-ent
Stanley
Darren
re-ent
Fujita
Ronnie
re-ent
Chin
Riely
re-ent
Fujimoto
Evan
re-ent
Sweigart
Harley
re-ent
Pekins
Brandon
re-ent
Chan
Oscar
re-ent
Tang
Michael
re-ent
Godoy
Armando
re-ent
Schenck
Cortez
re-ent
Boe
Tyler
re-ent
Duplan
Nick
re-ent
Mullen
Josh
re-ent
Tang
Darren
re-ent
Svoren
Andrew
re-ent
Nakagawa
Jonathan
re-ent
Monnette
Brian
re-ent
Chui
Kirk
re-ent
Cobine
Danny
re-ent
Jordan Jr.
Jerome
re-ent
Devlin
Nick
re-ent
Valleau
Shane
re-ent
Ono
Jordan
re-ent
Anderson
Kyle
re-ent
Zweig
Matt
re-ent
Haugh
Brennan
re-ent
Barta
Drew
re-ent
Martinez
Zach
re-ent
Kaune
Jacques
re-ent
Jacob
Tim
re-ent
VanDicken
Justin
re-ent
Hornacek
Bobby
re-ent
Hemming
Zach
re-ent
Kanda
Justin
re-ent
Fukumoto
Gabriel
re-ent
Andrews
Kyle
re-ent
Myers
Brandon
re-ent
Seagraves
Christopher
re-ent
Fujita
Mike
re-ent
Yoshida
Landan
re-ent
Gonzalez
Michael
re-ent
Oshiro
Kevin
re-ent
McNeal
Tommie
re-ent
Alvarez
Josh
re-ent
Seligman
Adam
re-ent
Redmon
Matthew
re-ent
Crevier
Kyler
re-ent
Kinzler Jr
Randy
re-ent
Andrews
Kennison
re-ent
Newkirk
Justin
re-ent
Holley
Luke
re-ent
Schleidt
Austin