2013 Main Event Scratch Team Event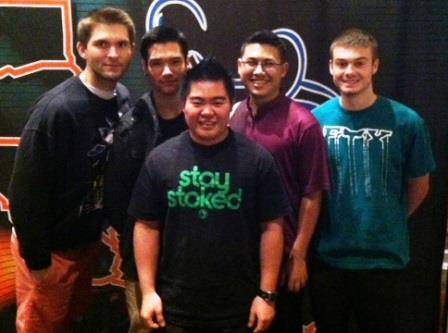 A talented quintet from three states captured the Scratch Team title of the 2013 JBT Las Vegas Main Event, presented by Ebonite International and hosted by Texas Star Lanes.
Florida's Michael Coffey led the team (and the entire tournament) with a blistering 789 set. Californians Ronnie Fujita (753) and Riely Chin (726) also blasted 700 sets, while Hawaii's Landan Yoshida (667) and Ronnie's brother Mike Fujita (588) rounded out a spectacular 3523 total, good for a 100+ pin win over the runner-up team.
2013 MAIN EVENT SCRATCH TEAM EVENT
RANK
Ind Total
Team Total
Prize
1
Team 1
Fujita
Mike
588
Chin
Riely
726
Coffey
Michael
789
Fujita
Ronnie
753
Yoshida
Landan
667
3523
$500
2
MOAR ANGLE
Mullen
Josh
716
Nakagawa
Jonathan
630
Schneck
Cortez
672
Godoy
Armando
686
Gaines
Gaylinn
700
3404
$250
3
Kyle Anderson Project
Haugh
Briley
598
Haugh
Brennan
573
Kaune
Jacques
597
Stanley
Darren
746
Anderson
Kyle
707
3221
4
Team 4
Hornacek
Bobby
655
Chan
Oscar
627
Brown
Chris
630
Hatchett
Eric
629
Lindeman
Curtis
664
3205
5
4 Asians & A Fat Guy
Duplan
Nick
642
Tang
Michael
590
Hattori
Zach
632
Low
Wesley
624
Tang
Darren
681
3169
6
Team Motiv: Get Motivated
Bolton
Elise
694
Devlin
Nick
596
Balta
Drew
588
Sambueno
Toby
629
Peters
Jake
626
3133
7
Team Anti-Storm
Rock
TJ
620
Andrews
Kyle
649
Andrews
Kennison
607
P
Nick
562
Sweigart
Harley
624
3062
8
Team 8
Walsh
Josh
615
Munyon
Aaron
638
Reid
Brooke
509
Lamson
Cam
672
VanSickle
Bryan
620
3054
9
Team 9
Alvarez
Josh
554
McNeal
Tommy
512
Hemming
Zach
574
Boe
Tyler
735
Spacey
Tanner
619
2994
10
We Love Zach Martinez
Dempsey
Riley
628
Zweig
Matt
540
Chui
Kirk
631
Myers
Mark
519
Goad
Kayla
627
2945
11
No RAGrets
Martinez
Zach
526
Duster
Kyle
542
Monnette
Brian
579
Lieber
Correen
585
Smith
Cameron
584
2816