2014 JBT MAIN EVENT- Girls Scratch Singles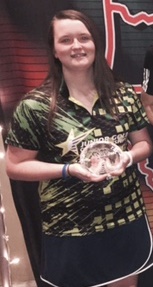 champ Adel Wahner
Adel Wahner dethroned a great champion en route to claiming the biggest score of her career, winning the Girls Scratch Singles title at the 2014 JBT Las Vegas Main Event, presented by Ebonite.
Wahner, the #3 seed for the finals, began her climb to victory with a 199-178 win over #6 Krystal Elliott. She then faced defending champ and top seed Elise Bolton, who was also looking to become the first three-time winner in any Main Event singles division. However, Wahner came up with the 176-169 win to stop ELise and move on to the title match.
#2 Correen Lieber came out of her half of the bracket with a semifinal win over Randi Speiler, and was looking to add another totle to her jam packed resume in JBT women's events. The match was close throughout, but a clutch double in the ninth and tenth sealed a 192-177 win for Adel, her first JBT title, and the $1,500 top scholarship prize.
Huge thanks to the incomparable Jerry Francomano and his crew at Texas, presenting sponsors Ebonite and all our other sponsors, and to every one of you for attending- we'll see you in 2015!
| | | | |
| --- | --- | --- | --- |
| Rank | Last | First | Prize |
| 1 | Wahner | Adel | $1,500 |
| 2 | Lieber | Correen | $750 |
| 3 | Bolton | Elise | $400 |
| 4 | Speiler | Randi | $200 |
| 5 | Penatzer | Heather | $150 |
| 6 | Elliott | Crystal | $100 |
| 7 | Laiwa | Chianne | |
| 8 | Duplan | Amanda | |
| 9 | Zavala | Stephanie | |
| 10 | Dempsey | Shelby | |
| 11 | Singletary | Mia | |
| 12 | Atkin | Amanda | |
| 13 | Yates | Elise | |
| 14 | Glazer | Leah | |
| 15 | Shishima | Kylie | |
| 16 | Miyaji | Sharyn | |
| | | |
| --- | --- | --- |
| 17 | Yockman | Shaianne |
| 18 | Nakano | Kristyn |
| 19 | Buhain | Michaela |
| 20 | August | Danielle |
| 21 | Evans | Marguerite |
| 22 | Sylva | Alexa |
| 23 | Wu | Jessica |
| 24 | Martin | Jaymie Rae |
| 25 | Bischoff | Hailey |