2014 JBT MAIN EVENT- Handicap Singles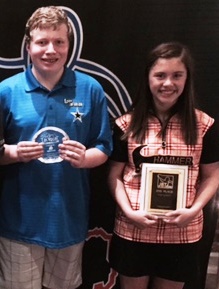 champ William Robbins & Abby Franklin
In an All-Arizona finale William Robbins defeated Abby Franklin to win the Handicap Singles crown at the 2014 JBT Las Vegas Main Event, presented by Ebonite.
Robbins qualified as the #5 seed for the bracket-style stepladder finals, and steamrolled through three rounds, over #8 Jozef Corwin, #4 Jonathan Bautista, and top seed Kevin Higgins, to reach the championship game. Abby had an easier road as the #2 seed, needing only to beat #7 Korianne Kuntz, which she did, to play William for the title.
Franklin has been on a torrid run ever since the summer, and making the Main Event title match will pad an already impressive resume. However, Robbins, bowling his first full JBT season, saved his best performance of the year by far for the biggest event of the year. He was able to coast by Franklin 212-186, earning his first career JBT title and the $1,500 top prize.
Huge thanks to the incomparable Jerry Francomano and his crew at Texas, presenting sponsors Ebonite and all our other sponsors, and to every one of you for attending- we'll see you in 2015!
| | | | |
| --- | --- | --- | --- |
| Rank | Last | First | Prize |
| 1 | Robbins | William | $1,500 |
| 2 | Franklin | Abigail | $1,000 |
| 3 | Higgins | Kevin | $800 |
| 4 | Kuntz | Korianne | $600 |
| 5 | Peck | Cameron | $500 |
| 6 | Bautista | Jonathan | $400 |
| 7 | Sanchez | Quirino | $300 |
| 8 | Corwin | Jozef | $200 |
| 9 | Collins | Brooke | $150 |
| 10 | Ponzo | Kyle | $100 |
| 11 | Robbins | Clifford | |
| 12 | Boyko | Bex | |
| 13 | Ma | Michael | |
| 14 | Zieg | Allex | |
| 15 | Coleman | Aaron | |
| 16 | Berg | Rachael | |
| 17 | McGough | James | |
| 18 | Mahn | Zoe | |
| 19 | Reed | Kyle | |
| 20 | Culpepper | Treyshawn | |
| 21 | Murray | Jacob | |
| 22 | Burries | Kendall | |
| 23 | Armas | Justin | |
| 24 | Lanning | Alexa | |
| 25 | Tanaka | Naomi | |
| 26 | Gaviola | Elijah | |
| 27 | McClelon | Rob | |
| 28 | Moser-Hernandez | Alejandro | |
| 29 | Green | Matthew | |
| 30 | Miller | Hezy | |
| 31 | Boniecki | Courtney | |
| 32 | Delegarito | Gerilynn | |
| 33 | Villa | Dante | |
| 34 | Torrence | Eric | |
| 35 | Dennis | Troy | |
| 36 | Herrmann | Andy | |
| | | |
| --- | --- | --- |
| 37 | Kam | Matthew |
| 38 | Pineda | Crystalene |
| 39 | Zweig | Leah |
| 40 | Palmer | Roy |
| 41 | Look | Michael |
| 42 | Villa | Maikayla |
| 43 | Walker | Jerod |
| 44 | Williams | Alyssa |
| 45 | McMaster | Tarik |
| 46 | Portugez | Gian |
| 47 | Gilbert | Austin |
| 48 | Marshall | Kaylee |
| 49 | Moser-Hernandez | Armando |
| 50 | Kalvelage | Secilia |
| 51 | Long | Zack |
| 52 | Purdy | Alayna |
| 53 | Chan | Andrew |
| 54 | Zavala | Julian |
| 55 | Hedges | Tyler |
| 56 | Handley | Dee |
| 57 | Burke | James |
| 58 | Corwin | Katelyn |
| 59 | Criss | Cameron |
| 60 | Wong | Marielle |
| 61 | Freeman | Justin |
| 62 | McGough | Jacob |
| 63 | C DeBaca | Montana |
| 64 | Brown | Hunter |
| 65 | Valdez | Celeste |
| 66 | Smith | Michael |
| 67 | Yamasaki | Kaycie |
| 68 | C DeBaca | Toby |
| 69 | Marquis | Jacob |
| 70 | Lords | Afton |
| 71 | Reyes | RJ |
| 72 | Johnson | Destiny |
| 73 | Caseria | Brooke |
| 74 | Linares | Aileen |
| 75 | Dowell | Damon |
| 76 | Minami | Jared |
| 77 | Martin | Kaitlynn |
| 78 | Goar | Chris |
| 79 | McGuire | Natasha |
| 80 | Chin | Roslyn |
| 81 | Pracale-Bermudez | Keilani |
| 82 | Nakamura | Chad |
| 83 | McCoy | Jayson |
| 84 | Nofuente | Saphyre |
| 85 | Pimentel | Ryland |
| 86 | Abigania | Katelyn |
| 87 | Salama | Soloman |
| 88 | Abigania | Joshua |
| 89 | McDonnell | April |
| 90 | Alo | Daryus |
| 91 | Johnson | Kelley |
| 92 | Thomas | Tyler |