For immediate release- feel free to copy any part of this (we'd love for you to send us a copy if it's published somewhere!)
WAHNER, TANG, ROBBINS WIN JBT MAIN EVENT;
$20,000+ IN SCHOLARSHIPS AWARDED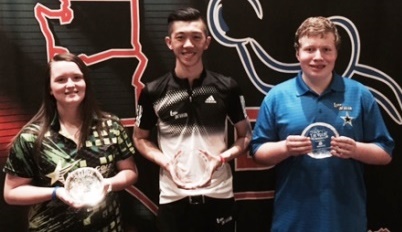 champs Adel Wahner, Michael Tang, and William Robbins
Adel Wahner, Las Cruces NM, Michael Tang, San Francisco CA, and William Robbins, Prescott AZ, claimed singles titles in exciting action at the 2014 JBT Las Vegas Main Event, presented by Ebonite and hosted by Texas Star Lanes.
The incredible Tang brothers, Michael and Darren, qualified second and fourth in a very tough field, then each won their semifinal matches- Michael against top seed Andrew Anderson and Darren against #3 Chase Nadeau- to set up a match between the brothers for the title. Plenty of pride- and a $1000 prize difference- was on the line in the match, and Darren got out to a big early lead. Michael came roaring back though on the demanding pattern, and needing a strike to win in the tenth, caved in the 2-8-10 to key a 221-208 win. Michael earned $3,000 for the major title, while Darren took $2,000 more back to the Tang household.
Wahner climbed the bracket-style stepladder for the Girls Scratch crown. After knocking out #6 Crystal Elliott, she edged top seed and defending champ Elise Bolton, who was looking to become the first 3-time Main Event singles champ. Wahner faced #2 Correen Lieber for the title, who is always at the top of the standings in JBT female events. Adel, at just 16 years old, came up with a huge double in the 9th and 10th to spark a 192-177 title match win, her first JBT title, and the $1,500 top prize.
Robbins is a JBT rookie who saved his best result of the season by far for Main Event, then performed like a veteran in a climb up the stepladder finals. William defeated #8 Jozef Corwin, #4 Jonathan Bautista, and top seed Kevin Higgins on his way to play #2 Abby Franklin for the title. Abby has been red hot all season long, and added yet another huge result on her resume by making the finals here. However, fellow Arizona bowler Robbins was unstoppable in the finals, and finished it off with a 212-186 win over Franklin for his first JBT title, and $1,500 top prize.
Two more Arizona bowlers, Aaron Coleman and Tim Jacob, teamed to win the handicap doubles side event with 1324 for six. Californians Wesley Low and Bobby Hornacek combined for an amazing 'best ball' 878 to win the scratch doubles title. Additional winners were crowned in team and junior gold events.
Big thanks to Jerry Francomano and his crew at Texas Station for yet another fantastic hosting job. Thanks also to Ebonite for continuing their amazing sponsorship of our Tour year-round, as well as everyone else who makes Main Event a highlight every year. We hope to see everyone back in Vegas for the 2015 Main Event!