2014 JBT MAIN EVENT- Open Scratch Singles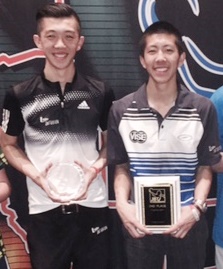 champ Michael Tang and runner-up Darren Tang
Venus & Serena. Peyton & Eli. Add Michael and Darren Tang to the list of sibling athletes at the top of their sport, as the brothers finished first and second at the 2014 JBT Las Vegas Main Event Open Singles championship, presented by Ebonite and hosted by Texas Station.
A tough pattern was laid out for the very talented field, and it seemed to play toughest in the finals, where marks were at a premium and a 200 game was a sure winner through three rounds. Michael worked his way through the top half of the bracket style stepladder as the #4 seed, first beating #5 Justin Dunn, and then top seed Andrew Anderson in his semifinal match. Darren had two byes as the #2 seed, and after scratching out a 211-190 win over #3 Chase Nadeau, found himself heads-up against his brother for the title.
Sometimes title games between siblings lose a little of their excitement, and it seemed to be headed that way after Darren opened up a big lead. But Michael came roaring back with strikes from frames six through nine. In the tenth, he wowed the crowd by caving in the 2-8-10 for another strike, locking up a 221-208 win. $5,000 went to the Tang household, with Michael earning $3,000 and Darren cashing for a $2,000 scholarship windfall.
Huge thanks to the incomparable Jerry Francomano and his crew at Texas, presenting sponsors Ebonite and all our other sponsors, and to every one of you for attending- we'll see you in 2015!
| | | | |
| --- | --- | --- | --- |
| Rank | Last | First | Prize |
| 1 | Tang | Michael | $3,000 |
| 2 | Tang | Darren | $2,000 |
| 3 | Anderson | Andrew | $1,000 |
| 4 | Nadeau | Chase | $800 |
| 5 | Dunn | Justin | $600 |
| 6 | Duplan | Nick | $500 |
| 7 | Miles | Kendle | $400 |
| 8 | Coffey | Michael | $300 |
| 9 | Low | Wesley | $200 |
| 10 | Jordan Jr. | Jerome | $100 |
| 11 | Duster | Kyle | |
| 12 | Yuratovich | Aaron | |
| 13 | Hatchett | Eric | |
| 14 | Chan | Oscar | |
| 15 | Martin | Alex | |
| 16 | Van Dicken | Justin | |
| 17 | Chin | Riely | |
| 18 | Jacob | Tim | |
| 19 | Watanabe | Alex | |
| 20 | Canfield | Ben | |
| 21 | Williams | Ahkeen | |
| 22 | Hattori | Zack | |
| 23 | Mullen | Josh | |
| 24 | Devlin | Nick | |
| 25 | Van Sickle | Bryan | |
| 26 | Rodriguez | Patrick | |
| 27 | Grondin | Joe | |
| 28 | Oviatt | Russ | |
| 29 | Schleidt | Austin | |
| 30 | Paul III | Richard | |
| 31 | Spacey | Tanner | |
| 32 | Schenck | Cortez | |
| 33 | Boe | Tyler | |
| 34 | Nakagawa | Jonathan | |
| 35 | Chui | Kirk | |
| 36 | Mullen | Jake | |
| | | |
| --- | --- | --- |
| 37 | Myers | Brandon |
| 38 | Hayase-Fong | Ken |
| 39 | Howison-Johnstone | Ben |
| 40 | Sweigart | Harley |
| 41 | Hardin | Ben |
| 42 | Dempsey | Riley |
| 43 | McNeal | Tommie |
| 44 | Hanson | Daniel |
| 45 | Hornecek | Bobby |
| 46 | Wakefield | James |
| 47 | Leong | Dallas |
| 48 | Bogner | Gabe |
| 49 | Gill | Jacob |
| 50 | Gallagher | Matthew |
| 51 | Cobine | Danny |
| 52 | Peyton | Jamison |
| 53 | Ross | Reed |
| 54 | Cando | Anthony |
| 55 | Andrews | Kyle |
| 56 | Alvarez | Josh |
| 57 | Hendrickson | Talon |
| 58 | Yoshida | Landan |
| 59 | Andrews | Kennison |
| 60 | Napalan | Kanoa |
| 61 | Rock | TJ |
| 62 | Ellis | John |
| 63 | Baradas | EJ |
| 64 | Cantrell | Sam |
| 65 | Cardines | Cerell |
| 66 | Camacho | Jacob |
| 67 | Ramos | Brandon |
| 68 | Redmon | Matthew |
| 69 | Schanen | Anthony |
| 70 | Seligman | Adam |
| 71 | Pekins | Ryan |
| 72 | Friedman | Phillip |
| 73 | Opela | Carson |
| 74 | Davenport | Jarrod |
| 75 | Kampley | Steven |
| 76 | Guba | Andrew |
| 77 | Ramirez-Buckles | Marco |
| 78 | Demick | Josh |
| 79 | Nakagawa | Keenan |
| 80 | Zweig | Matt |
| 81 | Strawmyer | Clint |
| 82 | Inaba | Keoni |
| 83 | Christensen | Austen |
| 84 | Pollak | Nick |
| 85 | Ushigome | John |
| 86 | Abram | Evan |
| 87 | Thomas | Brendan |
| 88 | Mendoza | Richardo |
| 89 | Valenzuela | MJ |