2015 JBT MAIN EVENT- Girls Scratch Singles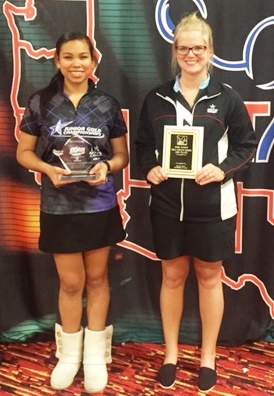 champ Madison Bailey & runner-up Mary Wells
Talent, not age, was again proven to be the determining factor in bowling success, as 14-year old Madison Bailey captured the Girls Scratch Singles division of the 2015 JBT Las Vegas Main Event, presented by Ebonite International and the Junior Bowlers Tour, and hosted by the South Point Bowling Plaza.
Bailey qualified 4th for the finals, and defeated #5 Shaianne Yockman and top seed Stephanie Zavala en route to the title game. On the other side of the finals bracket, #3 seed Mary Wells also won two matches, over #6 Chainanne Laiwa and #2 Bryanna Leyen, to reach the championship game.
Wells, a three-time Junior Team USA member from Ohio, struggled to find the right look in the last game, while Bailey, a U12 Junior Gold champ, started strong and was able to roll to the win and the $1,500 scholarship prize that comes with the title. Wells earned $750 for the runner-up spots. Over $34,000 was awarded at the 2016 Main Event!
Huge thanks to all of our sponsors, including Ebonite International, Logo Infusion, Rolltech, The Awards Store, and of course Mike Monyak and the team at South Point for a phenomenal hosting job. Check out full results, and everything we do almost every week year-round at our website, www.bowljbt.com. We look forward to seeing everyone age 21 and under at South Point Dec 26-31, 2016 for the next JBT Main Event!
2015 JBT Las Vegas Main Event- Girls Scratch Singles
rank
bowler
prize
1
Bailey, Madison
$1,500
2
Wells, Mary
$750
3
Zavala, Stephanie
$500
4
Leyen, Bryanna
$400
5
Yockman, Shaianne
$300
6
Laiwa, Chaianne
$200
| | |
| --- | --- |
| 7 | Glazer, Leah |
| 8 | Wahner, Adel |
| 9 | Carr, Savannah |
| 10 | Yates, Elise |
| 11 | Speiler, Randi |
| 12 | Romero, Vanessa |
| 13 | Toala, Stefanny |
| 14 | Yamada, Saige |
| 15 | Berg, Rachael |
| 16 | Collins, Brooke |
| | |
| --- | --- |
| 17 | Takeyesu, Jaden |
| 18 | Atkin, Amanda |
| 19 | Leyen, Bryanna |
| 20 | Zavala, Stephanie |
| 21 | R- Elliot, Crystal |
| 22 | Yockman, Shaianne |
| 23 | R- Carr, Savannah |
| 24 | Speiler, Randi |
| 25 | R- Wahner, Adel |
| 26 | Wahner, Adel |
| 27 | R- Miyaji, Sharyn |
| 28 | R- Pineda, Crystalene |
| 29 | R- Sanchez, Tyra |
| 30 | Toala, Stefanny |
| 31 | Terry, Danyn |
| 32 | R- Terry, Danyn |
| 33 | Pattison, Maranda |
| 34 | R- Atkin, Amanda |
| 35 | Elliot, Crystal |
| 36 | Glazer, Leah |
| 37 | R- Sanchez, Tyra |
| 38 | Bailey, Madison |
| 39 | Miyaji, Sharyn |
| 40 | Turner, Claire |
| 41 | R- Berg, Rachael |
| 42 | R- Pineda, Crystalene |
| 43 | R- Pattison, Maranda |
| 44 | Carr, Savannah |
| 45 | Yates, Elise |
| 46 | R- Takeyesu, Jaden |
| 47 | Berg, Rachael |
| 48 | R- Turner, Claire |
| 49 | Laiwa, Chaianne |
| 50 | Schultz, Shauna |
| 51 | R- Pineda, Crystalene |
| 52 | Sanchez, Tyra |
| 53 | Saili, Anastasia |
| 54 | R- Walik, Haley |
| 55 | R- Inafuku, Sydni |
| 56 | R- Schultz, Shauna |
| 57 | Walik, Haley |
| 58 | R- Pattison, Maranda |
| 59 | Inafuku, Sydni |
| 60 | R-Evans, Marguerite |
| 61 | R- Saili, Anastasia |
| 62 | Yamasaki, Kaycie |
| 63 | Pineda, Crystalene |
| 64 | R -Schultz, Shauna |
| 65 | Evans, Marguerite |
| 66 | R- Collins, Brooke |
| 67 | R- Inafuku, Sydni |
| 68 | R- Walik, Haley |
| 69 | Yamada, Saige |
| 70 | Boyko, Bex |