2015 JBT MAIN EVENT- Handicap Singles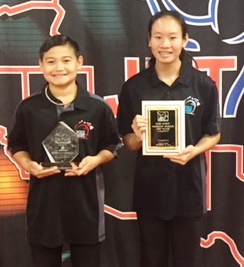 champ Chase Fernandez & runner-up Brandi Chun
Aloha from Las Vegas! In an all-Hawaiian final, Chase Fernandez defeated Brandi Chun to capture the Handicap Singles division of the 2015 JBT Las Vegas Main Event, presented by Ebonite International and the Junior Bowlers Tour, and hosted by the South Point Bowling Plaza.
Chun, the #8 seed for the finals, made a spectacular run to the title match, defeating #5 Costa Gastouniotis, #4 Mark Sauve, and then top seed Christopher Faro. On the other side of the finals bracket, Madison Bash, who also won the doubles title, beat Sam Espiritu in round one. Fernandez then beat Bash, and then got past #2 Justin Patten in a one-pin thriller, to set up the all-aloha title game. Fernandez had some opens in the title game, but he made up for it with lots of strikes in the other frames, getting by Chun in the finale for the title and $2,000 top scholarship prize. Chun earned $1,500, while the top 20 bowlers all shared in the prize fund.
Huge thanks to all of our sponsors, including Ebonite International, Logo Infusion, Rolltech, The Awards Store, and of course Mike Monyak and the team at South Point for a phenomenal hosting job. Check out full results, and everything we do almost every week year-round at our website, www.bowljbt.com. We look forward to seeing everyone age 21 and under at South Point Dec 26-31, 2016 for the next JBT Main Event!
2015 JBT Las Vegas Main Event- Handicap Singles
rank
bowler
prize
1
Fernandez, Chase
$2,000
2
Chun, Brandi
$1,500
3
Faro, Christopher
$1,000
4
Patten, Justin
$900
5
Sauve, Mark
$800
6
Bash, Madison
$700
7
Gastouniotis, Costa
$600
8
Espiritu, Sam
$500
9
Phillips, Silas
$400
10
Phillips, Eric
$300
11
Hackney, Justin
$200
12
Kurashige, Jarin
$150
13
Patalina, Devyn
$125
14
Moser-Hernandez, Alejandro
$100
15
Strawmyer, Clint
$100
16
Greim, Zach
$100
17
Gilbert, Kyle
$100
18
Zweig, Leah
$100
19
Pimentel, Ryland
$100
20
Hedges, Tyler
$100
| | |
| --- | --- |
| 21 | Middleton, Jamas |
| 22 | Johnson, Kelley |
| 23 | Greim, Lindsay |
| 24 | Matsumura, Tyler |
| 25 | Baker, Matthew |
| 26 | Halligan, Sarah |
| 27 | Robbins, William |
| 28 | Peterson, Jennifer |
| 29 | Thompson, Kara |
| 30 | Tanaka, Naomi |
| 31 | Am-Khong Kaylee |
| 32 | Lords, Afton |
| 33 | Wong, Marielle |
| 34 | Soulliere, Jacob |
| 35 | Nakaoka, Chelsea |
| 36 | Ishisaka, Taylor |
| | |
| --- | --- |
| 37 | Ohta, Erin |
| 38 | Thompson, Alex |
| 39 | Johnson, Kelley |
| 40 | Lords, Afton |
| 41 | Fernandez, Chase |
| 42 | R- Gilbert, Kyle |
| 43 | Jennings, Amanda |
| 44 | R- Marquis, Jacob |
| 45 | McCleerey, Keegan |
| 46 | Thompson, Alex |
| 47 | R- Perkins, Ryan |
| 48 | R- Bland, Brittany |
| 49 | Sasaki, Zian |
| 50 | R- Reese, Dawson |
| 51 | Gafate, Jopfel |
| 52 | Patten, Justin |
| 53 | Patalina, Devyn |
| 54 | Edwards, Payton |
| 55 | R- Am-Klong Nolan |
| 56 | R- Calisto-Namura, Sasha |
| 57 | LaFace, Amelia |
| 58 | Hedges, Tyler |
| 59 | R- Am-Khong, Kaylee |
| 60 | Handa, Tyler |
| 61 | Halligan, Sarah |
| 62 | R- Handa, Tyler |
| 63 | R- Patten, Justin |
| 64 | Phillips, Eric |
| 65 | Weber, Josh |
| 66 | Gastouniotis, Costa |
| 67 | McDonnell, April |
| 68 | Willaims, Alyssa |
| 69 | Gilbert, Kyle |
| 70 | Pekins, Ryan |
| 71 | Corwin, Jozef |
| 72 | Torrence, Eric |
| 73 | R- Edwards, Payton |
| 74 | R- LaFace, Amelia |
| 75 | R- Perry, Ryan |
| 76 | Tanaka, Naomi |
| 77 | Nomura-Calisto, Sasha |
| 78 | Moser-Hernandez, Alejandro |
| 79 | Gonzalez, Tyreece |
| 80 | Reese, Dawson |
| 81 | Gaffney, Caitlin |
| 82 | R- Domaguin, Avery |
| 83 | Craft, Emma |
| 84 | R- Zweig, Leah |
| 85 | Coleman, Aaron |
| 86 | Thompson, Kenneth |
| 87 | R- Hinlo, Maybeline |
| 88 | R- Edwards, Payton |
| 89 | Domaguin, Avery |
| 90 | Nakaoka, Chelsea |
| 91 | Rohe, Dante |
| 92 | Palmer, Roy |
| 93 | Williams, Alyssa |
| 94 | Jansen, Emanuel |
| 95 | Salon, Ivana Lourdes |
| 96 | R- Sasaki, Zian |
| 97 | Smyth, Krystofer |
| 98 | Delegarito, Gerilynn |
| 99 | R- Griffin, Nathan |
| 100 | R- Sauve, Phillip |
| 101 | Reyes, RJ |
| 102 | R- Matsumura, Brandon |
| 103 | R- Mabry, Joshua |
| 104 | R- Taylor, Colin |
| 105 | R- Villa, Maikayla |
| 106 | Montanez, Samuel |
| 107 | R- Hinlo, Maybline |
| 108 | R- Delegarito, Gerilynn |
| 109 | R- McGough, James |
| 110 | R- Franklin, Abby |
| 111 | R- Montanez, Sam |
| 112 | Velosa, Zack |
| 113 | McGough, James |
| 114 | R- Olivares, Dominic |
| 115 | R- Am-Khong, Nolan |
| 116 | McGough, Jacob |
| 117 | R- Sauve, Phillip |
| 118 | R- Groth, Melanie |
| 119 | Bland, Brittany |
| 120 | Sauve, Phillip |
| 121 | R -Marshall, Kaylee |
| 123 | Flowers, Bella |
| 124 | Am-Khong, Nolan |
| 125 | Matsumura, Tyler |
| 126 | R- Ohta, Erin |
| 127 | R- Rohe, Dante |
| 128 | Gonzalez, Tyrell |
| 129 | R- Jeffries, Donius |
| 130 | R- Gafate, Jopfel |
| 131 | Hirata-Epstein, Rysen |
| 132 | Phillips, Eric |
| 133 | R- Coleman, Aaron |
| 134 | Portugez, Gian |
| 135 | Griffin, Nathan |
| 136 | R- Robbins, Clifford |
| 137 | Hirokane, Kayana |
| 138 | Yu, Jonathan |
| 139 | Am-Khong, Kaylee |
| 140 | Corwin, Katelyn |
| 141 | Villa, Maikayla |
| 142 | R- Perry, Ryan |
| 143 | R- Ishisaka, Taylor |
| 144 | Sulzer, Garrett |
| 145 | Andrews, Caleb |
| 146 | R- Franklin, Abby |
| 147 | R- McCleery, Keegan |
| 148 | Alexander, Alyssa |
| 149 | R- Corwin, Katelyn |
| 150 | R- Villa, Dante |
| 151 | R- Kalvelage, Secilia |
| 152 | R- Robbins, Clifford |
| 153 | Taylor, Colin |
| 154 | Martin, Jonah |
| 155 | R- LaFace, Amelia |
| 156 | R- McMaster, Tarik |
| 157 | Look, Michael |
| 158 | McMaster, Tarik |
| 159 | Robbins, William |
| 160 | Robbins, Clifford |
| 161 | R- Franklin, Abby |
| 162 | R- Bland, Brittany |
| 163 | R- Hirokane, Kayana |
| 164 | R- Rohe, Dante |
| 165 | Kalvelage, Secilia |
| 166 | R- Todeschi, CJ |
| 167 | Perry, Ryan |
| 168 | R- Thomas, Andrew |
| 169 | Villa, Dante |
| 170 | R- Blankenship, Carter |
| 171 | Kurashige, Jarin |
| 172 | Buckles-Ramirez, Marisol |
| 173 | Baker, Matthew |
| 174 | R- Perry, Ryan |
| 175 | Gaviola, David |
| 176 | Hinlo, Maybeline |
| 177 | Blankenship, Carter |
| 178 | Marshall, Kaylee |
| 179 | McGough, James |
| 180 | Rendon, Kyle |
| 181 | Melchor, Elijah |
| 182 | Matsumura, Brandon |
| 183 | Acuff, Steven |
| 184 | R- Flowers, Bella |
| 185 | Franklin, Abby |
| 186 | Purdy, Alyana |
| 187 | R- Rohe, Dante |
| 188 | Villa-rodriguez, Monica |
| 189 | Middleton, Thomas |
| 190 | Groth, Melanie |
| 191 | Maybry, Joshua |
| 192 | R- Franklin, Abby |
| 193 | Sleasman, Trent |
| 194 | Mabry, Joshua |
| 195 | Allen, Samuel |
| 196 | Marquis, Jacob |
| 197 | Jeffries, Donius |
| 198 | Olivares, Dominic |
| 199 | Soulliere, Jacob |
| 200 | Todeschi, CJ |
| 201 | R- Rose, Andrew |
| 202 | R- Thomas, Andrew |
| 203 | Thomas, Andrew |
| 204 | R- Rose, Andrew |
| 205 | Rose, Andrew |
| 206 | R- Smyth, Kristofer |
| | duplicates among semifinalists: |
| 26 | Faro, Christopher |