Here's a newspaper-friendly article about Main Event! Feel free to cut, paste, and send it to everyone- we'd love a copy of any publications it appears in!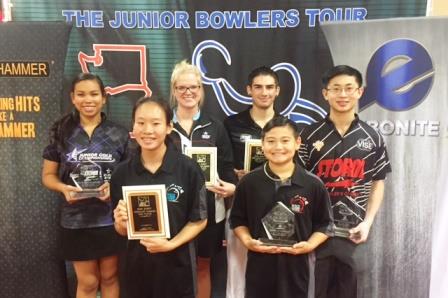 photo caption: Main Event finalists Madison Bailey, Brandi Chun, Mary Wells, Kyle Duster, Chase Fernandez, Wesley Low (l-r)
FOR IMMEDIATE RELEASE
Bailey, Low, Fernandez capture JBT Main Event titles
$34,000+ in scholarships awarded to national field
Three talented bowlers claimed singles titles to headline action at the 2015 JBT Las Vegas Main Event Under-22 tournament, held at the incredible new South Point Bowling Plaza. Over $34,000 in scholarships were awarded to a vast field representing 27 states, and all ages and averages.
In the prestigious Open Scratch singles division, Wesley Low, Palmdale CA, completely dominated an extremely talented field, defeating Kyle Duster, Phoenix AZ, in the title match. The Wichita State lefty has already amassed a resume that has attracted national attention, and this title is the 23rd of his amazing JBT career, good for 9th on the JBT all-time title list. Low earned a $3,000 scholarship for the win, while Duster pocketed $2,000 for the excellent performance.
The Girls Scratch division proved once again it's talent rather than age that determines winners on our Tour, as 14 year-old Madison Bailey of California, defeated three-time Junior Team USA member Mary Wells of Ohio, for the crown. Bailey earns a $1,500 scholarship, while Wells settled for the $750 runner-up spot.
An all-Hawaiian Handicap Singles title match saw Chase Fernandez defeat Brandi Chun for the title. A large field resulted in the top 20 finishers earning prizes, highlighted by $2,000 for 12 year-old Chase, and $1,500 for 15 year-old Brandi.
Low teamed with fellow Californian for the Scratch Doubles title with 1403 for 6 games, while the Washington state team of Carter Blankenship and Madison Durr won Handicap Doubles with 1394. Both teams split $1,000 top prizes. Titles were also earned in the always-fun Team events, warm-up and warm-down companion tournaments, and 9 spots to Junior Gold finals were awarded in a separate qualifier.
Huge thanks to all of our sponsors, including Ebonite International, Logo Infusion, The Awards Store, and Mike Monyak and the team at South Point for a phenomenal hosting job. Check out full results, and everything we do almost every week year-round at our website, www.bowljbt.com. We look forward to seeing everyone age 21 and under at South Point Dec 26-31, 2016 for the next JBT Main Event!
2015 JBT Las Vegas Main Event- Open Scratch Singles
rank
bowler
prize
1
Low, Wesley, CA
$3,000
2
Duster, Kyle, AZ
$2,000
3
Tang, Michael, CA
$1,500
4
Acuff, Derek, AZ
$1,000
5
Schenck, Cortez, AZ
$800
6
Miles, Kendle, FL
$700
7
Spacey, Tanner, WA
$600
8
Cardines, Cerrell, NV
$500
9
Anderson, Andrew, MI
$400
10
Grondin, Joe, CA
$300
11
Leyen, Tristan, PA
$200
12
Hatchett, Eric, NV
$150
13
Haugh, Briley, MN
$100
14
Van Sickle, Bryan, AZ
$100
15
Silva, Anthony, CA
$100
16
Hayase-Fong, Ken, HI
$100
2015 JBT Las Vegas Main Event- Girls Scratch Singles
rank
bowler
prize
1
Bailey, Madison, CA
$1,500
2
Wells, Mary, OH
$750
3
Zavala, Stephanie, CA
$500
4
Leyen, Bryanna, PA
$400
5
Yockman, Shaianne, CA
$300
6
Laiwa, Chaianne, CA
$200
2015 JBT Las Vegas Main Event- Handicap Singles
rank
bowler
prize
1
Fernandez, Chase, HI
$2,000
2
Chun, Brandi, HI
$1,500
3
Faro, Christopher, NV
$1,000
4
Patten, Justin, CA
$900
5
Sauve, Mark, AZ
$800
6
Bash, Madison, WA
$700
7
Gastouniotis, Costa, CA
$600
8
Espiritu, Sam, NV
$500
9
Phillips, Silas, AZ
$400
10
Phillips, Eric, CA
$300
11
Hackney, Justin, NM
$200
12
Kurashige, Jarin, CA
$150
13
Patalina, Devyn, NV
$125
14
Moser-Hernandez, Alejandro, WA
$100
15
Strawmyer, Clint, CA
$100
16
Greim, Zach, CA
$100
17
Gilbert, Kyle, CA
$100
18
Zweig, Leah, CA
$100
19
Pimentel, Ryland, CA
$100
20
Hedges, Tyler, NV
$100