2015 JBT MAIN EVENT- Open Scratch Singles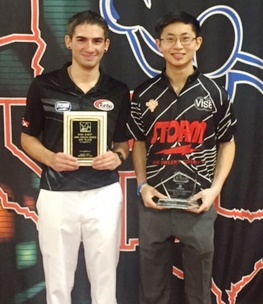 runner-up Kyle Duster & champ Wesley Low
Wesley Low capped off an outstanding week by capturing the Open Scratch division of the 2015 JBT Las Vegas Main Event, presented by Ebonite International and the Junior Bowlers Tour, and hosted by the South Point Bowling Plaza.
Derek Acuff opened a scratch division finals full of talent with a 254-202 win over Tanner Spacey. Simultaneously, Kendle Miles defeated Cerell Cardines 247-182. Acuff, a 25-time JBT winner, then defeated 63-time JBT champ Cortez Schenck 209-176, and Kyle Duster stopped Miles 227-201. The top two seeds then stepped in, and Duster upset defending champ and #2 seed Michael Tang, while top seed low beat Acuff to set up the title match.
Low had led the tournament right from the start, and consolidated it with an 8-0 semifinal whitewashing of the field, which included a 300 game on the challenging pattern (Tang and Andrew Anderson also fired perfectos in matchplay, the only three of the event). It can be tough when all that dominance comes down to one game, and the veteran Duster put up a noble resistance, but Low's late string was impossible to keep up with. The 237-208 final was good for Wesley's 23rd career JBT title and a $3,000 scholarship prize, a good chunk of the over $4,400 he earned through all events on the week! Duster cashed for $2,000, while all finalists earned at least $500,
Huge thanks to all of our sponsors, including Ebonite International, Logo Infusion, Rolltech, The Awards Store, and of course Mike Monyak and the team at South Point for a phenomenal hosting job. Check out full results, and everything we do almost every week year-round at our website, www.bowljbt.com. We look forward to seeing everyone age 21 and under at South Point Dec 26-31, 2016 for the next JBT Main Event!
2015 JBT Las Vegas Main Event- Open Scratch Singles
rank
bowler
prize
1
Low, Wesley
$3,000
2
Duster, Kyle
$2,000
3
Tang, Michael
$1,500
4
Acuff, Derek
$1,000
5
Schenck, Cortez
$800
6
Miles, Kendle
$700
7
Spacey, Tanner
$600
8
Cardines, Cerrell
$500
9
Anderson, Andrew
$400
10
Grondin, Joe
$300
11
Leyen, Tristan
$200
12
Hatchett, Eric
$150
13
Haugh, Briley
$100
14
Van Sickle, Bryan
$100
15
Silva, Anthony
$100
16
Hayase-Fong, Ken
$100
| | |
| --- | --- |
| 17 | Williams, Ahkeen |
| 18 | Haugh, Brennan |
| 19 | Chin, Riely |
| 20 | Monnette, Brian |
| 21 | Tom, Noah |
| 22 | Gilbert, Austin |
| 23 | Lindeman, Curtis |
| 24 | Kempton, Hunter |
| 25 | Chan, Oscar |
| 26 | McNeal, Tommie |
| 27 | Andrews, Kyle |
| 28 | Mendoza, Ricardo |
| 29 | Tacorda, Andrei |
| 30 | Schleidt, Austin |
| 31 | Wojciechowski, Zach |
| 32 | Laroya, Leon |
| 33 | Langer, Logan |
| 34 | Rock, TJ |
| 35 | Guba, Andrew |
| 36 | Ponzo, Kyle |
| 37 | Yuratovich, Aaron |
| 38 | Chui, Kirk |
| 39 | Baradas, EJ |
| 40 | Colyer, Paul |
| | |
| --- | --- |
| 41 | Thomas, Brendan |
| 42 | R- Langer, Logan |
| 43 | Strawmyer, Clint |
| 44 | Anderson, Michael |
| 45 | R- Long, Zack |
| 46 | Torres, Sergio |
| 47 | Andrews, Kennison |
| 48 | Zavala, Julian |
| 49 | R-Cando, Anthony |
| 50 | R- Smale, Teagan |
| 51 | R- Torres, Sergio |
| 52 | R- Tacorda, Andrei |
| 53 | R- Fernandez, Cody |
| 54 | R- Mercado, Adrian |
| 55 | R-Tom, Noah |
| 56 | R- Chin, Daniel |
| 57 | R- Green, Matt |
| 58 | R- Andrews, Kennison |
| 59 | Chan, Oscar |
| 60 | R- Ramos, Brandon |
| 61 | Yoshida, Landan |
| 62 | Acuff, Derek |
| 63 | Wojciechowski, Zach |
| 64 | R- Laroya, Leon |
| 65 | R- Walker, Jerod |
| 66 | Kempton, Hunter |
| 67 | Inaba, Keoni |
| 68 | R- Torres, Sergio |
| 69 | R- Takeyesu, Gannon |
| 70 | R- Ramos, Brandon |
| 71 | Cando, Anthony |
| 72 | R- Inaba, Keoni |
| 73 | R- Rock, TJ |
| 74 | Spacey, Tanner |
| 75 | R- Cando, Anthony |
| 76 | Reed, Kyle |
| 77 | R- Andrews, Kennison |
| 78 | R- Baradas, EJ |
| 79 | R- Long, Zack |
| 80 | Chin, Daniel |
| 81 | R- Inaba, Keoni |
| 82 | Dabatos, Patrick |
| 83 | Ponzo, Kyle |
| 84 | R- Camacho, Jacob |
| 85 | R- Ma, Michael |
| 86 | Mercado, Adrian |
| 87 | R- Kempton, Hunter |
| 88 | Kuamo'o-Malaka, Chayenne |
| 89 | Takeyesu, Gannon |
| 90 | Chui, Kirk |
| 91 | Cardines, Cerell |
| 92 | R- Reed, Kyle |
| 93 | R- Reed, Kyle |
| 94 | R- Gaines, Brian |
| 95 | Haugh, Briley |
| 96 | R- Andrews, Kyle |
| 97 | Anderson, Michael |
| 98 | R- Nakagawa, Keenan |
| 99 | Verona, Edric |
| 100 | Gaines, Brian |
| 101 | Baradas, EJ |
| 102 | R- Baradas, EJ |
| 103 | R- Schleidt, Austin |
| 104 | R- Yoshida, Landan |
| 105 | R- Ma, Michael |
| 106 | R- Torres, Sergio |
| 107 | R- Walker, Jerod |
| 108 | Yuratovich, Aaron |
| 109 | R- Opela, Carson |
| 110 | R- Monnette, Brian |
| 111 | R- Oshiro, Kevin |
| 112 | Ramos, Brandon |
| 113 | R- Ponzo, Kyle |
| 114 | Walker, Jerod |
| 115 | Mendoza, Ricardo |
| 116 | Ma, Michael |
| 117 | R- Zavala, Julian |
| 118 | R- Demick, Josh |
| 119 | R- Opela, Carson |
| 120 | Schleidt, Austin |
| 121 | Oshiro, Kevin |
| 122 | Williams, Ahkeen |
| 123 | Long, Zack |
| 124 | Fernandez, Cody |
| 125 | R- Hunt, Casey |
| 126 | R- Moser-Hernandez, Armando |
| 127 | Green, Matt |
| 128 | Demick, Josh |
| 129 | R- Ma, Michael |
| 130 | R- Fernandez, Cody |
| 131 | R- Hayase-Fong, Ken |
| 132 | Grondin, Joe |
| 133 | Smale, Teagan |
| 134 | Muraoka, Brandon |
| 135 | Opela, Carson |
| 136 | R- Muraoka, Brandon |
| 137 | Galvan, David |
| 138 | Mirashiro, Ryan |
| 139 | R- Roque, Cristian |
| 140 | Kihara, Keenan |
| 141 | R- Verona, Edric |
| 142 | Laroya, Leon |
| 143 | Peyton, Jamison |
| 144 | Moser-Hernandez, Armando |
| 145 | R- Walker, Jerod |
| 146 | Roque, Cristian |
| 147 | Fearing, Josh |
| 148 | Ortega, Armando |
| 149 | R- Fearing, Joshua |
| 150 | Fujimoto, Evan |
| 151 | R- Thomas, Brendan |
| 152 | R- Thomas, Brendan |
| 153 | Andrews, Kyle |
| 154 | R- Takenaka, Bryce |
| 155 | R- Colyer, Paul |
| 156 | Langer, Logan |
| 157 | R- Dunster, Zehv |
| 158 | R- Takenaka, Bryce |
| 159 | Hunt, Casey |
| 160 | R- Green, Matt |
| 161 | R- Moser-Hernandez, Armando |
| 162 | Takenaka, Bryce |
| 163 | Nakagawa, Keenan |
| 164 | R- Moser-Hernandez, Armando |
| 165 | Dunster, Zehv |
| 166 | R- Verona, Edric |
| 167 | Camacho, Jacob |
| 168 | Buckles-Ramirez, Marco |
| 169 | Geronimo, Sonny Jr |
| 170 | R- Geronimo, Sonny |