2016 JBT LAS VEGAS MAIN EVENT- Girls Scratch Singles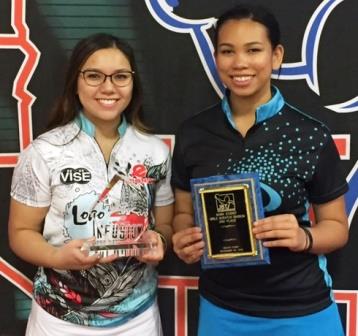 champ Leah Glazer & runner-up Madison Bailey
Leah Glazer defeated Madison Bailey to capture the Girls Scratch Singles division of the 2016 Las Vegas Main Event, presented by the Junior Bowlers Tour and hosted by the South Point Bowling Plaza.
Glazer snuck into the 6th and final seed in the event's unique part bracket / part stepladder finals, then put on a clinic against a very talented field to earn the championship. She began with a win over 2014 Main Event champ Adel Wahner. Meanwhile, Lauren Hoffman defeated 2015 finalist Bryanna Leyen on the other branch of the bracket. In round two, defending champion Madison Bailey stopped Hoffman, while Glazer dealt more heartbreak to two-time Main Event runner-up Stephanie Zavala (who went on to make Junior AND adult Team USA the next week), setting up the title match.
Madison has seemed like an unstoppable force since her Main Event debut last year, but Glazer, a JBT regular comfortable in her home city, remained focused and continued the best performance of her career with a win over Bailey for the title. The Arkansas State freshman to be earned an $1,800 top scholarship prize, while Bailey earned $1,200 for the runner-up spot.
Huge thanks to everyone who attended, as well as title sponsors Ebonite International, Logo Infusion, and the great team at South Point for hosting the event. We hope to see everyone for the 2017 Main Event, again to be held December 26-30 at the Plaza!
| | | |
| --- | --- | --- |
| rank | bowler | prize |
| 1 | Glazer, Leah | $1,800 |
| 2 | Bailey, Madison | $1,200 |
| 3 | Zavala, Stephanie | $800 |
| 4 | Hoffman, Lauren | $500 |
| 5 | Wahner, Adel | $400* |
| 6 | Leyen, Bryanna | $300 |
| 7 | Rhodes, Sarah | |
| 8 | Walik, Haley | |
| 9 | Romero, Vanessa | |
| 10 | Loredo, Jennifer | |
| 11 | Boyko, Bex | |
| 12 | Shishima, Kylie | |
| 13 | Linares, Aileen | |
| 14 | Takayesu, Jaden | |
| 15 | Santos, Ashley | |
| 16 | Pattison, Maranda | |
| 17 | Castro, Ashlyn-Rae | |
| 18 | Am-Khong, Kaylee | |
| 19 | Saili, Anastasia | |
| 20 | Yockman, Shaianne | |
| 21 | Cacao, Beatrix | |
| 22 | Elliott, Crystal | |
| 23 | Sanchez, Tyra | |
| 24 | Berg, Rachael | |
| | re-entries below not sorted out | |
| | |
| --- | --- |
| 21 | Glazer, Leah |
| 22 | Boyko, Bex |
| 23 | Cacao, Beatrix |
| 24 | Castro, Ashlyn-Rae |
| 25 | Berg, Rachael |
| 26 | Yockman, Shaianne |
| 27 | Santos, Ashley |
| 28 | Bailey, Madison |
| 29 | Castro, Ashlyn-Rae |
| 30 | Yockman, Shaianne |
| 31 | Loredo, Jennifer |
| 32 | Pattison, Maranda |
| 33 | Leyen, Bryanna |
| 34 | Tucker, Alyssa |
| 35 | Yamada, Saige |
| 36 | Leong, Emi |
| 37 | Nakaoka, Chelsea |
| 38 | Takayesu, Jaden |
| 39 | Berg, Rachael |
| 40 | Berg, Rachael |
| 41 | Walik, Haley |
| 42 | Walik, Haley |
| 43 | Buhain, Michaela |
| 44 | Leyen, Bryanna |
| 45 | Buhain, Michaela |
| 46 | Peacha, Morgan |
| 47 | Toala, Stefanny |
| 48 | Saili, Anastasia |
| 49 | McDonnell, April |
| 50 | Leong, Emi |
| 51 | Berg, Rachael |
| 52 | Terry, Danyn |
| 53 | Toala, Stefanny |
| 54 | Elliott, Crystal |
| 55 | Talon-Alisna, Danilyn |
| 56 | Nakaoka, Chelsea |
| 57 | Nassberg, Sara |
| 58 | Collins, Brooke |
| 59 | Berg, Rachael |
| 60 | Collins, Brooke |
| 61 | Pizzini, Mari |
| 62 | Cacao, Beatrix |
| 63 | Nakaoaka, Chelsea |
| 64 | Yamada, Saige |
| 65 | Inafuku, Sydni |
| 66 | Inafuku, Sydni |
| 67 | Yamada, Saige |
| 68 | Choy-Kim, Shelbee |
| 69 | Nakaoka, Alyssa |
| 70 | Collins, Brooke |
| 71 | Am-Khong, Kaylee |
| 72 | Tucker, Alyssa |
| 73 | Pizzini, Mari |
| 74 | Terry, Danyn |
| 75 | Pires, Cameron |
| 76 | Alvarez, Yarelis |
| 77 | McDonnell, April |
| 78 | Ohta, Erin |
| 79 | McDonnell, April |
| 80 | Alvarez, Yarelis |
| 81 | Nassberg, Sara |
| 82 | Inafuku, Sydni |
| 83 | Ohta, Erin |
| 84 | Sanchez, Tyra |
| 85 | McDonnell, April |
| 86 | Buhain, Michaela |
| 87 | Nassberg, Sara |
| 88 | Groth, Melanie |
| 89 | Pires, Cameron |
| 90 | Peacha, Morgan |
| 91 | Peacha, Morgan |
| 92 | Choy-Kim, Shelbee |