2016 JBT LAS VEGAS MAIN EVENT- Handicap Singles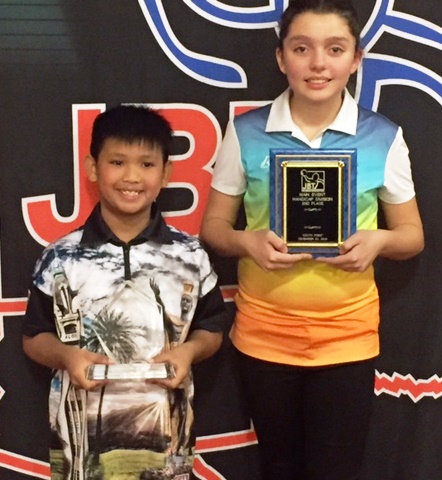 champ Chaysen Pojas & runner-up Bella Flowers
9 year-old Chaysen Pojas defeated Bella Flowers to capture the Handicap Singles division of the 2016 Las Vegas Main Event, presented by the Junior Bowlers Tour and hosted by the South Point Bowling Plaza.
The first round of the bracket/stepladder finals saw upsets rule, as #8 Rieley Ulanday beat Jaclyn Azvedo, and #7 Amanda Jennings upended #6 Jacob Frazier. Seeding prevailed in round two though, as #4 Pojas beat Ulanday, and #3 Flowers ended Jennings' run. The top two seeds struggled in the semifinal matches though, as #2 Vincent Oberto lost to Bella, and top seed William Robbins, the 2014 champion, fell to Pojas.
Chase Fernandez won last year to become the first Hawaiian to win a Main Event singles title since Suzana Signaigo in 2008, thus it was perhaps no surprise that Aloha state bowlers came out in large force this year. Most stuck around to cheer on Chaysen, who showed poise was beyond his years to run through his finals matches, coasting to an easy win over Flowers for the win and a $2,500 first place scholarship prize. Bella, a winner here at the Plaza in the Mojave Invitational for $1,000, earned another $1,500 for the terrific runner-up performance.
Huge thanks to everyone who attended, as well as title sponsors Ebonite International, Logo Infusion, and the great team at South Point for hosting the event. We hope to see everyone for the 2017 Main Event, again to be held December 26-30 at the Plaza!
| | | |
| --- | --- | --- |
| rank | bowler | prize |
| 1 | Pojas, Chaysen | $2,500 |
| 2 | Flowers, Bella | $1,500 |
| 3 | Robbins, WIlliam | $1,000 |
| 4 | Oberto, Vincent | $800 |
| 5 | Jennings, Amanda | $700 |
| 6 | Ulanday, Rieley | $600 |
| 7 | Azvedo, Jaclyn | $500 |
| 8 | Frazier, Jacob | $400 |
| 9 | Villalobos, Marc | $300 |
| 10 | Rendon, Kyle | $250 |
| 11 | Duff, Caden | $200 |
| 12 | Delegarito, Gerilynn | $150 |
| 13 | Fujii, Shaine | $100 |
| 14 | Hill, Chris | $100 |
| 15 | Criss, Cameron | $100 |
| 16 | Peterson, Jennifer | |
| 17 | Sauve, Phillip | |
| 18 | Schiada, Jared | |
| 19 | Chun, Brandi | |
| 20 | Poswiatowski, Stephen | |
| 21 | Martin, Kaitlynn | |
| 22 | Domaguin, Avery | |
| 23 | Chin, Lathan | |
| 24 | Reese, Dawson | |
| 25 | Luna, Louis | |
| 26 | Oneil, Dillon | |
| 27 | Kuamo'o-Malama, Chavous | |
| 28 | Buhain, Lawrence | |
| 29 | Reyes, Russell | |
| 30 | Alexander, Alyssa | |
| 31 | Handa, Tyler | |
| 32 | Reyes, Ashton | |
| 33 | Nakaoka, Alyssa | |
| 34 | Jepsen, David | |
| 35 | Yauney, Dustin | |
| 36 | Hunter, Jimmy | |
| | duplicate entries not sorted out below: | |
| * | Look, Michael | |
| * | Palmer, Roy | |
| | |
| --- | --- |
| 37 | Okazaki, Ashlyn |
| 38 | Schiada, Jared |
| 39 | Nakaoka, Alyssa |
| 40 | Yanney, Dustin |
| 41 | Yauney, Dustin |
| 42 | Matsumura, Brandon |
| 43 | Ulanday, Ranelle |
| 44 | Chan, Andrew |
| 45 | Benard, Deo |
| 46 | Yukihiro, Kaitlynn |
| 47 | Chin, Roslyn |
| 48 | Am-Khong, Nolan |
| 49 | Hedges, Tyler |
| 50 | Azvedo, Allie |
| 51 | Hirokane, Kayana |
| 52 | Seng, Shawn |
| 53 | Johnson, Karson |
| 54 | Nakaoka, Brandon |
| 55 | Romero, Angela |
| 56 | Azuedo, Alli |
| 57 | Fujii, Shane |
| 58 | Azvedo, Jackie |
| 59 | Conti, Samantha |
| 60 | Sasaki, Zian |
| 61 | McEachern, Brett |
| 62 | Peacha, Evrin |
| 63 | Gregorich, Ryland |
| 64 | Reyes, Achilles |
| 65 | Yu, Jonathan |
| 66 | Kam, Matthew |
| 67 | Todeschi, CJ |
| 68 | Greim, Lindsay |
| 69 | Romero, Angela |
| 70 | Sablan, Patrick |
| 71 | Wake, Sterling |
| 72 | Hirokane, Kayana |
| 73 | Lords, Afton |
| 74 | Lockwood, Ronnie |
| 75 | Fujii, Shane |
| 76 | Dormuth, Emily |
| 77 | Sauve, Phillip |
| 78 | Poswiatowski, Stephen |
| 79 | Nakaoka, Brandon |
| 80 | Faro, Christopher |
| 81 | Patalina, Devyn |
| 82 | Ulanday, Ranelle |
| 83 | Todeschi, CJ |
| 84 | Schucksta, Eric |
| 85 | Corwin, Jozef |
| 86 | Yukihiro, Kaitlynn |
| 87 | Hedges, Tyler |
| 88 | Miller, Hezy |
| 89 | Thompson, Kara |
| 90 | Cdebaca, Toby |
| 91 | Ades, Henry |
| 92 | Jepsen, David |
| 93 | Zeig, Allexander |
| 94 | Todeschi, CJ |
| 95 | Hampton, Hillari |
| 96 | Sablan, Patrick |
| 97 | Delegarito, Geralyn |
| 98 | Delegarito, Geralyn |
| 99 | Anderson, Stephanie |
| 100 | Greim, Zach |
| 101 | Peacha, Evrin |
| 102 | Kalvelage, Secilia |
| 103 | Villa, Dante |
| 104 | Mabry, Jadeyn |
| 105 | Tanka, Naomi |
| 106 | Duffy, Brandon |
| 107 | Corwin, Katelyn |
| 108 | Kam, Matthew |
| 109 | McCoy, Justyce |
| 110 | Hedges, Tyler |
| 111 | Cdebaca, Montana |
| 112 | Thompson, Kara |
| 113 | Seng, Shawn |
| 114 | Yukihiro, Kaitlynn |
| 115 | Purdy, Alayna |
| 123 | Dormuth, Justin |
| 124 | Williams, Alyssa |
| 125 | Kalvelage, Secilia |
| 126 | Wong, Marielle |
| 127 | Sauve, Mark |
| 128 | Chin, Roslyn |
| 129 | Matsumura, Tyler |
| 130 | Velosa, Zack |
| 131 | Luna, Louis |
| 132 | Nakaoka, Brandon |
| 133 | Yamanona, Adrain |
| 134 | Baltazar, Clifford |
| 135 | Yamanoha, Adrian |
| 136 | Duff, Caden |
| 137 | Kipler, Katie |
| 138 | Hill, Chris |
| 139 | Ulanday, Rieley |
| 140 | Huckabay, Matthew |
| 141 | Sauve, Mark |
| 142 | Griffin, Nathan |
| 143 | Campbell, Audrey |
| 144 | Geronimo, Trevyr |
| 145 | Faro, Christopher |
| 146 | Wong, Marielle |
| 147 | Hedges, Tyler |
| 148 | McGough, James |
| 149 | Yamada, Kai |
| 150 | Salama, Yael |
| 151 | McGough, Jacob |
| 152 | Zieg, Allexander |
| 153 | Thompson, Alex |
| 154 | Duff, Caden |
| 155 | Reese, Dawson |
| 156 | Chan, Christian |
| 157 | Poswiatowski, Cole |
| 158 | Franklin, Abby |
| 159 | Benard, Deo |
| 160 | Campbell, Audrey |
| 161 | Greim, Zach |
| 162 | Franklin, Abby |
| 163 | Espiritu, Sam |
| 164 | Villa, Maikayla |
| 165 | Greim, Zach |
| 166 | McCoy, Jayson |
| 167 | Seng, Shawn |
| 168 | Huckabay, Matthew |
| 169 | Criss, Brandon |
| 170 | Mace, Kristy |
| 171 | Robbins, Clifford |
| 172 | Geronimo, Trevyr |
| 173 | Pojas, Chasten |
| 174 | Holladay, Ashton |
| 175 | Laurel, Eden |
| 176 | Williams, Alyssa |
| 177 | Conti, Samantha |
| 178 | Geronimo, Trevyr |
| 179 | Hampton, Hillari |
| 180 | Zieg, Allexander |
| 181 | Yamada, Kai |
| 182 | Buhain, Lawrence |
| 183 | Pojas, Chasten |
| 184 | Mosley, Amelia |
| 185 | Azvedo, Allie |
| 186 | Bower, Hunter |
| 187 | Mace, Kristy |
| 188 | Jansen, Emmanuel |
| 189 | Cdebaca, Toby |
| 190 | Lords, Afton |
| 191 | Matsumura, Tyler |
| 192 | Melchor, Elijah |
| 193 | Lords, Afton |
| 194 | Purdy, Alayna |
| 195 | Villa, Dante |
| 196 | Harris, Sara |
| 197 | Cdebaca, Montana |
| 198 | Dormuth, Dylan |
| 199 | Purdy, Alayna |
| 200 | Mosley, Amelia |
| 201 | Alexander, Alyssa |
| 202 | Baltazar, Clifford |
| 203 | Milaslovski, Nona |
| 204 | Pojas, Chasten |
| 205 | Chan, Andrew |
| 206 | Poswiatowski, Cole |
| 207 | Mabry, Jadeyn |
| 208 | Aguon, Jason |
| 209 | Seng, Alex |
| 210 | Carlos, Haylee |
| 211 | Phillips, Silas |
| 212 | Schucksta, Eric |
| 213 | McGough, James |
| 214 | Franklin, Abby |
| 215 | Am-Khong, Nolan |
| 216 | Campbell, Audrey |
| 217 | Espiritu, Sam |
| 218 | Gonzales, Joseph |
| 219 | Gonzales, Joseph |
| 220 | Pimentel, Ryland |
| 221 | Gregorich, Noel |
| 222 | Robbins, Clifford |
| 223 | Tanaka, Naomi |
| 224 | Seng, Alex |
| 225 | Holladay, Ashton |
| 226 | Robbins, Clifford |
| 227 | Perry, Ryan |
| 228 | Seng, Alex |
| 229 | Villa, Maikayla |
| 230 | Holladay, Ashton |
| 231 | Redfield, Justin |
| 232 | Campbell, Audrey |
| 233 | Roberson, Noah |
| 234 | Hunter, Jimmy |
| 235 | Zieg, Allexander |
| 236 | Pimentel, Ryland |
| 237 | Irvin, Joey |
| 238 | Abrams, Marisa |
| 239 | Snow, Mason |
| 240 | Croskrey, Nolan |
| 241 | Huckabay, Matthew |
| 242 | Melchor, Elijah |
| 243 | Roberson, Noah |
| 244 | Sablan, Patrick |
| 245 | Conteduca, Dominick |
| 246 | Martin, Krystopher |
| 247 | Moore, Caitlin |