2016 JBT LAS VEGAS MAIN EVENT- Open Scratch Singles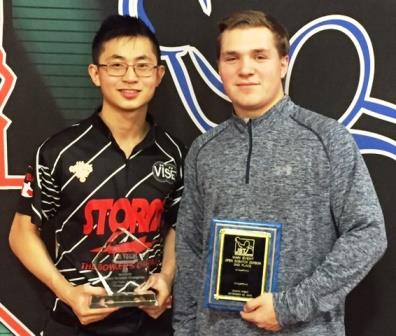 champ Wesley Low & runner-up Brennan Haugh
Wesley Low defeated Brennan Haugh to capture the Open Scratch Singles division of the 2016 Las Vegas Main Event, presented by the Junior Bowlers Tour and hosted by the South Point Bowling Plaza.
The bracket-stepladder finals, filled with experience and talent, began with #8 seed defeating #5 Riely Chin, and in a simultaneous match, #7 Sergio Torres stopped 2014 champion Michael Tang. Higher seeds prevailed in round two, with #4 Cortez Schenck stopping Martin, and #3 Haugh stopping Torres. Haugh stayed on a roll in his semifinal match, defeating Julian Zavala, while the other semifinal featured two of the best in JBT history, 23-time JBT winner and defending champ Low against all-time JBT title leader (at an amazing 84) Schenck. Wesley came out on top this time, sending him against Brennan for the title.
Haugh got off to a slow start in the title match, but came roaring back with a big string in the second half. Meanwhile, Low started to lose the look on the championship pair, missing the head pin left in both the 9th and 10th. But when Brennan didn't get the second strike in the tenth, Wesley made the simple spare he left to lock up the win, becoming the first bowler to win back-to-back Main Event titles, and only the third with two Main Event titles (joining Brent Bowers and Elise Bolton). Low earned $3,500 for the win, while Brennan claimed a hefty $2,000 runner-up prize.
Huge thanks to everyone who attended, as well as title sponsors Ebonite International, Logo Infusion, and the great team at South Point for hosting the event. We hope to see everyone for the 2017 Main Event, again to be held December 26-30 at the Plaza!
| | | |
| --- | --- | --- |
| rank | bowler | prize |
| 1 | Low, Wesley | $3,500 |
| 2 | Haugh, Brennan | $2,000 |
| 3 | Zavala, Julian | $1,500 |
| 4 | Schenck, Cortez | $1,000 |
| 5 | Torres, Sergio | $750 |
| 6 | Martin, Brandon | $600 |
| 7 | Tang, Michael | $500 |
| 8 | Chin, Riely | $400 |
| 9 | Monnette, Brian | $300 |
| 10 | Dacasin, Roman | $200 |
| 11 | McNeal, Tommie | $100 |
| 12 | Hayase-Fong, Ken | |
| 13 | Cardines, Cerell | |
| 14 | Sweigart, Harley | |
| 15 | Salama, Solomon | |
| 16 | Mullen, Jake | |
| 17 | Devlin, Nick | |
| 18 | Postag, Nick | |
| 19 | Leyen, Tristan | |
| 20 | Langer, Logan | |
| 21 | Koff, Donnovan | |
| 22 | Grondin, Joe | |
| 23 | Tom, Noah | |
| 24 | Johnson, Kelley | |
| 25 | Chin, Daniel | |
| 26 | Lee, Ryan | |
| 27 | Gerencser, Joe | |
| 28 | Paul III, Richard | |
| 29 | Rock, TJ | |
| 30 | Knapp, James | |
| 31 | Nakamura, Bradley | |
| 32 | Antonio, Dorien | |
| 33 | Abaoag, Reigh | |
| 34 | Haugh, Briley | |
| 35 | Olivares, Dominic | |
| 36 | Dagdag, Ronson | |
| 37 | Wojciechowski, Zach | |
| 38 | Croskrey, Tommy | |
| 39 | Opela, Carson | |
| 40 | Dacasin, Manuel | |
| 41 | Kuamo'o-Malama, Chayenne | |
| 42 | Long, Zack | |
| 43 | Kurashige, Jarin | |
| 44 | Camacho, Blaine | |
| | re-entries not sorted out below | |
| | |
| --- | --- |
| 45 | Takayesu, Gannon |
| 46 | Camacho, Jacob |
| 47 | Andrews, Kyle |
| 48 | Apana, Jaren |
| 49 | Roque, Cristian |
| 50 | Nakamura, Bradley |
| 51 | Hayase-Fong, Ken |
| 52 | Wojciechowski, Zach |
| 53 | Andrews, Kennison |
| 54 | Long, Zack |
| 55 | Roque, Cristian |
| 56 | Long, Zack |
| 57 | Smale, Teagan |
| 58 | Rivers, Marquan |
| 59 | Bergonzi, Matteo |
| 60 | Tom, Noah |
| 61 | Rock, TJ |
| 62 | Gilbert, Kyle |
| 63 | Ramos, Brandon |
| 64 | Tomer, Kris |
| 65 | Sweigart, Harley |
| 66 | Dabatos, Patrick |
| 67 | Reed, Kyle |
| 68 | Newton, John |
| 69 | McNeal, Tommie |
| 70 | Rouse, Brandon |
| 71 | Gerencser, Joe |
| 72 | Opela, Carson |
| 73 | Apana, Jaren |
| 74 | Inaba, Keoni |
| 75 | Takenaka, Bryce |
| 76 | Gilbert, Kyle |
| 77 | Leyen, Tristan |
| 78 | Camacho, Jacob |
| 79 | Perry, Ryan |
| 80 | Adragna, Mathew |
| 81 | Dabatos, Patrick |
| 82 | Roque, Cristian |
| 83 | Nakamura, Bradley |
| 84 | Dagdag, Ronson |
| 85 | Tucker, Chris |
| 86 | Gastouniotis, Costa |
| 87 | Walker, Jerod |
| 88 | Gerencser, Joe |
| 89 | Gilbert, Austin |
| 90 | Dabatos, Patrick |
| 91 | Anderson, Michael |
| 92 | Bergonzi, Matteo |
| 93 | Muldoon, Austin |
| 94 | Haugh, Briley |
| 95 | Takenaka, Bryce |
| 96 | Mullen, Jake |
| 97 | Kihara, Keenan |
| 98 | Mabry, Joshua |
| 99 | Lee, Ryan |
| 100 | Muldoon, Austin |
| 101 | Salama, Solomon |
| 102 | Rouse, Brandon |
| 103 | Reed, Kyle |
| 104 | Tang, Michael |
| 105 | Halliday, Ryder |
| 106 | Yashida, Landan |
| 107 | Newton, John |
| 108 | Haugh, Briley |
| 109 | Inaba, Keoni |
| 110 | Halliday, Ryder |
| 111 | Mercado, Adrian |
| 112 | Gastouniotis, Costa |
| 113 | Bryan, Joseph |
| 114 | McGowan, Skyler |
| 115 | Mabry, Joshua |
| 116 | Rouse, Chris |
| 117 | Lee, Ryan |
| 118 | Freitas, Micah |
| 119 | Perry, Ryan |
| 120 | Muldoon, Austin |
| 121 | Apana, Jaren |
| 122 | Lu, Kevin |
| 123 | Low, Wesley |
| 124 | Tom, Noah |
| 125 | Ramos, Brandon |
| 126 | Ramos, Brandon |
| 127 | Mercado, Adrian |
| 128 | Takenaka, Bryce |
| 129 | Reed, Kyle |
| 130 | Salama, Solomon |
| 131 | Takenaka, Bryce |
| 132 | Mabry, Joshua |
| 133 | Takayesu, Gannon |
| 134 | Verona, Edric |
| 135 | Andrews, Kennison |
| 136 | Fernandez, Cody |
| 137 | Abaoag, Reigh |
| 138 | McGowan, Skyler |
| 139 | Lee, Ryan |
| 140 | Mullen, Jake |
| 141 | Brett, Jake |
| 142 | Gilbert, Kyle |
| 143 | Ramos, Brandon |
| 144 | Adragna, Mathew |
| 145 | Bergonzi, Matteo |
| 146 | Laroya, Leon |
| 147 | Lu, Kevin |
| 148 | Fearing, Joshua |
| 149 | Fernandez, Chase |
| 150 | Santos, Kcirde |
| 151 | Santos, Kcirde |
| 152 | Langer, Logan |
| 153 | Brett, Jake |
| 154 | Opela, Carson |
| 155 | Fernandez, Chase |
| 156 | Hill, Tim |
| 157 | Guba, Andrew |
| 158 | Okazaki, Austin |
| 159 | Gilbert, Austin |
| 171 | Devlin, Nick |
| 172 | Kurashige, Jarin |
| 173 | Perry, Ryan |
| 174 | Rivers, Marquan |
| 175 | Freitas, Micah |
| 176 | Kurashige, Jarin |
| 177 | Croskrey, Tommy |
| 178 | Chui, Kirk |
| 179 | Brett, Jake |
| 180 | Camacho, Blaine |
| 181 | Roque, Cristian |
| 182 | Newton, John |
| 183 | Dacasin, Manuel |
| 184 | Andrews, Kyle |
| 185 | Roque, Cristian |
| 186 | Mabry, Joshua |
| 187 | Kahue, Noa |
| 188 | Laroya, Leon |
| 189 | Halliday, Ryder |
| 190 | Inaba, Keoni |
| 191 | Chin, Leoj |
| 192 | Cariage, Johnathon |
| 193 | Kurashige, Jarin |
| 194 | Kuamo'o-Malama, Chayenne |
| 195 | Laroya, Leon |
| 196 | Martin, Jonah |
| 197 | Fearing, Joshua |
| 198 | Akimine, Maika |
| 199 | Kahue, Noa |
| 200 | Jonker, Jeff |
| 201 | Freitas, Micah |
| 202 | Camacho, Blaine |
| 203 | Halliday, Ryder |
| 204 | Fernandez, Cody |
| 205 | Fernandez, Cody |
| 206 | Phillps, Eric |
| 207 | Lu, Kevin |
| 208 | Martin, Jonah |
| 209 | Nakamura, Bradley |
| 210 | Laroya, Leon |
| 211 | Bivins, Brock |
| 212 | Brett, Jake |
| 213 | Adragna, Mathew |
| 214 | Lindsey, Brendan |
| 215 | Sweigart, Harley |
| 216 | Tomer, Kris |
| 217 | Phillps, Eric |
| 218 | Yoshida, Landan |
| 219 | Verona, Edric |
| 220 | Rohe, Dante |
| 221 | Kihara, Keenan |
| 222 | Kim, Tylan |
| 223 | Muraoka, Brandon |
| 224 | Perry, Matthew |
| 225 | Fernandez, Chase |
| 226 | Kuamo'o-Malama, Chayenne |
| 227 | Bryan, Joseph |
| 228 | Miranda, Clayton |
| 229 | Hill, Tim |
| 230 | Asuncion, AJ |
| 231 | Gastouniotis, Costa |
| 232 | Hill, Tim |
| 233 | Fearing, Joshua |
| 234 | Akimine, Maika |
| 235 | Newton, John |
| 236 | Chui, Kirk |
| 237 | Rohe, Dante |
| 238 | Akimine, Maika |
| 239 | Perry, Ryan |
| 240 | Fearing, Joshua |
| 241 | Miyashiro, Ryan |
| 242 | Verona, Edric |
| 243 | Tomer, Kris |
| 244 | Fernandez, Chase |
| 245 | Bryan, Joseph |
| 246 | Asuncion, AJ |
| 247 | Walker, Jerod |
| 248 | Gastouniotis, Costa |
| 249 | Fernandez, Cody |