2017 JBT Las Vegas Main Event- handicap division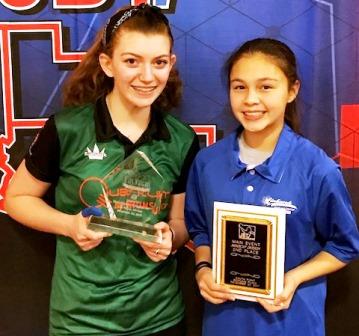 champ Kristy Mace & runner-up Kaitlynn Yukihiro
Kristy Mace of Vail, AZ won four matches in the finals, including a title match win over Kaitlynn Yukihiro of Yorba Linda CA to win the Handicap Singles division of the 2017 JBT Las Vegas Main Event, hosted by the incredible South Point Bowling Plaza.
Mace defeated top seed Jason Gee, who had been brilliant in the matchplay round, in one semifinal. In the simultaneous other semi, Yuikihiro defended her #2 seed with a win over Alex Thompson, who won two matches to improve from the #8 seed to the fourth place finish.
Kristy stayed in control for the whole title match, firing a 190 scratch game to easily win the match and $2,500 top scholarship prize, while Yukihiro, a JBT champ just last month, earned $1,500 for second. Mace, a JBT regular, not only hadn't made a JBT finals before, but hadn't made a cut before- what a way to break through!
Huge thanks to Ebonite International, Priority Girl Magazine, MSC Inc, and all our other fantastic sponsors and vendors for making Main Event possible, Mike Monyak and the team at the Plaza for a flawless hosting job, and everyone for coming out to bowl. We look forward to seeing you at the 2018 Main Event, December 26-30 at the Plaza!
2017 LAS VEGAS MAIN EVENT- HANDICAP SINGLES
Rank
Bowler
prize
1
Mace, Kristy - R
$2,500
2
Yukihiro, Kaitlynn
$1,500
3
Gee, Jason
$1,000
4
Thompson, Alex - R
$800
5
Faro, Christopher
$700
6
Phillips, Justin
$600
7
Kessler, Timothy
$500
8
Yamanoha, Adrian
$400
9
Sauve, Mark
$300
10
Rose, Andrew
$250
11
Peterson, Jennifer
$200
12
Purdy, Alayna -R
$150
13
Chinn, Danielle - R
$100
14
Azvedo, Allison - R
$100
15
Chin, Roslyn
$100
16
Gee, Kaylee
17
Smith, Aleah
18
Seng Jr, Shawn - R
19
Reese, Dawson -R
20
Padilla, Cesar - R
21
Domaguin, Avery - R
22
Luna, Elias - r
23
Robbins, William - R
24
Ruiz, Peter - R
25
Kalvelage, Secilia
26
Green, John - R
27
Lu, Kevin - R
28
Sauve, Phillip
29
Redfield, Justin
30
O'Neil, Dillon - R
31
Azvedo, Jaclyn - R
32
Sasaki, Zian - R
33
Versaggi, Ian
34
Ulanday, Rieley
35
Roura, Adam -R
36
Todeschi, CJ
37
Hedges, Tyler - R
38
Huffman, Sebastian - R
39
Lubag, Aislinn
40
Gauna, Eric
(re-entries below not sorted out)
41
Kipler, Katie -R
42
Lords, Afton - R
43
Lubag, Yairi - R
44
Domaguin, Avery
45
Matsumura, Tyler
46
Purdy, Alayna
47
Williams, Josh -R
48
Fletcher, Darin
49
Oberto, Vincent - R
50
Coleman, Aaron - R
51
Sablan, Patrick - R
52
Lords, Afton - R
53
Williams, Josh -R
54
Delegarito, Gerilynn - R
55
Fletcher, Darin - R
56
Salama, Yael
57
Chun, Brandi
58
Yukihiro, Kaitlynn - R
59
Seng Jr, Shawn
60
Yu, Jonathan
61
Ruiz, Peter
62
Cassman, Lexi
63
Chun, Kristin
64
Corwin, Katelyn
65
Perry, Kyle - R
66
Chan, Matthew - R
67
Luna, Elias
68
Pimentel, Ryland
69
Green, John
70
Coleman, Aaron
71
Thompson, Kara - R
72
Kalvelage, Secilia - R
73
Chin, Lathan
74
CDeBaca, Montana - R
75
Rose, Andrew - R
76
Gregorich, Noel
77
Azvedo, Allison
78
Reid, Faythe
79
Tanaka, Naomi
80
Perry, Kyle - R
81
CDeBaca, Toby
82
Hull, Hayden
83
Kanehailua, Samantha
84
CDeBaca, Toby - R
85
Delegarito, Gerilynn
86
Oberto, Vincent
87
Schrider, Emily - R
88
Ortega, Simon
89
Morgan, Sahara
90
Thompson, Kara
91
Buckles-Ramirez, Marisol
92
McEachern, Brett - R
93
Garcia, Mariano - R
94
Takeuchi, Carianne - R
95
Greim, Zach
96
Mace, Katy
97
Chinn, Danielle
98
Bower, Payton
99
Kanehailua, Samantha - R
100
Franklin, Abby
101
Franklin, Abby - R
102
Schiada, Jared - R
103
Hull, Hayden - R
104
Todeschi, CJ - R
105
Chinn, Dustin - R
106
Hedges, Tyler
107
Kihara, Kyria
108
Mace, Katy - r
109
Wallin, Lailani - R
110
Okazaki, Ashlyn
111
CDeBaca, Montana
112
Chinn, Derek
113
Mosley, Amelia
114
Wallin, Lailani
115
Wilson, Harlee
116
Garcia, Luis - R
117
Palmer, Roy
118
Harris, Josh
119
Gregorich, Ryland
120
Chinn, Dustin
121
Cassman, Lexi - R
122
Wilson, Harlee - R
123
Kipler, Katie
124
Franklin, Abby
125
Price, Charleigh
126
Davis, Hannah
127
Schrider, Emily - R
128
Robbins, Clifford - R
129
Garcia, Luis
130
Erickson, Brian
131
Fritts, Kallista
132
Greim, Zach - R
133
Carpenter, Kolton - R
134
Schrider, Emily
135
Redfield, Justin - R
136
Williams, Josh -R
137
Redfield, Justin - R
138
Roura, Adam
139
Sanders, Kira
140
Criss, Cameron - R
141
Robbins, William - R
142
Wong, Marielle
143
Orlando, Leanna
144
Prevetti, Anthony
145
Lords, Afton
146
Fletcher, Darren
147
Mabry, Jadeyn - R
148
Amii, Asia
149
Yamanoha, Adrian - R
150
Harris, Josh - R
151
Garcia, Mariano
152
Bustamante, Alexis
153
CDeBaca, Toby - R
154
Borillo, Chris
155
Takeuchi, Carianne
156
O'Neil, Dillon
157
Azvedo, Jaclyn
158
Phillips, Silas -R
159
Baker, Gage
160
Sasaki, Zian
161
Perry, Kyle
162
Yamanoha, Adrian
163
Holter, Gavin - R
164
Reese, Dawson
165
Chan, Matthew
166
Heck, David
167
Oberto, Vincent - R
168
Padilla, Ceaser
169
Pineda, Crytalene
170
Chan, Christian - R
171
Fritts, Kallista -R
172
Kessler, Timothy
173
Jennings, Amanda
174
Jennings, Amanda - r
175
Prevetti, Anthony - R
176
Robbins, Clifford - R
177
Seng, Alex
178
Matsumura, Brandon
179
Rakon, Alek
180
Perry, Kyle - R
181
Criss, Cameron
182
Williams, Josh
183
Matsumura, Brandon
184
Greim, Lindsay
185
Schiada, Jared - R
186
Sablan, Patrick
187
Shepherd, Hailey
188
Corwin, Katelyn - R
189
Corwin, Jozeff - R
190
Pojas, Chaysen
191
Prevetti, Anthony - R
192
Heck, David - R
193
Irvin, Joseph
194
Borillo, Chris - R
195
Greim, Lindsay - R
196
Santos, Reymar
197
Seng, Alex - R
198
Criss, Brandon - R
199
Steelmon-Hill, Connor - R
200
McEachern, Brett
201
Schrider, Emily - R
202
Shepherd, Hailey - R
203
Gauna, Elijah
204
Christy, Riley
205
Pojas, Chaysen - R
206
Phillips, Silas
207
Criss, Brandon
208
Robbins, Clifford
209
Mabry, Jadeyn
210
Greim, Zach - R
211
Look, Michael
212
Nino, Kyle
213
Gonzalez, Zachary
214
Gonzalez, Zachary - R
215
Schiada, Jared
216
Carpenter, Kolton
217
Huffman, Sebastian
218
Robbins, Clifford - R
219
Wheatcraft, Skyler - R
220
Marquis, Jacob
221
Aguon, Jason
222
Lubag, Yairi
223
Irvin, Joseph - R
224
McCleerey, Keegan
225
Holter, Gavin
226
Corwin, Jozeff
227
Coulon, Robert
228
Price, Charleigh - R
229
Steelmon-Hill, Connor
230
Chan, Christian
231
Peacha, Eurin - R
232
Steelman-Hill, Connor -R
233
Steelmon-Hill, Connor - R
234
Peacha, Eurin
235
Wheatcraft, Skyler
236
Prevetti, Anthony - R
237
Erickson, Brian - R
238
Hampton, Hillari