2017 JBT Las Vegas Main Event- Open Scratch division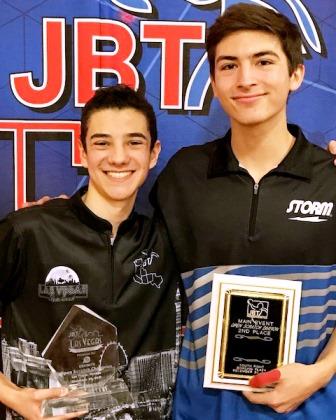 champ Solomon Salama & runner-up Nick Postag
Solomon Salama of Los Angeles defeated fellow Californian Nick Postag 246-237 to win the Scratch Singles division of the 2017 JBT Las Vegas Main Event, held at the South Point Bowling Plaza.
Postag had defeated Main Event newcomer Adam Glickman of Florida in one semifinal, while in the other, Salama, the two-time defending Junior Gold U15 champ, ousted Wesley Low, the two-time defending Main Event champ, in a battle of the once and future kings of two-handed lefty bowling.
Both talented bowlers were locked in on the finals pair, so it was just a matter of carrying corner pins, and though they each left four, Solomon had the longer strike strings inbetween, giving him the win and $3,200 top scholarship prize, while Postag settled for $2,000 for the runner-up spot.
Low and Salama each fired one of the event's five 300 games, and were joined by TJ Rock, Jacob Mullen, and Deo Benard, each earning both $100 from South Point and another $100 from JBT year-round sponsor MSC, Inc. Big thanks to Ebonite International and all of our other sponsors, as well as everyone for traveling and bowling with us. We look forward to seeing you at the 2018 Main Event, again Dec 26-30 at South Point!
2017 JBT Main Event- Open Scratch Singles
Final Standings
Rank
Bowler
prize
1
Salama, Solomon
$3,200
2
Postag, Nick
$2,000
3
Low, Wesley
$1,500
4
Glickman, Adam
$1,000
5
Grondin, Joe -R
$750
6
Cardines, Cerell
$600
7
Rock, TJ - R
$500
8
Haugh, Brennan
$400
9
Schenck, Cortez
$300
10
Tacorda, Andrei
$200
11
Martin, Alex
$100
12
Gerencser, Joe
13
Mullen, Jacob - R
14
Burton, Ryan
15
Long, Zack - R
16
Benard, Deo
17
Hayase-Fong, Ken - R
18
Santos, Kcirde
19
Wakefield, James - R
20
Sweigart, Harley - R
21
Fung, Keith
22
Chin, Daniel
23
Torres, Sergio - R
24
Haugh, Briley - R
25
Torres, Elijah - R
26
Leyen, Tristen - R
27
Aguirre, Alex
28
Koff, Donovan - R
29
Rivers, Marquan
30
Gilbert, Kyle
31
Tom, Noah
32
Olivares, Dominic - R
33
Chesnut, Matthew
34
Egan, Connor
35
Au, Calvin - R
36
Reed, Kyle - R
37
Abaoag, Reigh - R
38
Opela, Carson R
39
Frazier, Jacob
40
McGowan, Skyler
(re-entries not sorted out below)
41
Akamine, Richard -R
42
Muraoka, Brandon
43
Olivares, Dominic
44
Wakefield, James - R
45
Wong, Makana - R
46
Muraoka, Brandon - R
47
Haugh, Briley
48
Muldoon, Austin - R
49
Davis, Will -R
50
Andrews, Kyle
51
Roque, Cristian - R
52
Duster, Kyle
53
Bannag, Kevin - R
54
Guba, Andrew
55
Sweigart, Harley - R
56
Jepsen, David - R
57
Haugh, Brennan
58
Hui, Kyle
59
Yamada, Kai
60
Fearing, Josh - R
61
Abaoag, Reigh
62
Hill, Tim - R
63
Mabry, Josh - R
64
Dacasin, Manuel - R
65
Jepsen, David - R
66
Dagdag, Ronson - R
67
Gilbert, Kyle - R
68
Akimine, Richard
69
Long, Zack
70
Fearing, Josh - R
71
Fernandez, Chase
72
Rendon, Kyle
73
Davis, Will
74
Guba, Andrew -R
75
Au, Calvin
76
Jepsen, David - R
77
Hayase-Fong, Ken
78
Abaoag, Reigh - R
79
Opela, Carson
80
Egan, Connor
81
Leyen, Tristen
82
Hill, Tim - R
83
Kurashige, Jarin
84
Mehcum Jr, John
85
Wong, Makana
86
Modder, Andrew - R
87
Mabry, Josh
88
Roque, Cristian - R
89
Banaag, Kevin - R
90
Bivivns, Brock
91
Pojas, Chasten - R
92
Torres, Elijah
93
Geronimo, Sonny
94
Hall, Daniel - R
95
Muldoon, Austin
96
Hill, Tim - R
97
Banaag, Kevin - R
98
Leyen, Tristan
99
Gastouniotis, Costa - R
100
Gilbert, Austin
101
Modder, Andrew
102
Bennett, Robbie
103
Laroya, Leon - R
104
Gilbert, Austin
105
Schneider, David - R
106
Banaag, Kevin
107
Baltazar, Clifford
108
Luna, Louis - R
109
Okazaki, Austin
110
Halliday, Ryder - R
111
Hill, Tim
112
Haugh, Briley - R
113
Poswiatowski, Stephan
114
Ramos, Brandon - R
115
River, Marquan - R
116
Roque, Cristian - R
117
Akamine, Richard -R
118
Gastouniotis, Costa
119
Kurashige, Jarin - R
120
River, Marquan
121
Kihara, Keenan
122
Martin, Jonah
123
Kranz, Brett - R
124
Robles, Christopher
125
Koff, Donovan
126
Koff, Donovan - R
127
Odette-Spillner, Daniel
128
Nakamura, Bradley - R
129
Laroya, Leon
130
Brett, Jake - R
131
Geronimo, Trevyr - R
132
Jepsen, David
133
Bannag, Kevin
134
Dacasin, Manuel
135
Odette-Spillner, Daniel - R
136
Andrews, Caleb
137
Wakefield, James
138
Geronimo, Trevyr - R
139
Bower, Hunter - R
140
Dagdag, Ronson - R
141
Dabatos, Patrick
142
Patalina, Devyn - R
143
Martin, Jonah - R
144
Gastouniotis, Costa - R
145
Dagdag, Ronson
146
Am-Khong, Nolan - R
147
Bivivns, Brock - R
148
Luna, Louis - R
149
Mullen, Jacob
150
Baltazar, Clifford - R
151
Yamada, Kai - R
152
Briceno, Noah - R
153
Am-Khong, Nolan
154
Jefferies, Donius - R
155
Martin, Jonah - R
156
Takenaka, Bryce
157
Kihara, Keenan - R
158
Camacho, Blaine
159
Schneider, David
160
Andrews, Caleb
161
Bower, Hunter
162
Chin, Leoj
163
Geronimo, Trevyr
164
Mabry, Josh - R
165
Nakamura, Bradley
166
Ramos, Brandon
167
Laroya, Leon
168
Powiatowski, Stephen
169
Robles, Christopher - R
170
Fujii, Shane - R
171
Howison, Ryan - R
172
Egan, Connor - R
173
Kanno, Jonathan
174
Fearing, Josh
175
Patalina, Devyn
176
Gaddam, Jacob
177
Bivins, Brock - R
178
Takenaka, Bryce - R
179
Laroya, Leon
180
Powiatowski, Cole
181
Wilson, James
182
Hall, Daniel
183
Jefferies, Donius
184
Briceno, Noah - R
185
Roque, Cristian - R
186
Shene, Harley - R
187
Zieg, Allex - R
188
Webb, Tanner
189
Andrews, Kennison
190
Gaddam, Jacob - R
191
Shene, Harley
192
Brett, Jake
193
Kurashige, Jarin - R
194
Ramos, Brandon
195
Luna, Louis
196
Inaba, Keoni - R
197
Jefferies, Donius - R
198
Hui, Kyle - R
199
Bennett, Robbie - R
200
Howison, Ryan
201
Pojas, Chasten
202
Inaba, Keoni
203
Inaba, Keoni - R
204
Poswiatowski, Cole
205
Fernandez, Chase - R
206
Roque, Cristian
207
Camacho, Blaine - R
208
Groves, Benjamin
209
Camacho, Blaine - R
210
Halliday, Ryder - R
211
Fujii, Shane
212
Groves, Benjamin - R
213
Asuncion, AJ - R
214
Zieg, Allex
215
Am-Khong, Nolan - R
216
Pojas, Chasten - R
217
Briceno, Noah
218
Baltazar, Clifford - R
219
Herog, Cody
220
Smerud, Ryan
221
Asuncion, AJ - R
222
Asuncion, AJ
223
Smerud, Ryan - R
224
Patalina, Devyn - R
225
Modder, Andrew - R
226
Nakamura, Bradley - R
227
Odette-Spillner, Daniel - R
228
Halliday, Ryder - R
229
Antonio, Dorien
230
Kranz, Brett
231
Schuksta, Eric
232
Halliday, Ryder
233
McCleerey, Keegan
234
Smerud, Ryan - R