The 2019 JBT Las Vegas Main Event- Girls Scratch Singles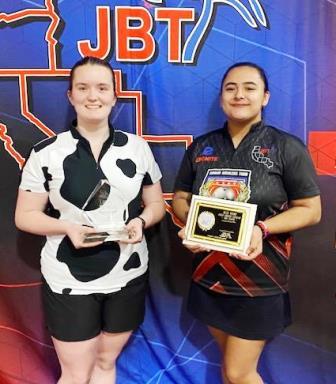 champ Adel Wahner & runner-up Yarelis Alvarez
New Mexico ladies continue to be superstars at Main Event, as Las Cruces' Adel Wahner beat Rio Rancho's Yarelis Alvarez to win the Girls Scratch Singles division of the 2019 JBT Las Vegas Main Event, held at the South Point Bowling Plaza.
Crystal Elliott and Alvarez won their first round matches in the bracket style stepladder finals. Top seed Wahner stopped Elliott in round two, while Alvarez, imitating her cousin, last year's champ Aileen Linares, kept climbing the ladder with a win over Katelyn Abignania to reach the finals.
The veteran Wahner was in command of the title match from the start. She won Main Event in her first try in 2014, and got the storybook ending to her career with the 2019 win, joining a short list of multiple Main Event winners.
Big thanks to the team at South Point for a great hosting job, and everyone for attending. Over $43,000 in scholarships was earned by the sold-out field. We hope to see everyone back for the 2020 Main Event, again December 26-30 at the Plaza!
2019 LAS VEGAS MAIN EVENT- GIRLS SCRATCH SINGLES
Rank
Bowler
Prize
1
Wahner, Adel
$1,500
2
Alvarez, Yarelis
$1,000
3
Abigania, Katelyn
$750
4
Elliot, Crystal
$500
5
Holman, Madison
$400
6
Ulanday, Ranelle
$300
7
Glazer, Leah
$200
8
Loredo, Jennifer
$150
9
Leyen, Bryanna
$100
10
Am-Khong, Kaylee
11
Linares, Aileen
12
Katen, Melanie
13
Jaramillo, Lauren
14
Domaguin, Avery
15
Conti, Samantha
16
Lampkin, Jazelle
17
Lampkin, Olivia
18
Bailey, Maddie
19
Akau, Logan
20
McDonnell, April
21
Azvedo, Jaclyn
22
Hong, Stephanie
23
Howard, Allysha
24
Alexander, Alyssa