The 2019 JBT Las Vegas Main Event- Handicap Singles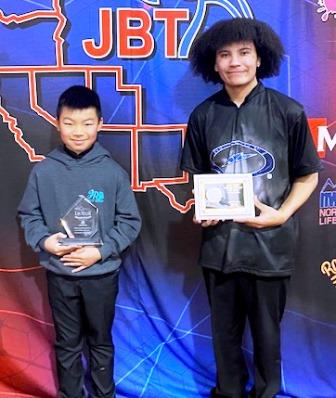 champ Nathan Tang & runner-up Jared Basey
Nathan Tang, Richmond BC, became the first international champion in Main Event history, beating Jared Basey, Albuquerque NM, to with the handicap singles division of the 2019 JBT Las Vegas Main Event, held at the South Point Bowling Plaza.
Jadeyn Mabry and Kaylee Gee won their matches over Ian Silva and Isaac Rosa to begin the bracket style stepladder finals. Tang stopped Mabry, and Gee escaped from Vincent Oberto in round two. In the semifinals, Basey ended Gee's run, and Tang upset top seed Cayde Agena-Shirai to set up the finale.
Tang stayed in control for most of the title match, and earned $2,500 for his first JBT title, while Basey earns a sizable $1,500 for the runner-up spot.
Big thanks to the team at South Point for a great hosting job, and everyone for attending. Over $43,000 in scholarships was earned by the sold-out field. We hope to see everyone back for the 2020 Main Event, again December 26-30 at the Plaza!
2019 LAS VEGAS MAIN EVENT- HANDICAP SINGLES
Rank
Bowler
Prize
1
Tang, Nathan
$2,500
2
Basey, Jared
$1,500
3
Agena-Shirai, Cayden
$1,250
4
Gee, Kaylie
$1,000
5
Oberto, Vincent
$800
6
Mabry, Jadeyn
$700
7
Silva, Ian Seth
$600
8
Rosa, Isaac
$500
9
Lujano, Liliana
$450
10
Ponce, Mikayla
$400
11
Yu, Jonathan
$359
12
Lazo, Branson
$300
13
Romero, Angela
$250
14
Lee, Sarah
$200
15
Swaisgood, Danielle
$150
16
Hammer, Kaitlynn
$125
17
Agsalud, Ajay
$100
18
Greene, Miya
$100
19
Pimentel, Ryland
$100
20
Nelson, Dashia
21
Oester, Ewan
22
Mace, Katy
23
Chambers, Nathan
24
Knight, Bailey
25
Weitzman, Tyler
26
Creek, Jake
27
Greim, Lindsay
28
Delegarito, Gerilynn
29
Hammer, Mackenzie
30
Thompson, Alex
31
Chambers, Ethan
32
McLaughlin, Ava
33
Fernandez, Hayden
34
Navarrete, Santiago
35
Miranda, Brandon
36
Raymond, Shaiden
37
Ash, Ethan
38
Orosco, Akayla
39
Criss, Cameron
40
Rother, Brandon