FOR IMMEDIATE RELEASE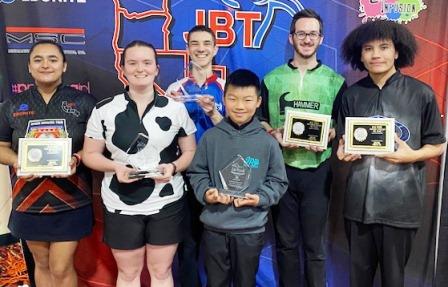 Yarelis Alvarez, Adel Wahner, Solomon Salama, Nathan Tang, Adam Glickman, Jared Basey
Solomon Salama, Los Angeles, Adel Wahner, Las Cruces NM, and Nathan Tang, Richmond BC, were crowned champs of the 2019 JBT Las Vegas Main Event, hosted by the beautiful South Point Bowling Plaza in Las Vegas. $43,628 was earned by a sellout field of all ages and averages from all over North America.
Junior Team USA member Salama beat New York resident and Webber college bowler Adam Glickman in the scratch final for the $4,000 top scholarship prize, while Glickman earned $2,500. Tang became the first international winner here, beating Albuquerque's Jared Basey in the handicap final. Tang earned $2,500 while Basey racked up $1,500. In a battle of New Mexican ladies, Wahner beat Alvarez for the girls scratch title, good for $1,500 for Adel and $1,000 for Yarelis.
Salama and Wahner join Brent Bowers and Elise Bolton as two-time Main Event singles champions. 300 games were rare on the challenging patterns, and were fired by Austin Gilbert, Jacob Mullen (his 2nd at Main Event), Chris Mayes, and Jeremy Cardines. 17 spots were earned to Junior Gold Finals this summer, and 7 bowling balls were raffled off courtesy of the South Point pro shop. Additional championships were awarded in doubles and team competitions, bringing the total awarded over the $40,000 mark to the sold-out field.
Big thanks to the team at South Point for a great hosting job, and everyone for attending. We hope to see everyone back for the 2020 Main Event, again December 26-30 at the Plaza!
Las Vegas Main Event- top finishers and scholarship winners
Scratch Singles
1. Solomon Salama, CA, $4,000
2. Adam Glickman, NY, $2,500
3. Jacob Mullen, WA, $1,500
4. Jacob Frazier, WA, $1,200
5. TJ Rock, NV, $1,000
6. Daniel Hong, CA, $900
7. Leoj Chin, CA, $800
8. Tyler Coates, OR, $700
Handicap Singles
1. Nathan Tang, BC, $2,500
2. Jared Basey, NM, $1,500
3. Cayden Agena-Shirai, HI, $1,250
4. Kayle Gee, CA, $1,000
5. Vincent Oberto, WA, $800
6. Jadeyn Mabry, AZ, $700
7. Ian Seth Silva, TX, $600
8. Isaac Rosa, HI, $500
Girls Scratch Singles
1. Adel Wahner, NM, $1,500
2. Yarelis Alvarez, NM, $1,000
3. Katelyn Abigania, CA, $750
4. Crystal Elliott, FL, $500
5. Madison Holman, AZ, $400
6. Ranelle Ulanday, TN, $300
7. Leah Glazer, NV, $200
8. Jennifer Loredo, CA, $150
9. Bryanna Leyen, MD, $100