The JBT 2019 Las Vegas Main Event- Open Scratch Singles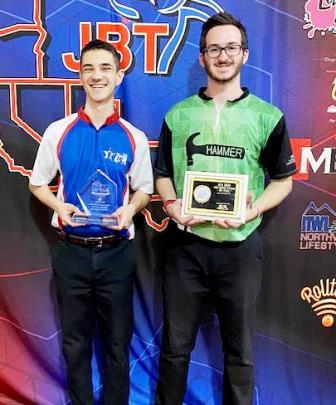 champ Solomon Salama & runner-up Adam Glickman
Solomon Salama defeated Adam Glickman 219-206 to win the $4,000 top prize as champion of the Open Scratch Singles division of the 2019 JBT Las Vegas Main Event, held at the South Point Bolwing Plaza.
Jacob Frazier and Daniel Hong won their opening round matches in the bracket/stepladder finals. Frazier then ousted TJ Rock while Jake Mullen stopped Hong. #1 and #2 seeds Salama and Glickman then beat Frazier and Mullen to set up the title match.
Solomon closed the final game strong to shut out Glickman, and earn the 24th title of his JBT career, and second Main Event singles title. Glickman earned $2,500 for second.
Big thanks to the team at South Point for a great hosting job, and everyone for attending. Over $43,000 in scholarships was earned by the sold-out field. We hope to see everyone back for the 2020 Main Event, again December 26-30 at the Plaza!
2019 LAS VEGAS MAIN EVENT- SCRATCH SINGLES
Rank
Bowler
Prize
1
Salama, Solomon
$4,000
2
Glickman, Adam
$2,500
3
Mullen, Jacob
$1,500
4
Frazier, Jacob
$1,250
5
Rock, TJ
$1,000
6
Hong, Daniel
$900
7
Chin, Leoj
$800
8
Coates, Tyler
$700
9
Haugh, Briley
$600
10
Baradas, EJ
$500
11
Gilbert, Kyle
$400
12
Okazaki, Austin
$350
13
Guba, Andrew
$300
14
Egana, Gael
$250
15
Aboag, Reigh
$200
16
Huffman, Sebastian
$150
17
Green, John
$100
18
Lee, Garrett
19
Larson, Cody
20
Gee, Jason
21
Hall, Daniel
22
Solanka, Dakota
23
Grubaugh, Donovan
24
Whitaker, Duncan
25
Halliday, Ryder
26
Wong, Makana
27
Greim, Zach
28
Grodin, Joe
29
Schanen, Anthony
30
Yamasaki, Ashton
31
Bronson, Jordan
32
Rodas, Ardani
33
Andrews, Caleb
34
Williams, Josh
35
Phillips Jr, Justin
36
Sicard, Bud
37
Fernandez, Chase
38
Gastouniotis, Costa
39
Croskrey, Nolan
40
Padilla, Cesar