The 2021 JBT Las Vegas Main Event- Girls Scratch Singles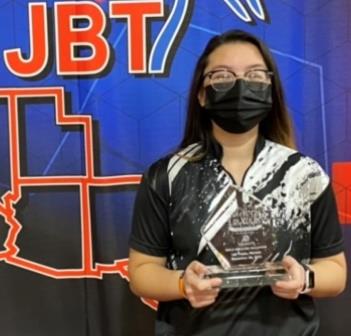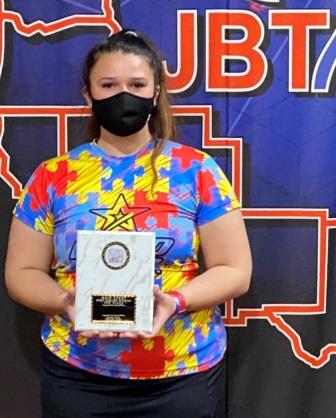 champion Vanessa Fuzie & runner-up Crystal Elliott
Vanessa Fuzie of Las Vegas won her biggest title on her home turf, earning the Girls Scratch Singles title at the 2021 JBT Las Vegas Main Event, hosted by the South Point Bowling Plaza and presented by Ebonite International and the JBT.
Two of our talented younger stars, both San Diegans, began the bracket-stepladder finals, with Katelyn Abigania defeating 2019 runner-up Maranda Pattison, while Avery Domaguin fell to Crystal Elliott, who made her amazing fifth visit to the girls scratch finals. Fuzie then stopped Abigania's run in one semifinal, while in the other, Elliott spared a 2-10 in the tenth to stun top seed and defending champion Jennifer Loredo to advance to the title game.
Vanessa turned a close game into a runaway with a second half four bagger, and the 247-210 final was good for the two-hander's first career JBT title and a big $2,000 scholarship payday, while Elliott added $1,200 to her Main Event earnings.
Huge thanks to everyone for attending, Mike Monyak and the amazing crew at South Point for hosting, and all our sponsors and vendors for helping make it a memorable week. Over $40,000 in scholarships were awarded to all ages and all skill levels. We hope to see you at our year-round JBT events all season long, and back at the Plaza for the 2022 Main Event, next December 26-30!
Bracket Finals results:
1. Vanessa Fuzie, NV, $2,000
2. Crystal Elliott, FL, $1,200
3. Jennifer Loredo, CA, $900
4. Katelyn Abigania, CA, $700
5. Maranda Pattison, CA, $500
6. Avery Domaguin, CA, $400
Girls scratch semifinals: (scores below include 30 bonus pins for wins)
2021 LAS VEGAS MAIN EVENT- GIRLS SCRATCH SINGLES
scores include matchplay bonus pins
Rank
Bowler
qual.
gm 1
gm 2
gm 3
gm 4
gm 5
gm 6
gm 7
gm 8
TOTAL
total +/-
prize
1
Loredo, Jennifer
1288
197
267
241
211
252
228
233
180
3097
297
advance
2
Fuzie, Vanessa
1163
230
245
205
253
201
266
236
257
3056
256
advance
3
Elliott, Crystal
1182
229
184
285
266
227
213
231
217
3034
234
advance
4
Pattison, Miranda
1193
274
238
233
220
242
222
225
176
3023
223
advance
5
Abigania, Katelyn
1202
243
230
241
199
172
232
234
231
2984
184
advance
6
Domaguin, Avery
1257
188
171
142
264
239
178
223
267
2929
129
advance
7
Marquez, Koryn
1215
176
202
254
213
178
217
199
250
2904
104
$300
8
Yockman, Janae
1157
253
235
249
194
256
182
166
199
2891
91
$200
9
Linares, Aileen
1246
194
166
244
189
195
257
182
195
2868
68
$150
10
Lampkin, Olivia
1188
243
210
159
170
198
182
267
247
2864
64
$100
11
Sicard, Mary
1224
229
242
188
200
211
181
193
192
2860
60
12
Bollea, Kendall
1147
191
191
253
243
222
150
218
243
2858
58
13
Delegarito, Gerilynn
1183
141
229
232
233
183
256
164
216
2837
37
14
Takara, Kaili
1158
194
170
298
156
226
191
172
256
2821
21
15
Alexander, Alyssa
1192
227
172
185
158
202
220
197
251
2804
4
16
Thompson, Kara
1156
196
235
174
241
178
231
192
175
2778
-22
17
Aczon-Kawamura, Kelcey
1259
228
150
211
148
171
198
233
173
2771
-29
18
Santos, Ashley
1141
216
210
188
214
180
213
200
172
2734
-66
19
Holman, Madison
1160
211
200
211
166
181
180
240
178
2727
-73
20
Schrider, Emily
1166
177
192
164
168
230
190
245
137
2669
-131
21
Cheesman, Emily
1131
156
199
231
217
210
146
138
226
2654
-146
22
Struble, Maia
1138
233
202
177
195
196
154
177
152
2624
-176
23
Paige, Mackenzie
1122
175
172
218
140
224
171
142
193
2557
-243
24
McLaughlin, Ava
1197
181
158
136
142
152
214
161
186
2527
-273
Other finishers: (re-entrants not sorted out)
| | | | |
| --- | --- | --- | --- |
| rank | bowler | total | +/- |
| 25 | Sicard, Mary | 1117 | -83 |
| 26 | Takeuchi, Carianne | 1115 | -85 |
| 27 | Jaramillo, Lauren | 1112 | -88 |
| 28 | Thompson, Kara | 1110 | -90 |
| 29 | Greim, Lindsay | 1109 | -91 |
| 30 | Lords, Afton | 1108 | -92 |
| 31 | Fung, Stephanie | 1108 | -92 |
| 32 | Schrider, Emily | 1096 | -104 |
| 33 | Fung, Stephanie | 1096 | -104 |
| 34 | Greim, Lindsay | 1092 | -108 |
| 35 | Mabry, Jadeyn | 1092 | -108 |
| 36 | Hammer, Kaitlyn | 1090 | -110 |
| 37 | Balaji, Aishni | 1085 | -115 |
| 38 | Hong, Stephanie | 1085 | -115 |
| 39 | Bollea, Kendall | 1083 | -117 |
| 40 | Cheesman, Emily | 1081 | -119 |
| 41 | Holman, Madison | 1080 | -120 |
| 42 | Hong, Stephanie | 1079 | -121 |
| 43 | Delegarito, Gerilynn | 1074 | -126 |
| 44 | Yukihiro, Kaitlynn | 1071 | -129 |
| 45 | Hong, Stephanie | 1066 | -134 |
| 46 | Sasano, Cailee | 1064 | -136 |
| 47 | Fung, Stephanie | 1060 | -140 |
| 48 | Bollea, Kendall | 1060 | -140 |
| 49 | Nofuente, Saphyre | 1060 | -140 |
| 50 | Hong, Stephanie | 1057 | -143 |
| 51 | Delegarito, Gerilynn | 1055 | -145 |
| 52 | Cheesman, Emily | 1053 | -147 |
| 53 | Struble, Maia | 1050 | -150 |
| 54 | Orosco, Akayla | 1050 | -150 |
| 55 | Mabry, Jadeyn | 1049 | -151 |
| 56 | Mabry, Jadeyn | 1043 | -157 |
| 57 | Rees, Lizzy | 1042 | -158 |
| 58 | Reid, Faythe | 1041 | -159 |
| 59 | Lords, Afton | 1040 | -160 |
| 60 | Shaner, Emma | 1039 | -161 |
| 61 | Hong, Stephanie | 1038 | -162 |
| 62 | Reid, Faythe | 1035 | -165 |
| 63 | Villa, Maikayla | 1035 | -165 |
| 64 | Greim, Lindsay | 1035 | -165 |
| 65 | McLaughlin, Ava | 1034 | -166 |
| 66 | Hammer, Kaitlyn | 1033 | -167 |
| 67 | Fincham, Danielle | 1032 | -168 |
| 68 | Yukihiro, Kaitlynn | 1030 | -170 |
| 69 | Schrider, Emily | 1029 | -171 |
| 70 | Jaramillo, Lauren | 1028 | -172 |
| 71 | Schrider, Emily | 1027 | -173 |
| 72 | Mabry, Jadeyn | 1026 | -174 |
| 73 | Paige, Mackenzie | 1023 | -177 |
| 74 | Shaner, Emma | 1022 | -178 |
| 75 | Arai, Kylie | 1020 | -180 |
| 76 | Villa, Maikayla | 1019 | -181 |
| 77 | Rees, Lizzy | 1018 | -182 |
| 78 | Bollea, Kendall | 1016 | -184 |
| 79 | Lampkin, Jazelle | 1014 | -186 |
| 80 | Paige, Mackenzie | 1014 | -186 |
| 81 | Cheesman, Emily | 1013 | -187 |
| 82 | Lords, Afton | 1012 | -188 |
| 83 | Orosco, Akayla | 1009 | -191 |
| 84 | Lampkin, Jazelle | 1006 | -194 |
| 85 | Azvedo, Jaclyn | 1004 | -196 |
| 86 | Kihara, Kyria | 1002 | -198 |
| 87 | Yukihiro, Kaitlynn | 1001 | -199 |
| 88 | Lords, Afton | 999 | -201 |
| 89 | Lee, Sarah | 997 | -203 |
| 90 | Takara, Kaili | 989 | -211 |
| 91 | Reid, Faythe | 981 | -219 |
| 92 | McLaughlin, Ava | 969 | -231 |
| 93 | Hammer, Kaitlyn | 964 | -236 |
| 94 | Yockman, Janae | 960 | -240 |
| 95 | Balaji, Arthni | 954 | -246 |
| 96 | Alexander, Alyssa | 947 | -253 |
| 97 | Azvedo, Jaclyn | 947 | -253 |
| 98 | Takeuchi, Carianne | 945 | -255 |
| 99 | Walker, Vikki | 939 | -261 |
| 100 | Walker, Vikki | 935 | -265 |
| 101 | Walker, Vikki | 927 | -273 |
| 102 | Morris, Jhenae | 925 | -275 |
| 103 | Orosco, Akayla | 920 | -280 |
| 104 | Balaji, Aishni | 903 | -297 |
| 105 | Purdy, Alayna | 898 | -302 |
| 106 | Morris, Jhenae | 892 | -308 |
| 107 | Morris, Jhenae | 891 | -309 |
| 108 | Cuatero, Cherianne | 881 | -319 |
| 109 | Balaji, Arthni | 875 | -325 |
| 110 | Swaisgood, Dani | 868 | -332 |