The 2021 JBT Las Vegas Main Event- Handicap Singles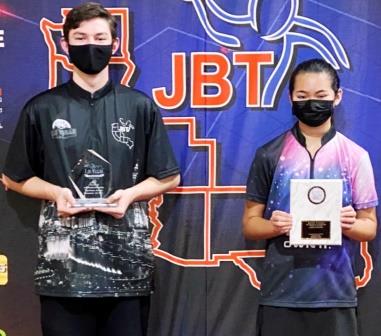 champion Nathan Tidball & runner-up Jayna Yockman
Nathan Tidball of San Diego defeated Jayna Yockman, Kapolei HI, to win the handicap singles division of the 2021 JBT Las Vegas Main Event, hosted by the South Point Bowling Plaza and presented by Ebonite International and the JBT.
Any age and any skill level does well at JBT events, and this was well evident in the bracket-stepladder finals (and all event long), where Ben Martin beat Shatyl Denevan in one opening match, while in the other, fate had New York siblings Nolan (age 7) and Alyssa (age 9) Randisi playing each other, with Alyssa coming out with the win. Tidball began his climb in the next round with a come from behind win over Martin, while Kayden O'Dell halted Randisi's run with a round two win. The top two seeds then joined in, with opposite results, as #2 Yockman defeated O'Dell, but top seed Andrew Sanchez fell to Tidball in an all-San Diego battle.
The title match remained close, but in the end Nathan filled the frames when he needed to, winning the match and earning his third career JBT title, by far his biggest given the $2,500 scholarship payday. Yockman's excellent bowling earned her an $1,800 prize and the honor of 'top Hawaiian' from the annual contingent making the trip from the islands.
Huge thanks to everyone for attending, Mike Monyak and the amazing crew at South Point for hosting, and all our sponsors and vendors for helping make it a memorable week. Over $40,000 in scholarships were awarded to all ages and all skill levels. We hope to see you at our year-round JBT events all season long, and back at the Plaza for the 2022 Main Event, next December 26-30!
Bracket Finals results:
1. Nathan Tidball, CA, $2,500
2. Jayna Yockman, HI, $1,800
3. Andrew Sanchez, CA, $1,200
4. Kayden O'Dell, CA, $1,000
5. Alyssa Randisi, NY, $800
6. Ben Martin, CA, $700
7. Shatyl Denevan, UT, $600
8. Nolan Randisi, NY, $500
Handicap semifinals: (scores below include bowler handicap and 30 bonus pins for matchplay wins)
2021 LAS VEGAS MAIN EVENT- HANDICAP SINGLES
scores include bonus pins + handicap
Rank
Bowler
total
gm 1
gm 2
gm 3
gm 4
gm 5
gm 6
gm 7
gm 8
TOTAL
total +/-
prize
1
Sanchez, Andrew
1310
273
244
267
189
278
245
231
293
3330
530
advance
2
Yockman, Jayna
1348
250
195
259
173
260
277
291
258
3311
511
advance
3
O'Dell, Kayden
1275
270
252
230
281
197
242
257
281
3285
485
advance
4
Tidball, Nathan
1321
284
244
230
227
212
261
275
201
3255
455
advance
5
Denevan, Shatyl
1322
198
235
279
271
247
230
216
244
3242
442
advance
6
Randisi, Nolan
1335
249
266
241
247
181
267
190
245
3221
421
advance
7
Randisi, Alyssa
1319
214
264
227
218
292
229
253
202
3218
418
advance
8
Martin, Ben
1340
212
253
246
248
209
229
285
190
3212
412
advance
9
Baker, Gage
1366
262
148
286
235
233
235
229
214
3208
408
$400
10
Henkels, Yuron
1291
272
225
234
215
246
192
262
234
3171
371
$350
11
Wang, Mathew
1287
243
243
282
240
223
194
190
248
3150
350
$300
12
Lawrence, Robert
1266
255
163
158
315
279
239
277
193
3145
345
$250
13
Fernandez, Hayden
1276
209
211
223
241
242
282
256
203
3143
343
$200
14
Al-Shamary, Jasmia
1280
194
211
288
148
258
225
258
269
3131
331
$150
15
Fujioka, Kameron
1332
270
167
203
218
225
307
243
165
3130
330
$100
16
Cabanting, Kobe
1256
189
259
286
260
256
236
183
183
3108
308
$100
17
Sham, Caden
1289
283
186
260
161
189
234
245
259
3106
306
$100
18
Abarca, Katherine
1255
247
254
171
183
182
293
227
285
3097
297
19
McDugle, Thomas
1277
262
216
206
211
269
211
219
219
3090
290
20
Todacheenie, Xaden
1270
199
209
267
198
250
190
210
297
3090
290
21
Roth, Kieran
1304
239
219
187
207
220
187
308
213
3084
284
22
Kidd, Nicholas
1270
211
209
239
252
193
270
203
236
3083
283
23
Alo, Gyrus
1299
243
201
164
225
240
209
273
228
3082
282
24
Kielich, Kloey
1297
184
198
228
219
299
184
225
241
3075
275
25
Rha, Joshua
1277
212
244
210
201
214
288
236
185
3067
267
26
Emery, Miranda
1330
207
236
208
208
207
196
230
243
3065
265
27
Henkels, Manuel
1288
252
264
182
245
230
204
169
227
3061
261
28
Rees, Nic
1304
181
239
193
259
207
244
197
236
3060
260
29
Lee, Peyton
1302
241
185
270
178
278
181
190
196
3021
221
30
Thompson, Alex
1290
161
219
176
263
181
250
226
253
3019
219
31
King, Hayden
1272
243
207
241
164
231
286
194
163
3001
201
32
Fiel, Ian
1284
251
202
219
202
232
191
230
187
2998
198
33
McGough, James
1272
203
200
199
240
233
201
175
212
2935
135
34
Jeneary, Taylor
1256
210
174
176
249
192
177
234
262
2930
130
35
Wang, Jerry
1282
185
315
179
173
179
201
209
172
2895
95
36
Martinez, Seth
1253
252
141
248
189
176
162
266
170
2857
57
37
Raymond, Shaiden
1262
198
232
176
155
197
171
224
188
2803
3
38
Fernandez, Gavin
1287
144
157
184
202
192
182
179
251
2778
-22
39
Fisher, Dominic
1259
167
166
181
152
272
223
184
170
2774
-26
40
Knight, Bailey
1278
206
188
179
161
163
281
187
0
2643
-157
Other finishers: (re-entrants not sorted out)
| | | | |
| --- | --- | --- | --- |
| rank | bowler | total | +/- |
| 41 | Gregorich, Ryland | 1252 | 52 |
| 42 | Rha, Joshua | 1251 | 51 |
| 43 | Howard. Sophia | 1250 | 50 |
| 44 | Randisi, Alyssa | 1242 | 42 |
| 45 | McDugle, Alena | 1242 | 42 |
| 46 | Nakunz, Bryce | 1241 | 41 |
| 47 | Hunt, Araceli | 1240 | 40 |
| 48 | Johnson, Ava | 1239 | 39 |
| 49 | King,Hayden | 1239 | 39 |
| 50 | Bravo, Nathan | 1239 | 39 |
| 51 | Baker, Gage | 1238 | 38 |
| 52 | Ceballos, Ivan | 1238 | 38 |
| 53 | Henkels, Manuel | 1237 | 37 |
| 54 | Pendergrass, Conner | 1237 | 37 |
| 55 | McDugle, Thomas | 1234 | 34 |
| 56 | Todacheenie, Xaden | 1234 | 34 |
| 57 | Galaviz, Ian | 1233 | 33 |
| 58 | Spiller, Tyler | 1232 | 32 |
| 59 | Cabanting, Kobe | 1232 | 32 |
| 60 | Tiquia, Jazel | 1232 | 32 |
| 61 | Raymond, Shaiden | 1231 | 31 |
| 62 | McDugle, Thomas | 1230 | 30 |
| 63 | Abkin, Stephen | 1230 | 30 |
| 64 | Chambers, Ethan | 1230 | 30 |
| 65 | Galaviz, Robin | 1230 | 30 |
| 66 | Knight, Bailey | 1227 | 27 |
| 67 | Adkins, Jerod | 1227 | 27 |
| 68 | Todacheenie, Xaden | 1226 | 26 |
| 69 | Tonelete, Regis | 1225 | 25 |
| 70 | Hunt, Araceli | 1224 | 24 |
| 71 | Fernandez, Gavin | 1223 | 23 |
| 72 | McGough, Jacob | 1223 | 23 |
| 73 | Chin, Lathan | 1222 | 22 |
| 74 | Rees, Nic | 1222 | 22 |
| 75 | Spiller, Tyler | 1221 | 21 |
| 76 | Pendergrass, Conner | 1220 | 20 |
| 77 | McDugle, Thomas | 1218 | 18 |
| 78 | Ruiz-Jimenez, Aiden | 1216 | 16 |
| 79 | Randisi, Nolan | 1216 | 16 |
| 80 | Al-Shamary, Jasmia | 1216 | 16 |
| 81 | Leong, Dylan | 1215 | 15 |
| 82 | McDugle, Alena | 1215 | 15 |
| 83 | Wallin, Lailani | 1214 | 14 |
| 84 | Chan, Brian | 1212 | 12 |
| 85 | Fernandez, Gavin | 1211 | 11 |
| 86 | Roth, Kieran | 1210 | 10 |
| 87 | DeLaCruz, Theo | 1209 | 9 |
| 88 | Gregorich, Luka | 1209 | 9 |
| 89 | Redfield, Justin | 1209 | 9 |
| 90 | Todacheenie, Xaden | 1208 | 8 |
| 91 | McDugle, Alena | 1208 | 8 |
| 92 | Raymond, Shaiden | 1206 | 6 |
| 93 | Rother, Brandon | 1206 | 6 |
| 94 | Adkins, Jerod | 1205 | 5 |
| 95 | Martin, Ben | 1205 | 5 |
| 96 | Souza, Jazelle | 1202 | 2 |
| 97 | Baker, Gage | 1202 | 2 |
| 98 | Donahue, Dylan | 1201 | 1 |
| 99 | Sicard, Noah | 1200 | 0 |
| 100 | Cabanting, Keiden | 1199 | -1 |
| 101 | Wang,Mathew | 1199 | -1 |
| 102 | Martinez, Seth | 1199 | -1 |
| 103 | Abkin, Stephen | 1198 | -2 |
| 104 | Tidball, Nathan | 1197 | -3 |
| 105 | Raab, Adam | 1195 | -5 |
| 106 | Lujano, Sonny | 1195 | -5 |
| 107 | Tiquia, Jazel | 1194 | -6 |
| 108 | Trejo, Ezekiel | 1192 | -8 |
| 109 | Montoya, Dominic | 1192 | -8 |
| 110 | Romine, Tyler | 1191 | -9 |
| 111 | Romero, Angela | 1191 | -9 |
| 112 | Sham, Caden | 1191 | -9 |
| 113 | Raymond, Shaiden | 1190 | -10 |
| 114 | Al-Shamary, Jasmia | 1189 | -11 |
| 115 | Pfaff, Jimmy | 1188 | -12 |
| 116 | Velasco, Martin | 1188 | -12 |
| 117 | Donahue, Dylan | 1188 | -12 |
| 118 | Chan, Brian | 1186 | -14 |
| 119 | O'Dell, Kayden | 1186 | -14 |
| 120 | Romine, Tyler | 1186 | -14 |
| 121 | Scotford, Brockton | 1186 | -14 |
| 122 | Workman, Jaden | 1186 | -14 |
| 123 | Scotford, Brockton | 1185 | -15 |
| 124 | Martinez, Seth | 1184 | -16 |
| 125 | Wang, Mark | 1184 | -16 |
| 126 | Ceballos, Ivan | 1183 | -17 |
| 127 | Gregorich, Noel | 1183 | -17 |
| 128 | Montoya, Dominic | 1183 | -17 |
| 129 | Fernandez, Hayden | 1182 | -18 |
| 130 | Wang, Jerry | 1181 | -19 |
| 131 | Abarca, Steve | 1181 | -19 |
| 132 | Miric, Sara | 1181 | -19 |
| 133 | DeLaCruz, Theo | 1179 | -21 |
| 134 | Fisher, Dominic | 1178 | -22 |
| 135 | Lee, Sarah | 1177 | -23 |
| 136 | Wang, Mark | 1176 | -24 |
| 137 | Abkin, Stephen | 1175 | -25 |
| 138 | Chambers, Ethan | 1173 | -27 |
| 139 | McGough, Jacob | 1173 | -27 |
| 140 | Sicard, Noah | 1173 | -27 |
| 141 | Adkins, Jerod | 1169 | -31 |
| 142 | Scotford, Brockton | 1169 | -31 |
| 143 | Barillas, Mario | 1168 | -32 |
| 144 | Spiller, Safiya | 1167 | -33 |
| 145 | Griffin, Kaitlynn | 1167 | -33 |
| 146 | Purugganan, Brent | 1167 | -33 |
| 147 | Wang, Jerry | 1166 | -34 |
| 148 | Rohrbacker, Emily | 1166 | -34 |
| 149 | Fukuda, Braeden | 1165 | -35 |
| 150 | Pendergrass, Conner | 1164 | -36 |
| 151 | Lujano, Vinny | 1164 | -36 |
| 152 | Meinhardt, Jazmyn | 1163 | -37 |
| 153 | Velasco, Martin | 1162 | -38 |
| 154 | King, Jake Peter | 1161 | -39 |
| 155 | Meinhardt, Susan | 1161 | -39 |
| 156 | Beckes, Axel | 1158 | -42 |
| 157 | McDugle, Alena | 1158 | -42 |
| 158 | Bravo, Nathan | 1157 | -43 |
| 159 | Wilson, Lucas | 1156 | -44 |
| 160 | Fukuda, Cole | 1155 | -45 |
| 161 | Silva, Ian | 1155 | -45 |
| 162 | McGough, Hannah | 1155 | -45 |
| 163 | Johnson, Ava | 1154 | -46 |
| 164 | Wallin, Lailani | 1154 | -46 |
| 165 | Donahue, Dylan | 1153 | -47 |
| 166 | Lee, Alexis | 1153 | -47 |
| 167 | Abigania, Jon | 1151 | -49 |
| 168 | Howard. Sophia | 1150 | -50 |
| 169 | Abarca, Steve | 1150 | -50 |
| 170 | Rother, Brandon | 1150 | -50 |
| 171 | King, Jake Peter | 1150 | -50 |
| 172 | Pimentel, Raeden | 1150 | -50 |
| 173 | Wang, Jerry | 1149 | -51 |
| 174 | Raymond, Shaiden | 1148 | -52 |
| 175 | Pendergrass, Conner | 1146 | -54 |
| 176 | O'Dell, Kayden | 1143 | -57 |
| 177 | Pfaff, Jimmy | 1143 | -57 |
| 178 | Chambers, Ethan | 1142 | -58 |
| 179 | McNutt, RJ | 1141 | -59 |
| 180 | Hunt, Abigail | 1140 | -60 |
| 181 | Burnell, Joshua | 1139 | -61 |
| 182 | Ontiveros, David | 1139 | -61 |
| 183 | Nakunz, Bryce | 1139 | -61 |
| 184 | Wilson, Harlee | 1139 | -61 |
| 185 | Cabanting, Kieden | 1138 | -62 |
| 186 | McGough, Hannah | 1136 | -64 |
| 187 | Onodera, Spencer | 1134 | -66 |
| 188 | Purugganan, Garrett | 1133 | -67 |
| 189 | Souza, Jazelle | 1131 | -69 |
| 190 | Pendergrass, Conner | 1131 | -69 |
| 191 | Wallin, Lailani | 1129 | -71 |
| 192 | Tiquia, Jazel | 1129 | -71 |
| 193 | Spiller, Safiya | 1127 | -73 |
| 194 | Onodera, Spencer | 1126 | -74 |
| 195 | Creek, Jake | 1125 | -75 |
| 196 | Lee, Alexis | 1123 | -77 |
| 197 | Chin, Lathan | 1122 | -78 |
| 198 | Meinhardt, Susan | 1120 | -80 |
| 199 | O'Dell, Kayden | 1120 | -80 |
| 200 | Workman, Jaden | 1120 | -80 |
| 201 | Ceballos, Ivan | 1117 | -83 |
| 202 | Purugganan, Brent | 1117 | -83 |
| 203 | Ruiz-Jimenez, Aiden | 1117 | -83 |
| 204 | Rohrbacker, Emily | 1116 | -84 |
| 205 | Silva, Ian | 1116 | -84 |
| 206 | Redfield, Justin | 1116 | -84 |
| 207 | Montoya, Dominic | 1113 | -87 |
| 208 | Montoya, Dominic | 1112 | -88 |
| 209 | Velasco, Xander | 1112 | -88 |
| 210 | Nebres, Eli | 1108 | -92 |
| 211 | Meinhardt, Jazmyn | 1105 | -95 |
| 212 | Tonelete, Regis | 1103 | -97 |
| 213 | Chambers, Nathan | 1102 | -98 |
| 214 | Sicard, Noah | 1102 | -98 |
| 215 | Sangalang, Hana | 1101 | -99 |
| 216 | Rother, Brandon | 1099 | -101 |
| 217 | Domantay, AC | 1098 | -102 |
| 218 | Fiel, Ian | 1096 | -104 |
| 219 | Coates, Terrell | 1095 | -105 |
| 220 | Gonzalez, Ethan | 1094 | -106 |
| 221 | Pfaff, Jimmy | 1092 | -108 |
| 222 | Nakunz, Bryce | 1091 | -109 |
| 223 | Silva, Ian | 1090 | -110 |
| 224 | Romero, Angela | 1089 | -111 |
| 225 | Romine, Tyler | 1087 | -113 |
| 226 | Lee, Alexis | 1087 | -113 |
| 227 | Tonelete, Regis | 1087 | -113 |
| 228 | Miric, Sara | 1086 | -114 |
| 229 | Creek, Jake | 1085 | -115 |
| 230 | Lu, Marcus | 1081 | -119 |
| 231 | Romine, Tyler | 1080 | -120 |
| 232 | Ortega, Gabriel | 1078 | -122 |
| 233 | Hunt, Abigail | 1077 | -123 |
| 234 | Romero, Angela | 1074 | -126 |
| 235 | Thompson, Alex | 1072 | -128 |
| 236 | Velasco, Martin | 1071 | -129 |
| 237 | Purugganan, Kaili | 1069 | -131 |
| 238 | Knight, Bailey | 1067 | -133 |
| 239 | Ortega, Gabriel | 1067 | -133 |
| 240 | Sicard, Noah | 1064 | -136 |
| 241 | Tidball, Nathan | 1061 | -139 |
| 242 | Fincham, Devin | 1059 | -141 |
| 243 | Scotford, Brockton | 1058 | -142 |
| 244 | Burnell, Joshua | 1058 | -142 |
| 245 | Purugganan, Kaili | 1056 | -144 |
| 246 | King, Jake Peter | 1054 | -146 |
| 247 | Lu, Marcus | 1052 | -148 |
| 248 | Wilson, Harlee | 1050 | -150 |
| 249 | Velasco, Xander | 1048 | -152 |
| 250 | Purugganan, Garrett | 1043 | -157 |
| 251 | Ortega, Gabriel | 1038 | -162 |
| 252 | Damron, Brady | 1035 | -165 |
| 253 | Velasco, Xander | 1033 | -167 |
| 254 | Wilson, Lucas | 1030 | -170 |
| 255 | Donahue, Dylan | 1024 | -176 |
| 256 | Galaviz, Levi | 1009 | -191 |
| 257 | Donahue, Dylan | 1006 | -194 |
| 258 | Weed, Jason | 989 | -211 |
| 259 | Raab, Adam | 981 | -219 |
| 260 | Montoya, Dominic | 976 | -224 |
| 261 | Coates, Terrell | 956 | -244 |
| 262 | Weed, Jason | 944 | -256 |
| 263 | Silva, Ian | 552 | -648 |