For Immediate Release: (please copy and share this, or any other part of the Main Event results, with any media outlet you like; copies / links of what gets printed would be greatly appreciated!)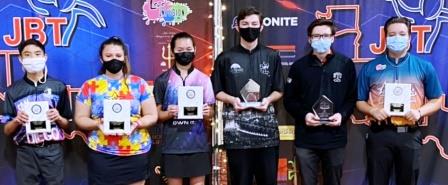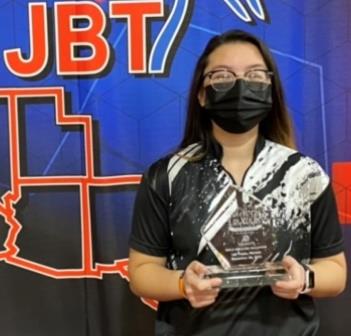 (l-r) finalists Andrew Sanchez, Crystal Elliott, Jayna Yockman, champs Nathan Tidball and Riley Woodard, finalist Brandon Howard, champ Vanessa Fuzie
Bowlers from Utah, California, and Nevada won singles titles at a jam-packed 2021 JBT Las Vegas Main Event, hosted by the South Point Bowling Plaza, and presented by Ebonite International and the Junior Bowlers Tour. Over $46,000 in scholarship awards was earned by bowlers from all over North America.
Riley Woodard, Orem UT, and Brandon Howard, Glendora CA, tied for the lead after 14 games in scratch, and appropriately met for the title. Riley's clean game on the demanding pattern was too much for Brandon to overcome, as Woodard claimed the title and $3,000 scholarship windfall with the victory. In girls scratch, Crystal Elliott, Palm Bay FL, was making her fifth appearance in the finals, but Vanessa Fuzie denied her the elusive title again, throwing a huge game to win it all. The Las Vegas two-hander earned $2,000 before racing to catch a plane back to U-Pike for her next bowling event! The handicap crown went to San Diego's Nathan Tidball, who won three matches in the finals including a win over Hawaii's Jayne Yockman for the title and $2,500 top scholarship prize.
Scratch doubles was won by 14 year-old phenom Katelyn Abigania and Washington's Mac Kaurin with 1437 six-game effort, good for a six pin win over Charles Bostic and TJ Rock. Mathew Wang and Ben Martin had the handicap doubles lead until the tenth and final squad, when Gavin Fernandez and 9 year-old Alyssa Randisi swiped it by 18 pins with 1375 for six. Katelyn teamed with her brother Josh, Zach Greim, and Elias O'Hollaren to win the always-fun scratch team event for the third year in a row, this time with free-agent adult alumni Zack Hattori. Handicap went to West Covina group of Jerry Wang, Yuron Henkels, Ivan Ceballos, Jerod Adkins, and Ben Martin, though the real winner at team was Cerell Cardines, leading his onesied-crew in Gagnam style one last time.
Only three 300 games were tossed by the talented field, and none on the merciless singles pattern- Hawaii's Michael Weyl in doubles, Jorell Morris in team, and adult bowler Michael Ruiz also in team, which was part of a front-18 burst to open the event.
In addition to the over $40,000 in scholarships earned by bowlers from all over North America, 10 spots were awarded to the 2022 Junior Gold finals in Michigan, and our title sponsor Ebonite was good for eleven Ebonite balls of winning bowlers' choice. More importantly still were friendships made and renewed as we got joyously back to masked but otherwise full steam bowling. Huge thanks to Mike Monyak and the team at South Point for making it happen, and to everyone for their participation. Make plans now for the 2022 Main Event, back at the Plaza Dec 26-30, 2022!
Open Scratch bracket Finals results:
1. Riley Woodard, UT, $3,000
2. Brandon Howard, CA, $2,000
3. Manny Ferrell, UT, $1,200
4. Bud Sicard, OR, $1,000
5. Michael Marmolejo, CA, $800
6. Solomon Salama, CA, $700
7. Cesar Padilla, AZ, $600
8. TJ Rock, NV, $500
Girls Scratch bracket Finals results:
1. Vanessa Fuzie, NV, $2,000
2. Crystal Elliott, FL, $1,200
3. Jennifer Loredo, CA, $900
4. Katelyn Abigania, CA, $700
5. Maranda Pattison, CA, $500
6. Avery Domaguin, CA, $400
Handicap bracket Finals results:
1. Nathan Tidball, CA, $2,500
2. Jayna Yockman, HI, $1,800
3. Andrew Sanchez, CA, $1,200
4. Kayden O'Dell, CA, $1,000
5. Alyssa Randisi, NY, $800
6. Ben Martin, CA, $700
7. Shatyl Denevan, UT, $600
8. Nolan Randisi, NY, $500