The 2021 JBT Las Vegas Main Event- Open Scratch Singles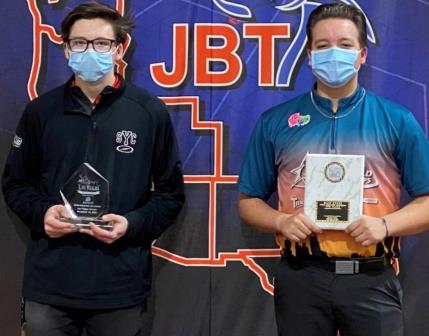 champion Riley Woodard & runner-up Brandon Howard
Riley Woodard of Orem, UT defeated Brandon Howard of Glendora CA, to win the open scratch singles division of the 2021 JBT Las Vegas Main Event, hosted by the South Point Bowling Plaza and presented by Ebonite International and the JBT.
Bud Sicard and two-time Main Event champ Solomon Salama were victorious in the opening round of the bracket-stepladder finals, with wins over TJ Rock and Cesar Padilla respectively. Bud kept his roll going with a round two win over Michael Marmolejo, but Solomon's quest for #3 was stopped by Manny Ferrell in a match that came down to the tenth frame. The top two seeds defended their rank in the semifinals, as Howard stopped Sicard to give Bud his second straight 4th place finish here, while Woodward won an all-Utah match against Ferrell to advance to the finale.
Riley and Brandon couldn't have been more evenly matched all week, qualifying third and first, and finishing the eight game matchplay round dead tied at +576, so it was appropriate that they went at it for the title. The left hand lane proved pivotal, as Howard had one slip into the channel after an opening three bagger, and could never get the carry on that lane the rest of the way. Meanwhile, Woodard played an outstanding error-free game, with the final result good for Riley's first career JBT title and the $3,000 first place prize. Howard's best ever JBT finish comes with $2,000 for a not-so-bad second place.
Huge thanks to everyone for attending, Mike Monyak and the amazing crew at South Point for hosting, and all our sponsors and vendors for helping make it a memorable week. In total, over $40,000 in scholarships were awarded to all ages and all skill levels. We hope to see you at our year-round JBT events all season long, and back at the Plaza for the 2022 Main Event, next December 26-30!
Bracket Finals results:
1. Riley Woodard, UT, $3,000
2. Brandon Howard, CA, $2,000
3. Manny Ferrell, UT, $1,200
4. Bud Sicard, OR, $1,000
5. Michael Marmolejo, CA, $800
6. Solomon Salama, CA, $700
7. Cesar Padilla, AZ, $600
8. TJ Rock, NV, $500
Scratch semifinals: (scores below include 30 bonus pins for wins)
2021 LAS VEGAS MAIN EVENT- SCRATCH SINGLES
scores include matchplay bonus pins
Rank
Bowler
total
gm 1
gm 2
gm 3
gm 4
gm 5
gm 6
gm 7
gm 8
TOTAL
total +/-
prize
1
Howard, Brandon
1441
215
187
296
308
205
206
248
268
3374
574
advance
2
Woodard, Riley
1379
273
264
241
190
241
247
263
276
3374
574
advance
3
Ferell, Manny
1362
174
231
285
237
260
285
226
233
3293
493
advance
4
Marmolejo, Michael
1304
237
319
274
240
215
271
205
216
3281
481
advance
5
Sicard, Bud
1354
241
223
198
264
276
244
234
239
3273
473
advance
6
Salama, Solomon
1391
231
259
254
186
222
234
223
266
3266
466
advance
7
Padilla, Cesar
1327
201
235
215
320
191
298
314
158
3259
459
advance
8
Rock, TJ
1301
288
234
285
251
175
245
190
263
3232
432
advance
9
Cardines, Cerell
1295
247
247
200
197
259
225
255
274
3199
399
$400
10
O'Hollaren, Elias
1368
239
191
187
276
191
191
264
271
3178
378
$300
11
Greim, Zach
1340
240
246
222
235
244
189
275
186
3177
377
$250
12
Alo, Daryus
1352
257
220
248
171
163
244
265
253
3173
373
$200
13
Richardson, Dmitri
1260
221
287
238
289
171
231
250
218
3165
365
$150
14
Shene, Harley
1299
172
181
226
263
264
230
267
262
3164
364
$100
15
Manabe. Kody
1305
188
196
284
209
185
277
266
214
3124
324
$100
16
LaRose, Brody
1258
203
223
193
237
235
190
298
268
3105
305
17
Mayes, Chris
1267
145
235
190
299
256
277
190
218
3077
277
18
Pojas, Chasten
1309
267
190
255
234
265
183
233
140
3076
276
19
Weems, Jos
1252
225
236
232
228
181
276
169
268
3067
267
20
Pollom, Ricky
1275
219
172
194
278
181
235
309
203
3066
266
21
Bostic, Charles
1291
181
262
162
265
254
230
233
170
3048
248
22
Mayes, Hunter
1323
159
209
274
275
121
223
229
228
3041
241
23
Morris, Jorell
1273
243
273
240
164
191
253
191
177
3005
205
24
Rivers, Marquan
1222
169
232
198
227
253
242
289
164
2996
196
25
Luong, Vincent
1236
165
189
242
180
264
237
227
244
2984
184
26
Reynoso, Ernesto
1219
155
277
177
221
234
195
253
244
2975
175
27
Gil, Jordan
1227
254
172
210
241
190
256
233
187
2970
170
28
Ogata, Kalin
1301
197
144
198
235
251
202
223
176
2927
127
29
Lu, Kevin
1239
230
231
183
193
250
202
192
201
2921
121
30
Adams, Kyle
1225
206
167
239
214
242
197
189
237
2916
116
31
McGowan, Skyler
1227
158
219
201
230
232
188
184
229
2868
68
32
Hull, Hayden
1219
154
250
145
214
226
192
262
167
2829
29
33
Aboud, Justin
1241
174
189
217
182
229
231
157
188
2808
8
34
Weyl, Michael
1234
266
177
150
171
223
181
195
211
2808
8
35
Weinstein, Neil
1306
211
178
181
142
202
204
201
177
2802
2
36
Griffin, JP
1218
245
184
150
179
204
230
197
191
2798
-2
37
Todeschi, CJ
1286
181
198
244
150
159
187
164
192
2761
-39
38
Mastroianni, Anthony
1229
191
243
195
179
160
183
180
183
2743
-57
39
Frazier, Jacob
1238
160
164
172
220
207
162
222
169
2714
-86
40
Ponzo, Kyle
1253
177
166
238
162
175
144
213
168
2696
-104
Other finishers: (re-entrants not sorted out)
| | | | |
| --- | --- | --- | --- |
| rank | bowler | total | +/- |
| 41 | Pollom, Ricky | 1217 | 17 |
| 42 | Morris, Jorell | 1217 | 17 |
| 43 | Bostic, Charles | 1216 | 16 |
| 44 | Kaurin, Mac | 1208 | 8 |
| 45 | Richardson, Dmitri | 1204 | 4 |
| 46 | Guba, Andrew | 1204 | 4 |
| 47 | Hull, Hayden | 1204 | 4 |
| 48 | Whitaker, Duncan | 1203 | 3 |
| 49 | Kaurin, Mac | 1201 | 1 |
| 50 | Reynoso, Ernesto | 1201 | 1 |
| 51 | McGowan, Skyler | 1199 | -1 |
| 52 | Lake, Donovan | 1199 | -1 |
| 53 | Aboud, Justin | 1198 | -2 |
| 54 | Lu, Kevin | 1197 | -3 |
| 55 | Rivers, Marquan | 1196 | -4 |
| 56 | Reynoso, Ernesto | 1195 | -5 |
| 57 | Weems, Jos | 1191 | -9 |
| 58 | Weems, Jos | 1190 | -10 |
| 59 | Lee, Henry | 1190 | -10 |
| 60 | Lee, Garrett | 1189 | -11 |
| 61 | Molloy, Josh | 1188 | -12 |
| 62 | Garton. Jaxson | 1188 | -12 |
| 63 | Adams, Kyle | 1187 | -13 |
| 64 | Hong, Daniel | 1186 | -14 |
| 65 | McGowan, Skyler | 1185 | -15 |
| 66 | Rodas, Ardani | 1184 | -16 |
| 67 | Erickson, Justin | 1182 | -18 |
| 68 | Abigania, Josh | 1182 | -18 |
| 69 | Griffin, JP | 1181 | -19 |
| 70 | Frazier, Jacob | 1181 | -19 |
| 71 | Hong, Daniel | 1180 | -20 |
| 72 | Stenroos, Julian | 1180 | -20 |
| 73 | Ponzo, Kyle | 1179 | -21 |
| 74 | Sicard, Bud | 1179 | -21 |
| 75 | Coates, Tyler | 1179 | -21 |
| 76 | Greim, Zach | 1178 | -22 |
| 77 | Padilla, Cesar | 1177 | -23 |
| 78 | Lee, Garrett | 1174 | -26 |
| 79 | Roque, Cristian | 1173 | -27 |
| 80 | Richardson, Dmitri | 1170 | -30 |
| 81 | Huffman, Sebastian | 1169 | -31 |
| 82 | Craig, Preston | 1165 | -35 |
| 83 | Zieg, Allex | 1162 | -38 |
| 84 | Correa, Jacee | 1160 | -40 |
| 85 | Luong, Vincent | 1160 | -40 |
| 86 | Bivins, Brock | 1158 | -42 |
| 87 | Lee, Garrett | 1155 | -45 |
| 88 | Weddige, Justin | 1155 | -45 |
| 89 | Coleman, Aaron | 1155 | -45 |
| 90 | Wang, Michael | 1154 | -46 |
| 91 | Onodera, Thomas | 1154 | -46 |
| 92 | Hall, Daniel | 1153 | -47 |
| 93 | Coates, Tyler | 1153 | -47 |
| 94 | Weyl, Michael | 1153 | -47 |
| 95 | Schmidt, Harper | 1152 | -48 |
| 96 | Molloy, Josh | 1150 | -50 |
| 97 | Hull, Hayden | 1149 | -51 |
| 98 | Craig, Preston | 1149 | -51 |
| 99 | Guba, Andrew | 1148 | -52 |
| 100 | Goodman, Michael | 1146 | -54 |
| 101 | Abigania, Josh | 1146 | -54 |
| 102 | Fujioka, Kasey | 1145 | -55 |
| 103 | Adams, Kyle | 1145 | -55 |
| 104 | Hall, Daniel | 1145 | -55 |
| 105 | Hong, Daniel | 1145 | -55 |
| 106 | Lee, Garrett | 1144 | -56 |
| 107 | Whitaker, Duncan | 1142 | -58 |
| 108 | Yamanoha, Adrian | 1140 | -60 |
| 109 | Rodas, Ardani | 1139 | -61 |
| 110 | Bivins, Brock | 1138 | -62 |
| 111 | Sumiye, Justin | 1138 | -62 |
| 112 | Miyake, Connor | 1134 | -66 |
| 113 | Bivins, Brock | 1132 | -68 |
| 114 | Woodard, Riley | 1130 | -70 |
| 115 | Brooks, Joe | 1130 | -70 |
| 116 | Lawrence, Thomas | 1130 | -70 |
| 117 | Stenroos, Julian | 1130 | -70 |
| 118 | Onodera, Thomas | 1128 | -72 |
| 119 | Garner, Earl | 1127 | -73 |
| 120 | Yamanoha, Adrian | 1126 | -74 |
| 121 | Hong, Daniel | 1121 | -79 |
| 122 | Morris, Jorell | 1121 | -79 |
| 123 | Weddige, Justin | 1121 | -79 |
| 124 | Lake, Donovan | 1120 | -80 |
| 125 | Steelmon-Hill, Connor | 1115 | -85 |
| 126 | Coates, Tyler | 1115 | -85 |
| 127 | Frazier, Jacob | 1114 | -86 |
| 128 | Brooks, Joe | 1113 | -87 |
| 129 | Simperman, Charlie | 1113 | -87 |
| 130 | Longa, Dart | 1113 | -87 |
| 131 | Garton. Jaxson | 1113 | -87 |
| 132 | Steelmon-Hill, Connor | 1109 | -91 |
| 133 | Huffman, Sebastian | 1108 | -92 |
| 134 | Ponzo, Kyle | 1108 | -92 |
| 135 | Onodera, Carson | 1107 | -93 |
| 136 | Zieg, Allex | 1102 | -98 |
| 137 | Weddige, Justin | 1101 | -99 |
| 138 | London, Kenji | 1100 | -100 |
| 139 | Schmidt, Harper | 1098 | -102 |
| 140 | Barczyszyn, Jerrad | 1098 | -102 |
| 141 | Castronova, Tyler | 1097 | -103 |
| 142 | Kaboli, Jamison | 1097 | -103 |
| 143 | Castronova, Tyler | 1096 | -104 |
| 144 | Lake, Donovan | 1094 | -106 |
| 145 | McQuisten, Mickey | 1094 | -106 |
| 146 | Coleman, Aaron | 1091 | -109 |
| 147 | Sumiye, Justin | 1091 | -109 |
| 148 | Schmidt, Harper | 1088 | -112 |
| 149 | Todeschi, CJ | 1088 | -112 |
| 150 | Narnaez, Noah | 1087 | -113 |
| 151 | Sangalang, Shin | 1085 | -115 |
| 152 | Lake, Donovan | 1084 | -116 |
| 153 | Hear, Edward | 1082 | -118 |
| 154 | Onodera, Thomas | 1081 | -119 |
| 155 | Workman, Payton | 1080 | -120 |
| 156 | Nakagawa, Raiden | 1079 | -121 |
| 157 | Stovall, Seth | 1078 | -122 |
| 158 | Zieg, Allex | 1075 | -125 |
| 159 | Coates, Tyler | 1074 | -126 |
| 160 | Miyake, Connor | 1072 | -128 |
| 161 | Mastroianni, Anthony | 1071 | -129 |
| 162 | Goodman, Michael | 1071 | -129 |
| 163 | Garton. Jaxson | 1069 | -131 |
| 164 | Craig, Preston | 1067 | -133 |
| 165 | Steelmon-Hill, Connor | 1066 | -134 |
| 166 | Garton. Jaxson | 1065 | -135 |
| 167 | Steelmon-Hill, Connor | 1063 | -137 |
| 168 | Coleman, Aaron | 1062 | -138 |
| 169 | Correa, Jacee | 1061 | -139 |
| 170 | Mastroianni, Anthony | 1060 | -140 |
| 171 | Sargento, Aliyas | 1060 | -140 |
| 172 | Workman, Payton | 1059 | -141 |
| 173 | Woodward, Riley | 1058 | -142 |
| 174 | Stenroos, Julian | 1058 | -142 |
| 175 | Sargento, Aliyas | 1057 | -143 |
| 176 | Simperman, Charlie | 1050 | -150 |
| 177 | Miyake, Connor | 1045 | -155 |
| 178 | Snow, Mason | 1043 | -157 |
| 179 | Nakagawa, Raiden | 1038 | -162 |
| 180 | Griffin, JP | 1032 | -168 |
| 181 | Narbaez, Noah | 1031 | -169 |
| 182 | Erickson, Justin | 1029 | -171 |
| 183 | Roque, Cristian | 1029 | -171 |
| 184 | Cellos, Chris | 1027 | -173 |
| 185 | Schmidt, Harper | 1027 | -173 |
| 186 | Goodman, Michael | 1025 | -175 |
| 187 | Brooks, Joe | 1024 | -176 |
| 188 | Correa, Jacee | 1023 | -177 |
| 189 | Sargento, Jericho | 1018 | -182 |
| 190 | Lu, Kevin | 1015 | -185 |
| 191 | Gilmore, Wyland | 1015 | -185 |
| 192 | Hernandez, Noel | 1014 | -186 |
| 193 | Hull, Hayden | 1014 | -186 |
| 194 | Goodman, Michael | 1013 | -187 |
| 195 | Nakagawa, Raiden | 1013 | -187 |
| 196 | Kidd, Nicholas | 1011 | -189 |
| 197 | Hear, Edward | 1010 | -190 |
| 198 | Howard, Brandon | 1010 | -190 |
| 199 | Finkler, Leo | 1010 | -190 |
| 200 | McQuisten, Mickey | 1008 | -192 |
| 201 | Reyes, Achilles | 1008 | -192 |
| 202 | Lawrence, Thomas | 1007 | -193 |
| 203 | Simperman, Charlie | 1007 | -193 |
| 204 | Lee, Henry | 1007 | -193 |
| 205 | Kidd, Nicholas | 1004 | -196 |
| 206 | Prevetti, Anthony | 1002 | -198 |
| 207 | Stovall, Seth | 1002 | -198 |
| 208 | Barczyszyn, Jerrad | 1001 | -199 |
| 209 | Roque, Cristian | 998 | -202 |
| 210 | London, Kenji | 992 | -208 |
| 211 | Erickson, Justin | 990 | -210 |
| 212 | Prevetti, Anthony | 990 | -210 |
| 213 | Narbaez, Noah | 986 | -214 |
| 214 | London, Kenji | 985 | -215 |
| 215 | Snow, Mason | 984 | -216 |
| 216 | Roque, Cristian | 983 | -217 |
| 217 | Kaurin, Mac | 979 | -221 |
| 218 | Sargento, Jericho | 978 | -222 |
| 219 | Clay, Dious | 976 | -224 |
| 220 | Onodera, Carson | 976 | -224 |
| 221 | Sangalang, Shin | 971 | -229 |
| 222 | Ishihara, Keanu | 970 | -230 |
| 223 | Pimentel, Ryland | 962 | -238 |
| 224 | Agsalud, Ajay | 946 | -254 |
| 225 | Narbaez, Noah | 937 | -263 |
| 226 | Agsalud, Ajay | 926 | -274 |
| 227 | Roque, Cristian | 920 | -280 |
| 228 | Sasano, Cadence | 908 | -292 |
| 229 | Finkler, Leo | 878 | -322 |
| 230 | Morris, Jorell | 557 | -643 |
| 231 | Rivers, Marquan | 346 | -854 |