2008 JBT Main Event Girls Scratch Singles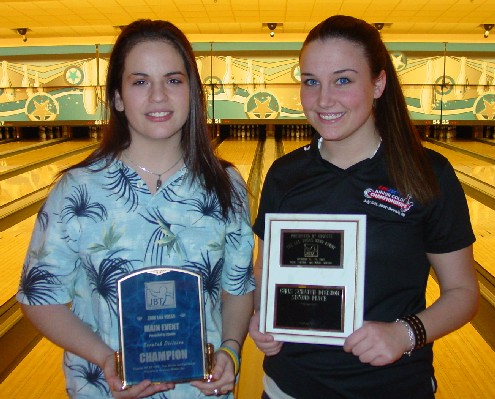 champ Suzana Signaigo and runner-up Maggie Zakrzewski
Suzana Signaigo, Kapolei HI, captured a $1,500 first place scholarship as champion of the 2008 JBT Las Vegas Main Event Girls Scratch Singles event.
In round one of our unique bracket-stepladder finals, #8 Jordeen Koizumi defeated #6 Caycee Landers 196-167, while in simultaneous action, defending champ and #5 seed Samantha Hesley outlasted #7 Deanna Carrillo 181-165.
In the second round, Koizumi rolled on, beating #4 Catherine Rawsthorne 182-168, while Signaigo ended Hesley's run 188-164. The top two seeds entered the fray in round three, and in those matches, top seed Maggie Zakrzewski stopped Koizumi 225-169, while Signaigo upset #2 Amanda Falk 201-167, setting up the championship match.
The most challenging condition in Main Event history was laid out this year, and the good friends and teammates on Wichita State's dominant female college bowling program both struggled a bit early on. However, it was Signaigo who was able to right the ship first, and she pulled away for a 204-181 win and the Main Event championship.
Big thanks to Jerry Francomano and the whole team at Texas Station for an amazing job hosting the best open-field national tournament in junior bowling. Thanks also to all our sponsors, including our title sponsor Ebonite, for making Main Event happen. Over $50,000 in scholarships were awarded to the field- want in on all this fun? Come on out to the 2009 Main Event, it's as simple as that!
2008 MAIN EVENT GIRLS SCRATCH
Rank
Last
First
City
State
Prize
1
Signaigo
Suzanna
Kapolei
HI
$1,500
2
Zakrzewski
Maggie
Palatine
IL
$1,000
3
Falk
Amanda
Tuscon
AZ
4
Koizumi
Jordeen
Wiapaho
HI
$750
5
Rawsthorne
Catherine
Federal Way
WA
$600
6
Hesley
Samantha
Wellington
FL
$500
7
Landers
Caycee
Mission Hills
CA
$400
8
Carrillo
Deanna
Montebello
CA
$350
9
Fry
Amanda
Antelope
CA
$350
10
Hanken
Lori
Oregon City
OR
$250
11
Urban
April
Henderson
NV

$200

12
Davis
Rachelle
Tucson
AZ
13
Bell
Joi
Pflugerville
TX
14
Page
Brittany
Los Angeles
CA
15
Ijams
Allie
Flagstaff
AZ
16
Schilling
Danielle
Ventura
CA
17
Mickleson
Kristi
Bellvue
NE
18
Gill
Christine
Lakewood
CO
19
McGinnes
Alyse
LaCrescenta
CA
20
Katz
Alex
Las Vegas
NV
21
Sorensen
Kirsten
Newark
CA
22
Rubin
Ashley
Brandon
SD
23
Ferry
Jaime
Garden Grove
CA
24
Lycan
Lana
Santee
CA
25
Scroggs-Barber
Brittani
Pikeville
KY
26
Hannasch
Lindsay
Saugus
CA
27
Todiello
Andee
28
Koff
Ana
Miami
FL
29
Dutton
Courtney
Chandler
AZ
30
Fraijo
Christina
Covina
CA
31
King
Tiffany
Surprise
AZ
32
Jenner
Kirsten
Layton
UT
33
Jimenez
Natalie
Rowland Heights
CA
34
Cabezas
Martika
Palm Springs
CA
35
Pena
Melissa
West Covina
CA
36
Reguero
Rebeca
Glendale
AZ
37
Vadnais
Amanda
Prescott
AZ
38
Mayall
Kaitlin
Chula Vista
CA
39
Shelton
Wendy
Albuquerque
M
40
Mero
Chelsey
Lincoln
NE
41
Baschal
Robin
Palmer Lake
CO
42
Shiira
Shelly
Honolulu
HI
43
Uyehara
Sky
Aiea
HI
44
Shepard
Nicole
Santa Barbara
CA
45
Tadiello
Audree
Brentwood
CA
46
Reynolds
Marianda
West Valley City
UT
47
Monteith
Susy
Orange
CA
48
Miyaji
Sharyn
Honolulu
HI
49
Stephens
Taneka
Mililani
HI
50
Takara
Kayla
Honolulu
HI
51
Uyehara
Shawnna
Aiea
HI
52
Nakano
Kristyn
Kapolei
HI