2008 JBT Main Event Handicap Singles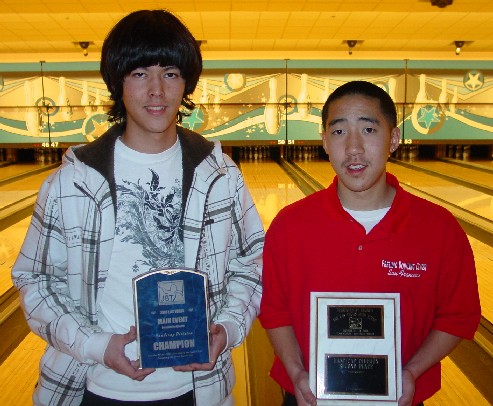 champ Brenden Lou and runner-up Blake Teragawa
Brenden Lou saved his best JBT bowling for our biggest stage, capturing the Handicap Singles division of the 2008 JBT Las Vegas Main Event, presented by Ebonite International.
After 8 games of qualifying and 6 games of matchplay, the field was cut to 16 for our unique bracket-stepladder finals. In round one, two simultaneous four-player matches were held. In those games, the top seeds prevailed, as #9 Gregg Kern's 232 beat Mike Lim (216), Justin Sakurai (198), and Robert Fox (184); while #10 Aaron Bristow (269) walloped Alex Tam (215), Brad Hansen (226), and Jeff Goad (179).
Kern rolled on in round two, firing 237 to beat Adam Yoshii (209) and Janeyl Carper (199). Bristow was up to the ladder-climbing challenge as well, blasting a 236 to beat Michael Unger (220) and Andrew Hernandez (173). In round three, Kern defeated #3 Dillon Bridge 245-209, while #4 Jurene Morales stopped Bristow's run, 261-223.
The top seeds then took the lanes for the semifinals, and they defended their seeds well, as #2 seed Lou ended Kern's fine run 227-185, while top seed Blake Teragawa and Morales engaged in a high scoring thriller, with Blake edging Jurene 265-250, to set up a 1 vs. 2 title match.
The title match was a tense, back-and-forth match, as opposed to the high-scoring theatrics these two had put on all weekend. Both players opened in the ninth frame, but then Lou calmly regrouped and flushed a double, forcing Blake to do the same to win. After a brooklyn first strike, Teragawa was unable to get the second strike, and Lou had a 210-203 win, and the $2,000 first place scholarship as Main Event champ.
Big thanks to Jerry Francomano and the whole team at Texas Station for an amazing job hosting the best open-field national tournament in junior bowling. Thanks also to all our sponsors, including our title sponsor Ebonite, for making Main Event happen. Over $50,000 in scholarships were awarded to the field- want in on all this fun? Come on out to the 2009 Main Event, it's as simple as that!
2008 MAIN EVENT HANDICAP SINGLES
Rank
Last
First
City
State

Prize

1
Lou
Brenden
El Cajon
CA
$2,000
2
Teragawa
Blake
San Francisco
CA
$1,500
3
Morales
Jurene
San Francisco
CA
$1,000
4
Kern
Greg
Tuscon
AZ
$900
5
Bridge
Dillon
El Paso
TX
$800
6
Bristow
Aaron
Farmington
NM
$700
7
Unger
Michael
Trabuco Canyon
CA
$600
8
Carper
Janeyl
Rio Rancho
NM
$500
9
Hernandez
Andre
Chula Vista
CA
$400
10
Yoshi
Adam
San Francisco
CA
$350
11
Lim
Mike
San Francisco
CA
$300
12
Tam
Alex
San Francisco
CA
$250
13
Sakurai
Justin
San Francisco
CA
$200
14
Hansen
Brad
Huntington Beach
CA
$150
15
Fox
Robert
Bakersfield
CA
$130
16
Goad
Jeff
Phoenix
AZ
$120
17
Gee
Edgar
San Francisco
CA
$110
18
Holliday
Isaac
Albuquerque
NM
$100
19
Lim
Robert
Bellflower
CA
20
Hatchett
Eric
Las Vegas
NV
21
Cando
Anthony
San Diego
CA
22
Hayashi
Evan
Waipahu
HI
23
Masuoka
Tim
San Francisco
CA
24
Anadilla
Abigail
Bakersfield
CA
25
Buenaventura
Jeremy
Lompoc
CA
26
Garriott
Andy
Scottsdale
AZ
27
Lucas
Zak
Las Vegas
NV
28
Sullivan
Alicia
Kingman
AZ
29
Sweet
JD
Chandler
AZ
30
Buenaventura
Justin
Lompoc
CA
31
Jouett
Vincent
San Diego
CA
32
Givler
Justin
Phoenix
AZ
33
Fritz
David
San Diego
CA
34
Shigekane
Stacey
Mililani
HI
35
Nadeau
Chase
Las Vegas
NV
36
Wade
Bryant
Mesa
AZ
37
Nagamine
Casey
Kaneohe
HI
38
Takahata
Janelle
Honolulu
HI
39
Kawaye
Julie
Sacramento
CA
40
Gonzales
Alena
Farmington
NM
41
Low
Wesley
Palmdale
CA
42
Pang
Adrienne
Aiea
HI
43
Allen
Austin
Mililani
HI
44
Spieler
Randi
Bodfish
CA
45
Torrence
Eric
Los Angeles
CA
46
Atkin
Alexis
Glendale
AZ
47
Goad
Kayla
Phoenix
AZ
48
Hansen
Daniel
Huntington Beach
CA
49
Herbster
Kenny
Henderson
NV
50
Cruz
Jerimiah
Bloomfield
NM
51
Stever
Marina
Mesa
AZ
52
Gill
Lance
Farmington
NM
53
Cave
Jacy
Farmington
NM
54
Lucas
Dylan
Las Vegas
NV
55
Cotton
Daniel
Glendale
AZ
56
Truman
Sandy
Phoenix
AZ
57
Kenny
Mike
Prescott Valley
AZ
58
Nadeau
Krysta
Las Vegas
NV
59
Tonnu
Phi
San Francisco
CA
60
Trudel
Brandon
Bakersfield
CA
61
Demo
Eric
San Diego
CA
62
Gutierrez
Jon
Mohave Valley
AZ
63
Davis
Jeremy
Santa Barbara
CA
64
Wade
Terry
Mesa
AZ
65
Katsura
Lesliann
Norwalk
CA
66
Arakawa
Bryce
Mililani
HI
67
Lim
Brian
San Francisco
CA
68
Morales
Aaron
Nogales
AZ
69
Reynolds
Tabetha
Lancaster
CA
70
Marticio
Vanessa
San Francisco
CA
71
McKinsley
Andrew
Rio Rancho
NM
72
Hollis
Trevor
Layton
UT
73
Hinz
Austin
Phoenix
AZ
74
Nunez
Nicki
Glendale
AZ
75
Villa
Justin
Simi Valley
CA
76
Cleveland
Isaiah
San Diego
CA
77
Fujimoto
Evan
Honolulu
HI
78
Kurzeka
Susan
Albuquerque
NM
79
Francisco
Jake
San Diego
CA
80
Kampley
Steven
Chula Vista
CA
81
Throne
Jeremy
Farmington
NM
82
Esparza
Andrew
El Paso
TX
83
Turner
Brandon
San Diego
CA
84
Kalaf
Blake
Chandler
AZ
85
Rodriguez
Anthony
CA
86
Gold
Andrew
East Meadow
NY
87
Billman
Jared
Litchfield Park
AZ
88
Wu
Jessica
Sacramento
CA
89
Buster
Steven
El Paso
TX
90
Abanes
Helen Gail
San Diego
CA
91
Sayler
David
Bloomfield
NM
92
Shiver
Kelsee
Indio
CA
93
Diaz
Sofia
Santa Fe
NM
94
Loop
Karlie
Menifee
CA
95
Wade
Nicholas
Mesa
AZ
96
Misemer
Anna
The Woodlands
TX
97
Chambers
Kyle
Glendale
AZ
98
Scheer
Jacob
Las Vegas
NV
99
Jarosz
Danielle
Reedley
CA
100
Johnson
Travis
Phoenix
AZ
101
Shoup
Josh
Tolleson
AZ
102
McLellan
Josh
103
Simon
Zach
Scottsdale
AZ
104
Trudel
Mark
Bakersfield
CA
105
Lopez
Nicholas
CA
106
Coleman
Taylor
Phoenix
AZ
107
Canchola
Joshua
Rio Rico
AZ
108
Walker
Matthew
Atwater
CA
109
Gervacio
Abel
Whitter
CA
110
Meyers
Samantha
Mission Hills
CA
111
Espinoza
Paula
Rio Rico
TX
112
Manier
Shane
Vista
CA
113
Parker
Corbin
Chandler
AZ
114
Camacho
Jacob
Murrieta
CA
115
Gould
Brooks
Gilbert
AZ
116
Hemming
Zach
Woodinville
WA
117
Mercado
Adrian
San Francisco
CA
118
Ailport
Lindsey
Peoria
AZ
119
Haennelt
Teri
Las Vegas
NV
120
Stanley
Marcus
Tucson
AZ
121
Gabour
James
Las Vegas
NV
122
Rubin
Haley
Brandon
SD
123
Bietman
Laura
Azusa
CA
124
Matinez
Carlos
Rio Rico
AZ
125
Nacpil
Ryan
San Diego
CA
126
Stern
Drew
Northridge
CA
127
Ezaki
Justin
Whittier
CA
128
Byers
Kenny
Ventura
CA
129
Sabalboro
George
San Diego
CA
130
Swaim
Valry
Peoria
AZ
131
Jarosz III
David
Reedley
CA
132
Duke
Adrian
San Bernadino
CA
133
Staggs
Darcie
Bullhead City
AZ
134
Dacanay
Billy Ray
Spring Valley
CA
135
Watkins
Aaron
Henderson
NV
136
Robbins
Matthew
Pacifica
CA
137
Boe
Tyler
Redmond
WA
138
Brown
Ryan
Fountain Valley
CA
139
Phillips
David
Hemet
CA
140
Pang
Ariel
Aiea
HI
141
Baker
Bethany
Tempe
AZ
142
Roberts
Kevin
Tulare
CA
143
Florendo
Ben Bryan
Chula Vista
CA
144
Nouyen
Richard
San Francisco
CA
145
Ma
Micheal
Camarillo
CA
146
Csanyi
Douglas
Las Vegas
NV
147
Giambrone
Jake
Livermore
CA
148
Clark-Jones
Kassie
Tollhouse
CA
149
Dennis
Troy
Phoenix
AZ
150
Dubia
Adam
Whittier
CA
151
Fox
Darin
Bakersfield
CA
152
Dukes
Kimberly
San Diego
CA
153
Taylor
Cody
Phoenix
AZ
154
Barraza
Carlos
Nogales
AZ
155
Chefalo
Josh
Bullhead City
AZ
156
Chang-Wo
Henry
San Bernadino
CA
157
Markowitz
Gary
Simi Valley
CA
158
Fox
Kristina
Bakersfield
CA
159
Johston
Deven
Glendale
AZ
160
Coveris
Selena
Tuscon
AZ
161
Newton
Cameron
S. Jordan
UT
162
Payne
Matt
Phoenix
AZ
163
Phandanouvong
Jenny
San Diego
CA
164
Miner
Sean
Hill AFB
UT
165
Malouf
Nicole
San Francisco
CA
166
Clark-Palomares
Kaylene
Clovis
CA
167
Negoro
Kiana
Fresno
CA
168
Houston
Cheslea
Oxnard
CA
169
Cervinski
Justin-R
Layton
UT
170
Riddle
Kaylee -R
Indio
CA
171
Barraza
Jesus
Nogales
AZ
172
Scheer
Trevor
Las Vegas
NV