Below is a press-release style article that you have permission to copy and use for any sort of media outlet you wish. We do ask that you send us a copy of any published articles for our scrapbook though!
FOR IMMEDIATE RELEASE
MILLER, SIGNAIGO, LOU CAPTURE TITLES IN 2008 JBT MAIN EVENT;
$50,000+ IN SCHOLARSHIPS AWARDED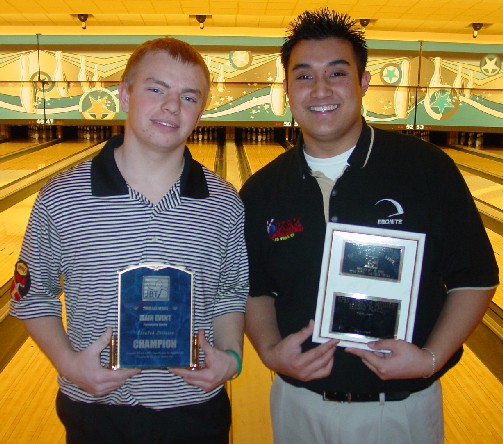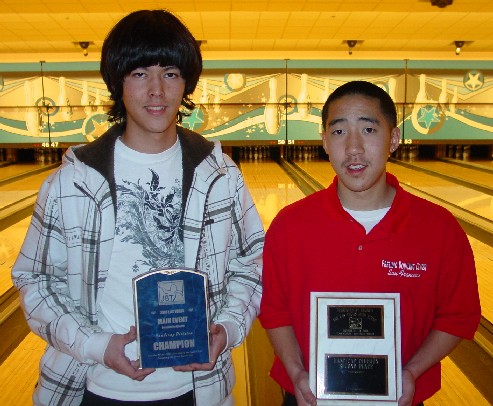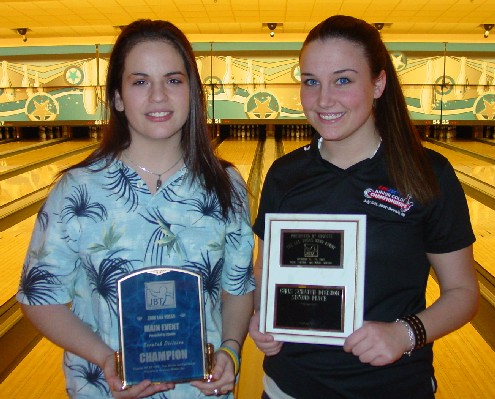 Scratch champ Brad Miller & runner-up Nathan Panaligan; Handicap champ Brenden Lou & runner-up Blake Teragawa; Girls Scratch champ Suzana Signaigo & runner-up Maggie Zakrzewski
Brad Miller, Raytown MO, Brenden Lou, El Cajon CA, and Suzana Signaigo, Kapolei HI, captured singles titles in the 2008 JBT Las Vegas Main Event, presented by Ebonite International and hosted by Texas Star Lanes at Texas Station Hotel and Casino.
Miller snuck into the #15 seed for the unique bracket-stepladder finals, and won five matches against extraordinary competition to earn the victory. Along the way, he beat Junior Gold champ Adam Martinez, and famous names in junior bowling like Jake Peters and Andrew Koff, just to name a few. In the title match, he defeated #4 seed and 2004 Main Event champion Nathan Panaligan 225-209, good for a $5,000 first place scholarship. Top qualifier Josh McBride (the all-events champion) finished third, Koff was fourth (his lowest Main Event finish ever!), and Peters rounded out the top five.
Lou, the #2 seed, and Blake Teragawa, the top seed, had been trading the lead throughout the tournament, so it was fitting they won their semifinal matches to meet up for the title. After both opened in the 9th frame, Lou threw a clutch double in the 10th to force Blake to do the same. Teragawa couldn't get the hits, and Brenden cashed in for a $2,000 first place scholarship as Main Event champ. Jurene Morales was the high female finisher in 3rd, Gregg Kern finished 4th, and Dillon Bridge rounded out the top five in a field of 170 bowlers.
The Girls Scratch division showcased how much the college bowling program helps out female bowling, as 6 of the 8 finalists bowl for major college programs. #3 seed Signaigo, a Wichita State bowler, beat CMSU star and #2 seed Amanda Flak in one semifinal, while fellow Shocker and top seed Maggie Zakrzewski beat #8 and ASU bowler Jordeen Koizumi in the other semi.
Maggie and Suzana put on a great display of both talent and sportsmanship in the title match. While both worked hard to adapt to the challenging conditions, it was Signaigo who figured it out first and best, and she won the match 204-181 for the $1,500 first place scholarship prize.
In the scratch doubles event, Travis Zehntner and Deanna Carillo rolled 1450 combined to split the $1,000 first place scholarship, while Gregg Kern and Delano Coveris blasted 1502 to win the handicap doubles title's $1,000 prize. Carrillo thus becomes the first female to win an open division Main Event title!
A team event was held for the first time and was a sold-out success. Jeremy Glover, Matt Jones, Matt Ezrol,and Clarence White captured the scratch competition, while Jamie Ferry, Eric Torrence, Jerome Jordan, and Cory Koyanagi earned the handicap title.
In total, over $50,000 in scholarships were awarded to the field of bowlers from all ages, averages, and 27 states and Canada. Complete results are at the JBT's website, www.bowljbt.com. The Main Event returns to Texas Station in 2009, and the JBT runs events nearly every weekend all season long. See you soon!
2008 MAIN EVENT OPEN SCRATCH
Rank
Last
First
City
State
Prize
1
Miller
Brad
Raytown
MO
$5,000
2
Panaligan
Nathan
N Las Vegas
NV
$3,000
3
McBride
Josh
Wichita
KS
$2,000
4
Koff
Andrew
Miami
FL
$1,500
5
Peters
Jake
Decatur
IL
$1,000
6
Smith
Cameron
Santee
CA
$750
7
Allred
Brandon
Las Vegas
NV
$600
8
Pelow
JD
Westminster
CA
$500
9
Bowers
Brent
Mulvane
KS
$450
10
Hair
Charlie
Laguna Woods
CA
$400
11
Schacht
Eric
St Paul
MN
$400
12
Pahr
Nick
Eden Praire
MN
$400
13
Martinez
Adam
San Antonio
TX
$400
14
Fritsch
Chris
Sacramento
CA
$400
15
Weier
Cameron
Federal Way
WA
$400
16
Sipich
Jon
Des Plaines
IL
$400
2008 MAIN EVENT HANDICAP
Rank
Last
First
City
State

Prize

1
Lou
Brenden
El Cajon
CA
$2,000
2
Teragawa
Blake
San Francisco
CA
$1,500
3
Morales
Jurene
San Francisco
CA
$1,000
4
Kern
Greg
Tuscon
AZ
$900
5
Bridge
Dillon
El Paso
TX
$800
6
Bristow
Aaron
Farmington
NM
$700
7
Unger
Michael
Trabuco Canyon
CA
$600
8
Carper
Janeyl
Rio Rancho
NM
$500
9
Hernandez
Andre
Chula Vista
CA
$400
10
Yoshi
Adam
San Francisco
CA
$350
11
Lim
Mike
San Francisco
CA
$300
12
Tam
Alex
San Francisco
CA
$250
13
Sakurai
Justin
San Francisco
CA
$200
14
Hansen
Brad
Huntington Beach
CA
$150
15
Fox
Robert
Bakersfield
CA
$130
16
Goad
Jeff
Phoenix
AZ
$120
2008 MAIN EVENT GIRLS SCRATCH
Rank
Last
First
City
State
Prize
1
Signaigo
Suzanna
Kapolei
HI
$1,500
2
Zakrzewski
Maggie
Palatine
IL
$1,000
3
Falk
Amanda
Tuscon
AZ
4
Koizumi
Jordeen
Wiapaho
HI
$750
5
Rawsthorne
Catherine
Federal Way
WA
$600
6
Hesley
Samantha
Wellington
FL
$500
7
Landers
Caycee
Mission Hills
CA
$400
8
Carrillo
Deanna
Montebello
CA
$350