2008 JBT Main Event Open Scratch Singles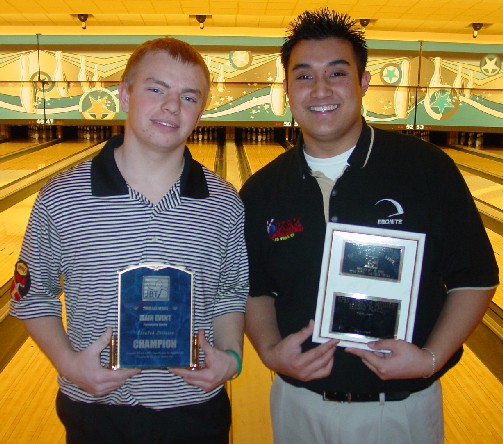 champ Brad Miller and runner-up Nathan Panaligan
Brad Miller, Raytown MO, came all the way from the first round of a 16-person stepladder finals to capture the $5,000 first-place scholarship as Open Scratch Singles champion of the 2008 JBT Las Vegas Main Event, presented by Ebonite International.
Miller qualified for the finals as the #15 seed, and his 217 round one game beat three others (Eric Schacht 214; Adam Martinez 197, Cameron Weier 167) to advance. In another simultaneous 4-man match, Nick Pahr (194) and Chris Fritsch (161) were eliminated, and it looked like Jon Sipich was as well, with an even 200 game, but after doubling in the tenth, #14 seed Cameron Smith stuck on his fill ball, getting only 3 and tying the match at 200. Smith redeemed himself in the ensuing one-shot rolloff, winning 10-7 to advance (and exhale).
In round two, Smith rolled 203 on the very challenging pattern, enough to advance again, over #5 Brandon Allred (160), and 2006 champ Brent Bowers (165). In the bottom half of the bracket-ladder, Miller's 189 was just good enough, beating #8 JD Pelow (186) and #6 Charlie Hair (160).
In round three, Smith was stopped by #4 seed and 2004 Main Event champ Nathan Panaligan, 268-155. Miller, though, continued his roll, defeating #3 Jake Peters 231-170. The top two seeds joined the battle in the semifinal matches, and in those games, Panaligan defeated top seed Josh McBride 211-191, while Miller did it again, upsetting #2 Andrew Koff 192-176 to climb to the title match. (Amazingly, that's Koff's LOW finish ever in the Main Event!)
In the title game, Brad fell behind early with a rough start that included a foul, but the mentally tough midwesterner strung strikes late, and his tenth frame mark wrapped up a 225-209 win over Panaligan for the championship. To directly beat 8 bowlers of that caliber under Main Event pressure is an amazing accomplishment, and well deserving of the $5,000 scholarship windfall as Main Event champion.
Big thanks to Jerry Francomano and the whole team at Texas Station for an amazing job hosting the best open-field national tournament in junior bowling. Thanks also to all our sponsors, including our title sponsor Ebonite, for making Main Event happen. Over $50,000 in scholarships were awarded to the field- want in on all this fun? Come on out to the 2009 Main Event, it's as simple as that!
2008 MAIN EVENT OPEN SCRATCH SINGLES
Rank
Last
First
City
State
Prize
1
Miller
Brad
Raytown
MO
$5,000
2
Panaligan
Nathan
N Las Vegas
NV
$3,000
3
McBride
Josh
Wichita
KS
$2,000
4
Koff
Andrew
Miami
FL
$1,500
5
Peters
Jake
Decatur
IL
$1,000
6
Smith
Cameron
Santee
CA
$750
7
Allred
Brandon
Las Vegas
NV
$600
8
Pelow
JD
Westminster
CA
$500
9
Bowers
Brent
Mulvane
KS
$450
10
Hair
Charlie
Laguna Woods
CA
$400
11
Schacht
Eric
St Paul
MN
$400
12
Pahr
Nick
Eden Praire
MN
$400
13
Martinez
Adam
San Antonio
TX
$400
14
Fritsch
Chris
Sacramento
CA
$400
15
Weier
Cameron
Federal Way
WA
$400
16
Sipich
Jon
Des Plaines
IL
$400
17
Kircher
Austin
Fresno
CA
$350
18
Myers
Mark
Anaheim
CA
$300
19
George
Kris
Las Vegas
NV
$250
20
Spiesman
Jeff
Sacramento
CA
$200
21
White III
Clarence
Tracy
CA
$150
22
Young
Geoffrey
Denton
TX
$100
23
Shimon
Shane
Clovis
CA
$100
24
Glover
Jeremy
Compton
CA
$100
25
Lou
Justin
San Diego
CA
26
Dias
Alex
Lafayette
CO
27
Faulkner
Gary
Memphis
TN
28
Sekara
Justin
San Pablo
CA
29
Kraye
Brandon
La Habra
CA
30
Berry
Kyle
Chesapeake Beach
MD
31
Jensen
Christian
Wichita
KS
32
Fujita
Michael
Concord
CA
33
Sloan
DJ
Las Vegas
NV
34
Kent
Marshall
Yakima
WA
35
Granite
Andrew
Roseville
CA
36
Fry
William
Antelope
CA
37
Jones
Matt
Winnetka
CA
38
Kluender
Eric
Kansas City
MO
39
Pekins
Brandon
Gardena
CA
40
Tan
Justin
Flower Mound
TX
41
Hawkins
James
Perris
CA
42
Anwar
Vaseem
Honolulu
HI
43
Teaney
Ryan
Kansas City
MO
44
Fujita
Ronald
Concord
CA
45
Garbera
Greg
Tempe
AZ
46
Thomas
Willie
Richmond
CA
47
Brown
Ricky
Fountain Valley
CA
48
Herbert
Matt
Prescott
AZ
49
Curtis
Tristian
Fife
WA
50
Greiner
Alex
Richmond
CA
51
Del Cerro
Mark
Fremont
CA
52
Pirtle
James
Waipahu
HI
53
Ezrol
Matthew
Cocnut Creek
FL
54
Mochizucki
Peter
Fresno
CA
55
Shock
Nathan
Thorton
CO
56
Tatrow
Kevin
Bel Aire
KS
57
Zehntner
Travis
Long Beach
CA
58
Lopez
Miguel
Peoria
AZ
59
Chuo
Joey
La Quinta
CA
60
Hefley
James
Bakersfield
CA
61
Plunkett
Jordan
Everett
WA
62
Tajiri
Joshua
Mililani
HI
63
Cormack
Matthew
Woodland Hills
CA
64
Tang
Darren
San Francisco
CA
65
Cruz
Tyler
Tacoma
WA
66
Pixley
Michael
Sacramento
CA
67
Hopfner
Todd
Bonney Lane
WA
68
King
Kyle
Glendale
AZ
69
Phandanouvong
Foster
San Diego
CA
70
Keisic
Ben
Brentwood
CA
71
Katz
Jordan
Las Vegas
NV
72
Malacky
Brandon
Aurora
CA
73
Ono
Jordan
Pearl City
HI
74
Oceguera
Adrian
Selma
CA
75
Tang
Michael
San Francisco
CA
76
Smith
Patrick
Bakersfield
CA
77
Holick
Andy
Tucson
AZ
78
Morrison
Kyle
Draper
UT
77
Bidwelll
Devin
Semi Valley
CA
78
Kanda
Justin
Honolulu
HI
79
Peck
Shane
San Bernardino
CA
80
Cote
Randy
Tuscon
AZ
81
Ferrer
Jordan
Henderson
NV
82
Hawkins
Darren
83
Kamiyama
Micah
Honolulu
HI
84
Jerome
Jordan
Carson
CA
85
May
Mikey
Vista
CA
86
Carper
Paul
Rio Rancho
NM
87
McMillen
Brandon
Carmichael
CA
88
Gaudet
Patrick
Edmonton
AB
89
Patty
Dan
Danville
CA
90
Hawkins
Brad
Lewisville
TX
91
Peden
Ryan
Sanger
CA
92
Morad
Shaun
Buena Park
CA
93
Ostrom
Zachary
94
Schindwolf
Jason
Albuquerque
NM
95
Cruz
Anthony
San Diego
CA
96
Smyser
Eric
Carrollton
TX
97
Hattori
Zach
Las Vegas
NV
98
Hayashi
Jared
Waipahu
HI
99
Hilvano
Victor
Los Angeles
CA
100
Jones
Kevin
Diamond Bar
CA
101
Hogan
Paul
Clovis
CA
102
Booker
Deeronn
Pomona
CA
103
Tanna
Scott
Honolulu
HI
104
Hilvano
Virgil
Los Angeles
CA
105
Kutcher
Chris
Las Vegas
NV
106
Monteith
JR-
Orange
CA
107
Kring
Brandon
Concord
CA
108
Tajara
Ray
Honolulu
HI
109
Karpovich
Kyle
Chandler
AZ
110
Lacona
Rane
Phoenix
AZ
111
McPherson
Cort
Simi Valley
CA
112
Ingeman
Mike
Arden Hills
MN
113
Updegraff
Daniel
114
Kinzler
Randy
Roseville
CA
115
Shern
Brent
Los Angeles
CA
116
Chin
Riley
Roseville
CA
117
Chase
Nadeau
Las Vegas
NV
118
Ballard
Brian
San Diego
CA
119
Hennes
Andrew
Lake Mary
FL
120
Earle
Alexander
Spokane
WA
121
Tripi
Anthony
Avandale
AZ
122
Garcia
AJ
Azsa
CA
123
Trice
Devin
Kansas City
MO
124
Hewitt
Travis
Fremont
CA
125
Fukumizu
Preston
Los Angeles
CA
126
Sato
Bryce
Honolulu
HI
127
Thiedke
Adam
Liberty
MO
128
Dukes
Jon
San Diego
CA
129
Kanda
Justin
Honolulu
HI
130
Geering
Greg
Phoenix
AZ
131
Raymond
Aaron
Bloomfield
NM
132
Galsim
Godfrey
Los Angeles
CA
133
Williams
Jeffrey
Surprise
AZ
134
Allen
Raymond
Mililani
HI
135
Smith
Gary
Bakersfield
CA
136
Behunin
Jordan
Ogden
UT
137
Lee
Nicholas
Tuscon
AZ
138
Wester
Josh
Tuscon
AZ
139
Casillas
Estevan
Casa Grande
AZ
140
Reyes
Juan
Daly City
CA
141
Schmehl
Jake
Medical Lake
WA
142
Koyanagi
Cory
Torrance
CA
143
Jones
Kyle
Kearns
UT
144
Page
Robert
Los Angeles
CA
145
Grinfelds
Dzintars
San Francisco
CA
146
Lemus
Keyon
147
Coveris
Delano
Tucson
AZ
148
Engstrom
Bryce
Spokane
WA
149
Silva
Trevor
Castro Valley
CA
150
Logan
Kennedy
Las Vegas
NV
151
Meza
Taylor
Atwater
CA
152
Ocana
Robert
Edinburg
TX
153
Ursillo
Tim
San Diego
CA
154
Souza
Edward
155
McLellan
Zack
156
Roque
Brandon
Redlanas
CA
157
Oshiro
Kevin
Waipahu
HI
158
Hughes
Chris
Syracuse
UT
159
Adams
Nick
Dublin
CA
160
Larcome
Jason
Chula Vista
CA
161
Curtis
Mark
162
Hilvano
Andrew
Los Angeles
CA
163
Smith
Timothy
Kaysville
UT
164
Cornett
William
Sahuarita
AZ
165
Leach
Labriel
Tucson
AZ
166
Svoren
Andrew
Bakersfield
CA
167
Dempsey
Riley
Avondale
AZ
168
Sands
Trey
Ormond Beach
FL
169
Herrero
Dorian
Chula Vista
CA
170
Varholdt
Chris
Tempe
AZ
171
Carroll
Daniel
Seattle
WA
172
Ho
Matthew
Kaiwa
HI
173
Hayashida
Wyatt
Honolulu
HI
174
Manier
Steven
Vista
CA
175
Smith
Brandon
Kaysville
UT
176
Giambrone
Payton
Livermore
CA
177
Jordan
Jerome
Carson
CA
178
Alvarez
Scott
La Quinta
CA
179
Lyon
Ross
Lakewood
CO
180
Basilio
Adrian
Henderson
NV